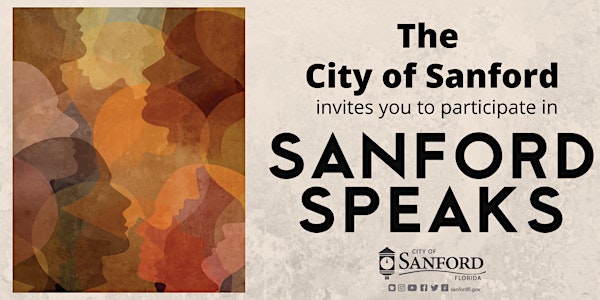 Sanford Speaks
Join us for Sanford Speaks!
About this event
The City of Sanford is committed to ensuring we are inclusive and accepting of all people, because the strength of our community is our diversity. Building on the national initiative to create more equitable communities, the City of Sanford, in partnership with the Peace and Justice Institute at Valencia College, is hosting community conversations to identify inequities and develop strategies to address them. Join us!
Registration closes one hour prior to the event. The event is virtual on ZOOM. A link will be sent to registrants the day before and one hour prior to the event. Participants need to be on their own device with a camera and audio capability. The online event will open ten minutes prior to start time.
Workshop Goals:
· Develop trust and sensitivity to support interactions with one another across cultural, ethnic, and racial lines.
· Strengthen interpersonal relationships through the sharing of personal stories and experiences.
· Increase awareness and understanding of embedded injustices in healthcare, employment, education, housing, finance, law enforcement, criminal justice, community development and other systems.
· Expand citizen engagement to allow for healing and reconciliation as a pathway to community resilience.
Sanford Speaks welcomes individuals of high school age and above.