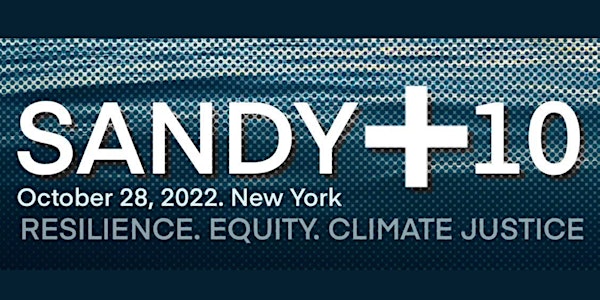 SANDY+10 - Resilience, Equity, Climate Justice
A space for reflection, collective learning and calls to action, 10 years later
When and where
Location
The Forum at Columbia University 601 West 125th Street New York, NY 10027
About this event
10 years ago, the global climate crisis gave New York a wake up call. 44 people died. Tens of thousands of people displaced. 17% of the city flooded. Over $18 Billion has been spent on federal, state, local, and philanthropic initiatives focused on recovery and resilience. What worked and what didn't? Who has benefited and who has been left behind? What have we learned? This conference will create a space for reflection, collective learning and calls to action for a community of storm survivors, activists, practitioners, public servants, and academics whose life and work changed to meet the challenges of Hurricane Sandy recovery. The event will consist of:
Roundtable discussions with local leaders, policymakers, and activists, covering a range of topics including preparedness, emergency response, housing and infrastructure recovery, community resilience, long-term planning for climate change adaptation, and governance.
Side sessions and workshops on coastal resilience and adaptation efforts from around the New York region.
Celebration of local leaders who helped their communities through the storm, the trauma of recovery, and are re-envisioning the future of New York
This event is hosted by the Center for Resilient Cities and Landscapes at the Graduate School of Architecture, Planning and Preservation; Columbia Climate School, Columbia World Projects, Center for Sustainable Urban Development, Environmental Justice and Climate Just Cities Network, Resilient Cities Catalyst and the Red Hook Initiative. The event will be held at the Columbia Forum on 125th Street and Broadway. It is free and open to the public.