Sales Have Ended
Registrations are closed
Thank you for signing up! We look forward to meeting you in the workshop. We will be using Miro and Zoom for the workshop. You do not need to sign up to Miro beforehand, but we would recommend signing up https://miro.com/index/. You will be given access to the board on the day of the workshop and during the session
Sales Have Ended
Registrations are closed
Thank you for signing up! We look forward to meeting you in the workshop. We will be using Miro and Zoom for the workshop. You do not need to sign up to Miro beforehand, but we would recommend signing up https://miro.com/index/. You will be given access to the board on the day of the workshop and during the session
Pilot workshop complimenting Sandtable 沙盆推演, the Hong Kong pavilion at London Design Biennale 2021 at Somerset House 1st - 27th June.
About this event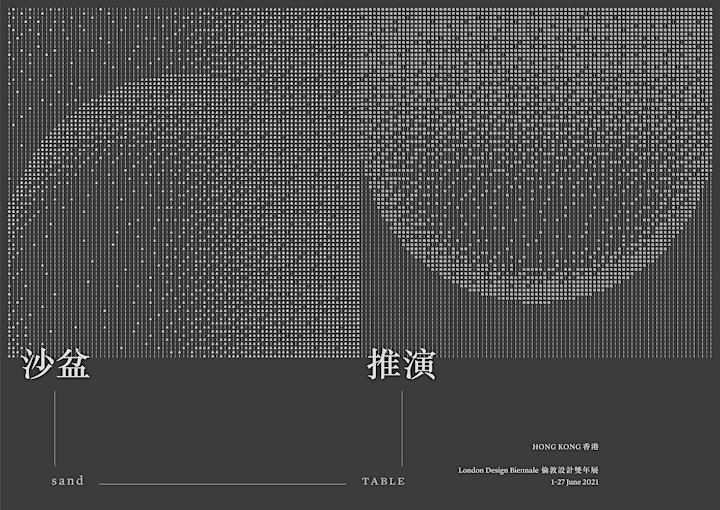 In this pilot workshop we will experiment with the themes of design speculation and the Anthropocene as explored between the lines in Sandtable 沙盆推演, the Hong Kong pavilion at London Design Biennale 2021 opening at Somerset House 1st - 27th June. Note that they will be the same session, and since spaces are limited, please only sign up for one date.
The Hong Kong pavilion invites audiences to develop stories, dreams, and speculations on the histories and futures of Hong Kong as you encounter the urban legend of Ah Kwan Showing the Way, a fantasy concocted by early British colonialists. This will culminate in an ongoing alternative archive, documenting the multiple, interwoven, non-linear histories of Hong Kong generated by physical and virtual contributors.
Complimenting the installation at Somerset House and Sandtable.hk and reflecting our collaborative process, this workshop will expand into cartographic forms of storytelling, producing a collaborative map on Miro inspired by and enquiring into historical sources. In small groups you will take on a theme in the map, reimagining Hong Kong, the Kwan Tai Loo road and the journey the group make around the island. The maps produced will be published on the HKDHNet website, and help to form future workshops and events combining design, speculative history and storytelling of Hong Kong.
Mapping Ah Kwan's island is a collaboration between Hong Kong Design History Network and students from the V&A/RCA History of Design MA Programme, Annie Lye, Li-Xuan Teo and Luis Vicente.
The workshop will be conducted on Miro and Zoom, and each session will be a quick-fire experimentation with historical sources provided to visualise and conceptualise Ah Kwan's island. The group will consist of 12 participants each, splitting into four breakout groups.
You do not need to sign up to Miro beforehand, but we would recommend signing up. You will be given access to the board on the day of the workshop and during the session. Please also 'bring' an object or image to the workshop that reminds you of Hong Kong to introduce yourself to the group!
Schedule:
5 mins Hellos!
10 mins Introduction
45 mins Main workshop, split into breakout rooms
10 mins Break
30 mins Wrap Up