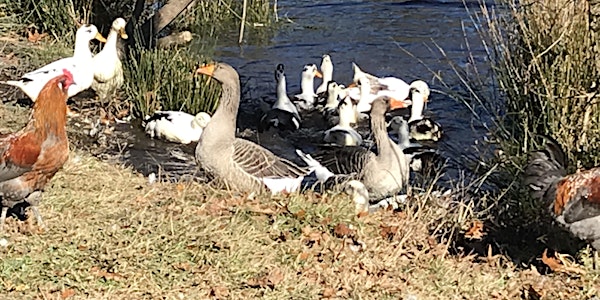 Sandhills Farm Tour
When and where
Location
Moore County Agriculture Building 707 Pinehurst Avenue Cooperative Extension Carthage, North Carolina 28327
Description
Love your farmer? Want to connect with and support those who grow your food? Join us for the third annual Sandhills Self Driving Farm tour. More than a dozen farms from Broadway to Ellerbe are featured on this tour. See how strawberries, flowers, greenhouse vegetables, both organic and conventional, are raised. See colorful chickens, ostriches, goats, pigs, and other animals on pasture. Farm raised products available for purchase. Food trucks, bathrooms, and kid friendly activities available. Once you sign up by email, a map with farm descriptions and directions will be sent to you by email, or mailed to you.
HAVE FUN! Some Important tips to make your day more enjoyable:
Wear comfortable OUTSIDE SHOES AND CLOTHING. Bring plenty of drinking water, a cooler and CASH for your purchases.
Please keep a close eye on children. These are "working" farms with hazards (electric fences, farm machinery etc.)

NO PETS ALLOWED.

The tours are self-directed. You can visit the farms in any order. Carpool if you can!

OUR FARMERS HAVE OPENED THEIR FARMS TO US BUT NOT THEIR HOMES – PLEASE RESPECT THEIR PRIVACY.

Farmers/volunteers will only be available from 9:00 a.m. to Noon (Morning Tour) OR Noon to 3:00 PM (Afternoon Tour). Please visit only within assigned hours for that farm.

NOTE: Due to recent inclement weather, some produce items may not yet be available.
'WARNING: Under North Carolina law, there is no liability for an injury to or death of a participant in an agritourism activity conducted at this agritourism location if such injury or death results from the inherent risks of the agritourism activity. Inherent risks of agritourism activities include, among others, risks of injury inherent to land, equipment, and animals, as well as the potential for you to act in a negligent manner that may contribute to your injury or death. You are assuming the risk of participating in this agritourism activity.'
North Carolina Cooperative Extension is an equal opportunity provider.
MAPS and FARM INFORMATION IS SENT TO THE EMAIL USED TO REGISTER FOR TOUR. PLEASE CHECK YOUR SPAM FOLDER. It is NOT posted on this website.
If by Thursday you have Not Received your maps by email, please Call 910-947-318 or email taylor_williams@ncsu.edu .