Event Information
Performers
Location
El Corazon
109 Eastlake Ave East
Seattle, WA 98109
Sanctuary LIVE with The Accused AD, After The Fallout, and Rivetskull
About this Event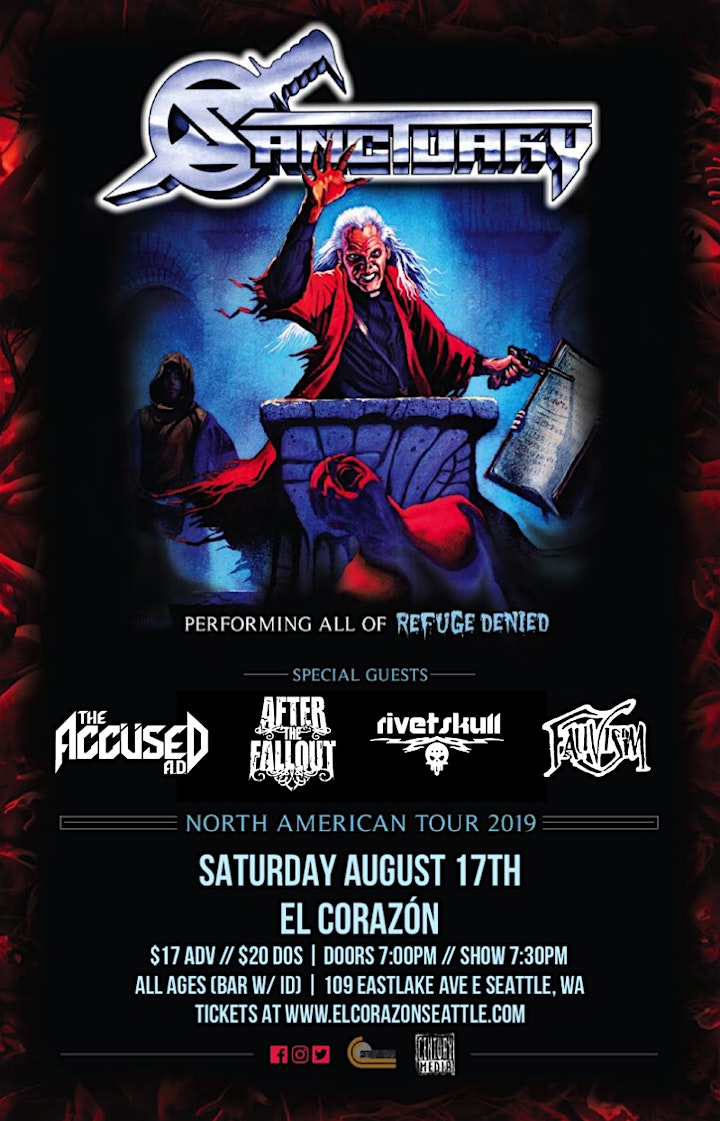 SANCTUARY
Sanctuary, formed in Seattle in 1985, was a pet discovery of Megadeth guitarist Dave Mustaine. He helped get the band signed to CBS/Epic Records, produced their first album, and took them on the road with Megadeth. The band consisted of vocalist Warrel Dane, guitarists Lenny Rutledge and Sean Blosl, bassist Jim Sheppard, and drummer Dave Budbill; after their second album, Sanctuary disbanded, with Dane and Sheppard going on to form Nevermore.
[Steve Huey, All Music Guide]
*P.S. Jeff Loomis sent a tape to metal band Sanctuary when he heard they had lost their guitarist. He got the job, but it was not slated to be a long-lasting one. The group broke up two months later in 1991. However, as the ashes of Sanctuary were clearing, Loomis, along with two other members of the group, formed the band Nevermore. [Gary Hill, All Music Guide]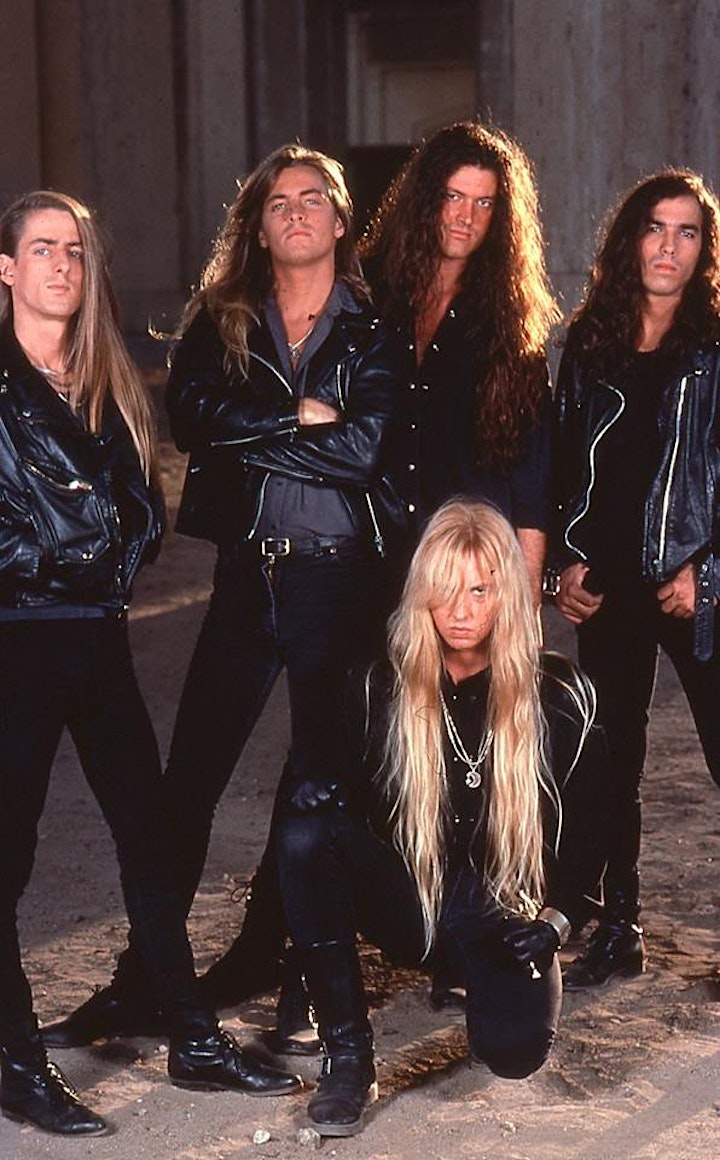 THE ACCUSED AD
If you like hardcore and metal. You have a warm spot for good old days. You probably liked the Accused from Seattle. Considered to be one of the top ten crossover bands of the 80's. With just one original member the real accused is still plugging along. But the rest of the guys from the band still wanted to play the old songs. So what did they do? Formed the accused AD (formerly known as martha's revenge),
This time around the accused AD will be playing songs off of the Combat Records Release "More fun than an open casket funeral". To commemorate the 30 year anniversary of the release.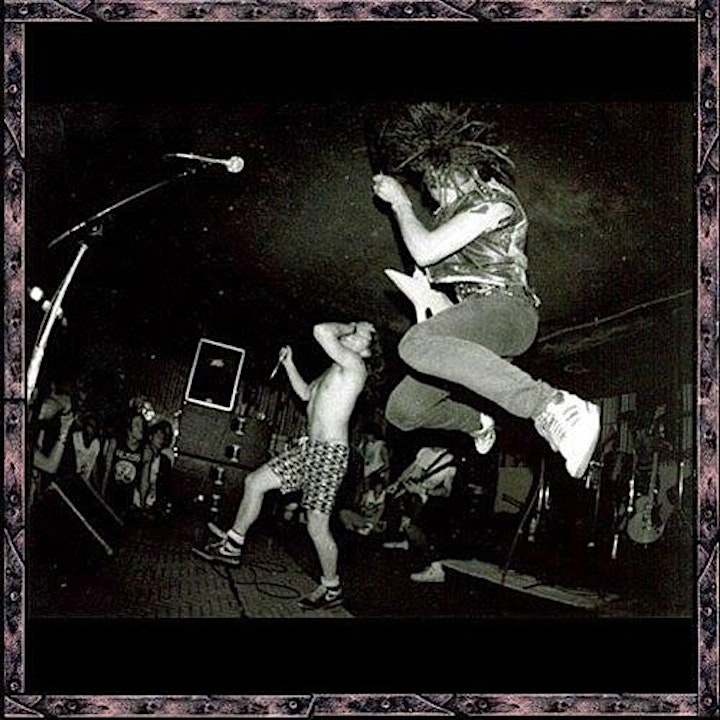 AFTER THE FALLOUT
Formed in Seattle Washington in early 2010, After The Fallout features Allen Mattila and Jason Northover (both formerly of Subjekt 2 Change), Robert Hansen and Shannon Higgason (both formerly of Moral Sacrifice). Throughout late 2011 additional guitar duties were handled by Richard Chambliss (ex. Chiaroscuro / Dread Effect). In 2012 vocals were covered by Joel Fortenberry (ex: When Odin Falls). The Chaos Unleashed EP features bassist Daren Weaser, who has played with the band on and off since its formation. The single "Lambs Become Lions", released in 2015, features bassist Adam Vosler (ex. Spare Me Poseidon). From 2015-2018 vocal duties were handled by Erik Trajik. Initial incarnations of this band began meeting in September of 2009 following the demise of S2C.
CHAOS UNLEASHED:
After The Fallout entered Robert Lang studios in July 2010 to record "Chaos Unleashed", produced by Brian Valentino (previous credits include: KISS, Funeral for a Friend, Soulfly, Queensryche, Chris Cornell, Evanescence, and the Deftones to name a few). This was released independently, through an international distribution deal on Sept 24th 2010.
LAMBS BECOME LIONS:
The band entered Foundry studios in May 2015 with producer Pierre Ferguson to record the single "Lambs Become Lions". This was released to radio on May 31st with a world premiere on 99.9 KISW's Metal Shop. It is currently available for streaming and download from multiple sources.
NATIONAL SUPPORT DATES:
The band has supported such national touring acts as Trivium, Unearth, Soilwork, Nevermore, Chelsea Grin, Nile, Soulfly, Sanctuary, Battlecross, Wovenwar, Firewind, Abnormality, Taipan, Protest The Hero, Lody Kong, Suffocation, Tony MacAlpine, TesseracT, Warbringer, Arsis, Powerglove, Hatesphere, Blackguard, Bury Your Dead, Evergreen Terrace, Nightrage, White Wizzard, Hundredth, Murder Death Kill, In The Midst of Lions, The Plot in You, For The Fallen Dreams, Darkness Divided, Maylene and the Sons of Disaster, Starkill, and Conducting from the Grave.
After The Fallout is currently writing new material for a yet untitled EP to be released in late 2018.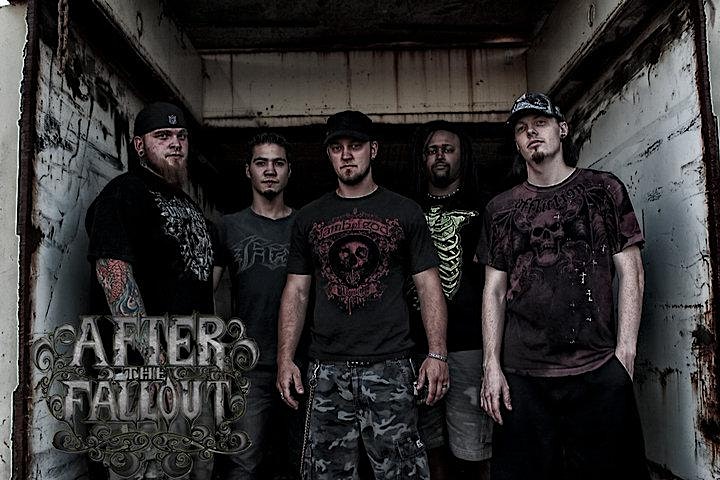 RIVETSKULL
NWOAHM revival band from Washington Capital.
RivetSkull is an echo from the birth of heavy metal. A reflection of a magical moment in time when heavy metal was born in the 70's and 80's. Evolution of the genre? Not happening here. This is the Jurassic Park of heavy metal, the regrowth of that same DNA that created the beasts that first roamed the dark valleys of Birmingham, Leyton, the foothills of the Cascades and the plains of Texas. If you are looking for the next new sub-sub-genre of heavy metal you won't find it here.
What you will find is heavy, melodic and riff laden music with clear and strong vocals. There is a strong groove with prominent bass lines and tight fitting guitar riffs. The singing will take you back to a day when skill, melody, power and style mattered. Like good metal – you will feel it in your core as much as you will hear it in your ears.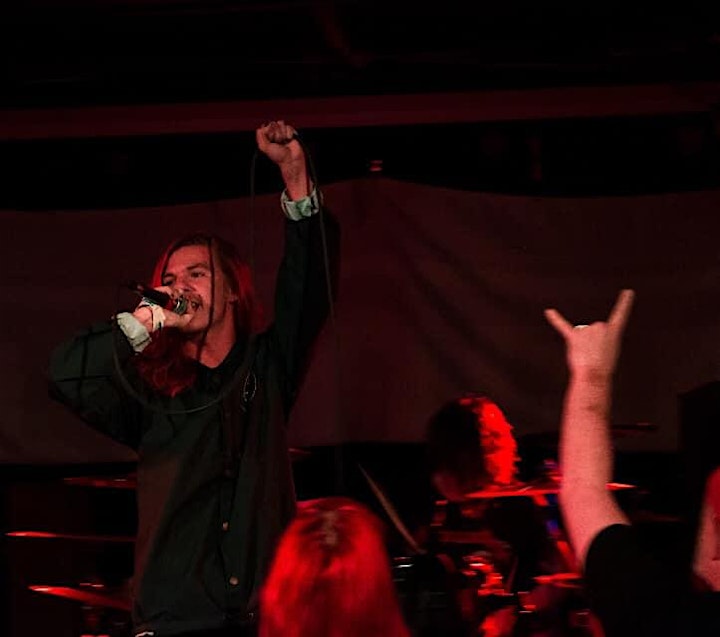 Performers
Date and Time
Location
El Corazon
109 Eastlake Ave East
Seattle, WA 98109
Refund Policy