Event Information
Location
Please note: There is no parking at the Miners Welfare Park or in the vicinity. We strongly encourage visitors to Sanctuary to arrive on foot, by bicycle or public transport.
Miners Welfare Park - Bayton Lake
Bedworth Hill
Bedworth
CV12 9HH
United Kingdom
A Covid memorial for the nation
About this event
Join us at sunset on the evening of Saturday 28 May for the spectacular finale of Sanctuary. This is a free, ticketed event.
Open to the public from 21 – 28 May, Sanctuary will be a unique memorial to commemorate the nation's losses during the Covid pandemic. It will be a place for everyone to reflect, remember and let go.
Throughout the week, you are invited to visit Sanctuary with friends and family, to bring mementos of those you have loved to share and write messages on the structure.
On the evening of Saturday 28 May, Sanctuary will be ceremonially set alight and burned to the ground in a powerful moment of catharsis to help signal a rebirth.
Sanctuary, third in Artichoke's memorial trilogy with David Best, is an intricate wooden structure created in collaboration with the local community of North Warwickshire. Famous for his temples at Burning Man in the Black Rock Desert in Nevada, David's vision is for Sanctuary to be a healing space for everyone to come back together after an isolating and challenging two years for us all.
Opening times
Sanctuary will be set alight at sunset, approximately 21:00, on the evening of Saturday 28 May. The burn will last for 30 - 40 minutes.
Doors will open at 19:00. Please arrive in time to get a good viewing spot.
Parking for the burn
We strongly encourage visitors to Sanctuary to arrive on foot, by bicycle or public transport. There is no parking on-site or in the vicinity.
If coming by car is unavoidable, please note that parking is extremely limited, there is likely to be considerable congestion around Bedworth town centre at peak times throughout the event, and car users are likely to be subject to significant delays.
If you have accessible parking requirements, please contact access@artichoke.uk.com
Donations
Artichoke is a registered charity and our projects are free to the public. This is why your support matters so much.
If you like what we do, you can help us to keep producing projects like Sanctuary by making a donation. Any amount you give will make a difference to our year-round work with communities across the UK.
Paper tickets
If you're unable to book online, please call the Borough Council customer services on 024 7637 6376 to book up to six tickets. You can collect your tickets in person from Nuneaton Town Hall or the Bedworth Leisure Centre in Miners' Welfare Park.
Access
Sanctuary is situated on top of a mound at the Miners Welfare Park. It is an outdoor park without covering and the terrain will be uneven.
Wheelchair users can use the concrete path to access the structure. The path follows the perimeter of the park and has an 8% gradient to get to the top. There will be volunteers onsite who can help if you require assistance.
Accessible viewing platform
During the burn on the 28 May, you can view the sculpture from below the mound.
There are two accessible viewing areas. Please look out for the signs.
- Miners Welfare Play Park, close to the skatepark
- At the bottom of the Sanctuary structure, accessed via the path
Distances
The distance from Bedworth train station to the Bedworth Leisure Centre is 10-minute walk
The distance from Bedworth Leisure Centre to the Sanctuary site is a 5minute walk up hill.
Accessible toilets
We are providing accessible toilets on the night of the burn only. The toilets will be located towards the bottom of the mound close to the artwork.
Additional Information
Sanctuary is open to visit during the week ahead of the burn. Tickets are not required.
Opening Times:
12:00 - 20:00, 21 - 27 May
10:00 - 14:00, 28 May
Accessible tours
We're running accessible tours of Sanctuary in the week before the burn between the 26 – 27 May.
Visit sanctuary-event.com to find out more.
Produced by Artichoke, in association with Imagineer and supported by Nuneaton & Bedworth Borough Council, Warwickshire County Council and DCMS Culture Recovery Fund.
FAQs
Why do I need a ticket for the burn?
The burn is a free to attend. It is ticketed to help manage audience numbers. Thousands of people are likely to attend the Sanctuary burn on Saturday 28 May. We want everyone to feel comfortable, enjoy their evening and have an experience that will last in the memory forever.
Tickets are not required to attend on any other day before the burn.
What steps are you taking to minimise environmental impact of the burn?
Sanctuary and producers at Artichoke are committed to being as environmentally sustainable as possible and contributing to the UN's sustainability goals for People, Planet and Prosperity through working with the local community.
We recognise that in the face of the climate change emergency, every step must be taken to reduce emissions to as close as possible to net zero, and that appropriate mitigations are taken including using FSC certified wood, working with responsible contractors in relation to their environmental sustainability practices, and encouraging visitors to use public transport to reach the event.
Where we are not able to reduce the impact of the event, we are working with Environmental Consultants, A Greener Festival, to undertake a carbon impact assessment for the project and to invest directly in projects that absorb carbon and reduce future impact.
Images: Temple, David Best, Derry-Londonderry, 2015. Produced by Artichoke. Photos by Matthew Andrews.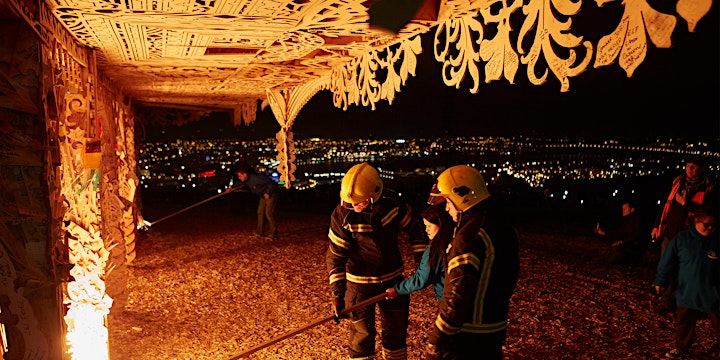 Date and time
Location
Please note: There is no parking at the Miners Welfare Park or in the vicinity. We strongly encourage visitors to Sanctuary to arrive on foot, by bicycle or public transport.
Miners Welfare Park - Bayton Lake
Bedworth Hill
Bedworth
CV12 9HH
United Kingdom