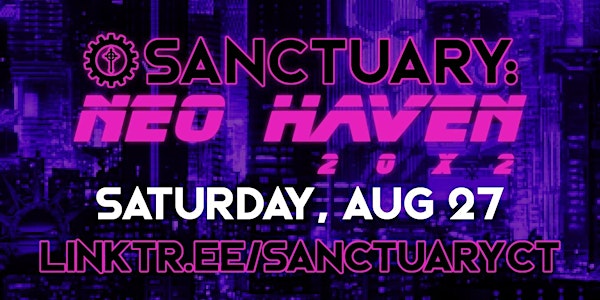 SANCTUARY: NEO HAVEN 20X2
Location
The State House
310 State St
New Haven, CT 06510
About this event
ATTENTION CYBERGOTHS, AUGS, HACKERS, REPLICANTS, AND ALL THE REST OF YOU HIGH-TECH LOWLIFES:
After all this time we are very excited to finally bring back one of our favorite themes. A night of UV glow and sinister cyberpunk soundscapes.
NEO HAVEN 20X2: A DARK FUTURISTIC DANCE PARTY.
We encourage all of you to dress in your most futuristic and blacklight-reactive attire you can find! Got an old cybergoth ensemble kicking around in your closet? Dust it off and bring it out! We will provide the atmosphere!
We've got DJ R.I.C.H.A.R.D and DJ Azrael manning the decks, with a soundscape befitting of a high-tech dystopia.
And as a special bonus, we've got Nicole Sikora (sparklesquadct.com) as our augmentation specialist, with UV facial enhancements (that's just fancy talk for glow-in-the-dark face painting 😛) provided at a fair price!
The future is back. The future is now. And we're waiting for you.
STATE HOUSE
310 STATE ST, NEW HAVEN CT
18+ W/VALID ID
$5 FOR 21+, $8 FOR 18-20
DOORS OPEN AT 9:00 PM