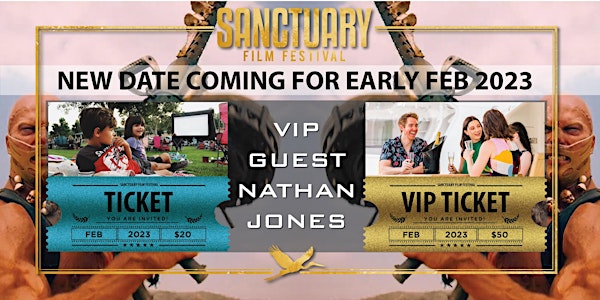 Sanctuary Film Festival
Open Air International Film Festival held at Sanctuary Cove on the Gold Coast for the 8th consecutive year!
When and where
Location
Sanctuary Cove 4601 Masthead Way Hope Island, QLD 4212 Australia
About this event
★ ★ ★ POSTPONED TIL FEB 2023 DUE TO WEATHER ★ ★ ★
With the recent news that Queensland is expecting one of it's greatest rainfalls this December and the Sydney Morning Herald predicting that "La Nina will finish the year with a 'bang', regrettably the Sanctuary Film Festival team must inform you that due to wet weather next weekend, we will be postponing our outdoor event until February of 2023. The choice has not been an easy one, and has been made together with our sponsors, stakeholders and equipment suppliers.
No one is more disappointed than us but we are confident in assuring that the festival will be bigger and better in February with an optimistically drier forecast. We apologize for any inconvenience this may cause.
Moving forward, we welcome our attendees to hold onto their tickets until our new date is announced. If you find that you are not able to attend the new date, we are able to supply a refund. Thank you for supporting our small Not-For-Profit festival and for your patience while we get the new date sorted!
If you would like to discuss your options with your tickets, please get in touch with us by emailing - hello@sanctuaryfilmfestival.com.
★ ★ ★ NEW DATE IN FEBRUARY COMING SOON! ★ ★ ★
Welcome to the eighth consecutive Sanctuary International Film Festival. This year we are excited to host you in February 2023 at Sanctuary Cove, on the Gold Coast to enjoy the final short films and documentaries from around the world.
Coming fresh off from filming for the next MAD MAX "Furiosa", Spider Head, Mortal Kombat and Fast & Furious… The one and only Nathan Jones will be attending the Sanctuary Film Festival on the Gold Coast at Sanctuary Cove. We are so excited to have such a local talent come to support the Australian film industry. Want to get a photo with the 7ft giant? Get your tickets today!
https://vimeo.com/queenslandheadshots/nathanjones
For those who purchase a VIP ticket, your ticket includes a designated VIP area where seating will be provided and you will have access to our festival bar with complimentary drinks from local companies including Wine Not The Brand and on tap beer from Black Hops Brewery.
If you choose to purchase a general admission ticket to this year's event, you will be seated on the green before our large outdoor silver screen, where you will be closest to our showcase films, and awards. While there will be beanbags and some seating available, we also encourage you to BYO seating (think picnic blankets, camping chairs, bean bags) as there will be limited seating provided. You will also have the opportunity to purchase drinks from our wine sponsor Wine Not The Brand. You can either purchase on the evening or you can pre-purchase for a discount using the code SIFF for 10% off.
Pablito's Mexican will also have a taco stand on the evening where you can purchase yourself some food, or you can choose from the many surrounding restaurants to visit before the event begins.
Please keep in mind that while this is a family friendly event, the short films are currently being accessed by our judging panel and we cannot confirm the rating. So we recommend a parental guidance (PG) during the event, there will likely be some swearing or hints of adult themes throughout the screenings.
FAQ's:
Are there ID or minimum age requirements to enter the event?
This is a family friendly event. There are no requirements. We just ask that you be respectful to our volunteers and fellow patrons or you will be asked to leave the event. If you are in the VIP section you may still be asked to show your ID so please make sure to have it with you.
What are my transportation/parking options for getting to and from the event?
It is best to park at the front of Sanctuary Cove. As you enter the final round-a-bout, there are two large parking lots on either side of the road. Park there and walk 5 minutes over to the village green.
What can I bring into the event?
Please feel free to bring something comfortable to sit on. There will be limited seating available so you are welcome to bring; mats, cushions, chairs, beanbags, picnic blankets. We ask that you be mindful in taking all rubbish and your items home with you. Please also be aware of other patrons when setting up your viewing station.
What's the refund policy?
Unfortunately, as we are a small Not-For-Profit festival working with tight budgets, we do not offer refunds. (Unless we reschedule due to weather!)