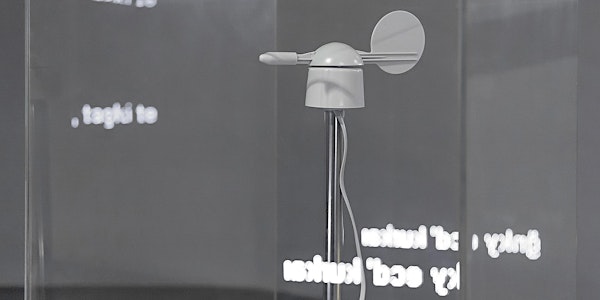 Sanatçı Söyleşisi: Ali Miharbi
Belgeleme (dokümantasyon), atıf yaptığı sanat yapıtının yerine geçebilir mi?
When and where
Location
Sakıp Sabancı Müzesi Sakıp Sabancı Müzesi İstanbul, Emirgan 34467 Turkey
About this event
digitalSSM Arşiv ve Araştırma Alanı tarafından hayata geçirilen "VARYANT. Yeni Medya Sanatının Belgelenmesi" araştırma projesi kapsamında gerçekleşecek söyleşi, sanatçı Ali Miharbi'nin ağ-tabanlı (network-based) yapıtı Reversing the Conditions (2002) ve canlı veri ile işleyen fiziksel yapıtı Rüzgar'a (2017) odaklanıyor. Moderatörlüğünü digitalSSM Yöneticisi Osman Serhat Karaman'ın yapacağı söyleşide, sanatçının iki yapıtından hareketle, dijital koruma çalışmalarında kullanılan "yeniden canlandırma" (reinterpretation) ve "ikinci orijinal"* (second original) kavramları tartışmaya açılacak ve şu spekülatif soruya yanıt bulmaya çalışılacak: Belgeleme (dokümantasyon), atıf yaptığı sanat yapıtının yerine geçebilir mi?
26 Ocak Perşembe günü saat 15.00'te SSM Konferans Salonu'nda gerçekleşecek etkinliğe katılım ücretsizdir ve kayıt gereklidir. Etkinlik dili Türkçedir.
Ali Miharbi (d. 1976) İstanbul'da oturuyor. Çalışmaları grafik, fotografik, işitsel veya heykelsi üretimlerden, canlı veya kayıtlı veriler ile işleyen dinamik sistemlere kadar çok çeşitli biçimler alabiliyor. İlk dönemlerinde web tabanlı, tekno-kültürel temalar üzerine eğilen, web'in deneysel bir alan olarak imkanlarını araştıran işler üretti. Sonrasında, İnternet'in her türlü cihaza girip 'sanal' ve gerçek uzam arasındaki sınırları bulanıklaştırmasıyla, fiziksel mekanda etkileşime yoğunlaşan, gözetim teknolojileri, dijital örüntü veya hareket algılama gibi yöntemler kullanmaya başladı. Son zamanlarda ise, toplumsal, teknik, tarihsel ve güncel perspektifler arasında gezinerek karmaşık sistemlerin oluşumu ve evrimi, yapay nesneler ile kurduğumuz ortak yaşarlık ilişkisi ve enformasyonun ardındaki maddesellik gibi konuları oyunsuluğa ve şansa da önemli bir rol vererek inceliyor.
Portre fotoğrafı: Kayhan Kaygusuz
Rüzgar işinin fotoğrafları: Rıdvan Bayrakoğlu