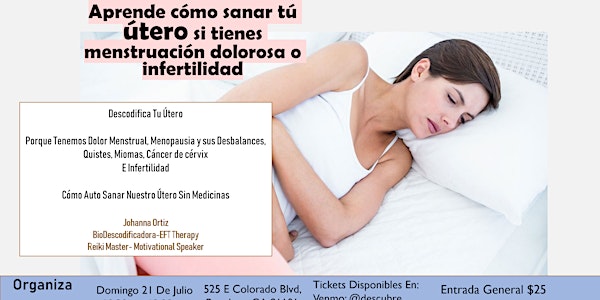 Sanando tu útero
Sana Tu útero Con la Biodescodificación, la herramienta que necesitas para sanar cualquier problema relacionado con nuestra feminidad.
When and where
Location
525 E Colorado Blvd 525 East Colorado Boulevard Pasadena, CA 91101
About this event
Si sufres con dolor menstrual cada mes, te inflamas, no soportas la ropa y solo quieres estar enrollada en la cama, debes saber que esto NO es NORMAL y nadie nos lo dijo, pues estamos acostumbrados a los medicamentos para el dolor, sin embargo la Biodescodiciación te da la oportunidad de liberarte de los dolores que han estado contigo desde temprana edad. Si has tenido quistes, miomas, dolores bajos, o quieres prevenir enfermedades graves como el cáncer, la infertilidad o minimizar los síntomas de la menopausia, este taller está totalmente enfocado por mujeres para la salud de la mujer!
Descodificar tu útero es muy importante, aquí entenderemos porque los periodos menstruales dolorosos y como estos bloqueos están causando tantos problemas de infertilidad, enfermedades como la endometriosis, los quistes y los dolorosos miomas. Esta es una forma efectiva para deshacerse de los molestos dolores y prevenir posibles quistes o la infertilidad a causa de estas acumulaciones en nuestros ovarios. La mejor parte, es que no necesitas usar medinas, ni ningún tratamiento para tener un útero sano.
Ademas si estás tratando de quedar embarazada y aún no la logras, esto definitivamente es para ti o si ya eres una mujer adulta y necesitas entender la menopausia y como disminuir sustancialmente los síntomas no debes faltar!
Nuestro útero es el órgano que nos diferencia de los hombres y es este la meca para acumular emociones asi debilitando y dejando nuestro útero a la exposición de múltiples enfermedades a causa de la acumulación emocional, conociendo estas emociones atrapadas como codigos biologicos que atacan y debilitan nuestro útero, podemos prevenir muchas enfermedades al igual que sanarnos si ya las padecemos. La salud femenina es primordial y debemos ser responsables y atender a los llamados de nuestro cuerpo que se manifiestan como dolor y así poder tratarnos a tiempo.
Acerca de la locacion: El evento se realizara en la prestigiosa escuela culinaria NEW SCHOOL OF COOKING, que esta ubicada en South Pasadena, cerca de muchas attraciones para que disfruten del domingo despues del taller, La escuela tiene su propio restaurante para los que quieran tener una experiencia culinaria.
Llegada 10 minutos antes, comenzamos a las 10:30am en punto.
Te Esperamos!
INFO: 917.858.5043 -818.355.1654