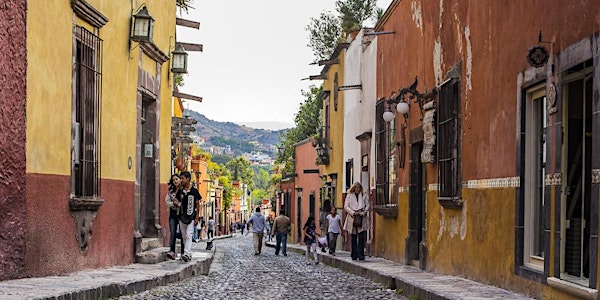 San Miguel de Allende Experience 2022
Channel your inner Matisse and find unbounded opportunity for photographic expression in beautiful San Miguel de Allende.
When and where
Location
San Miguel de Allende Ancha de San Antonio No. 1 San Miguel de Allende, GUA 37700 Mexico
About this event
5 DAY PHOTO WORKSHOP
ONLY 2 SPOTS LEFT!
Channel your inner Matisse and find unbounded opportunity for photographic expression in a region revered for its wild beauty and time-honored cultural traditions.
Join accomplished Mexican street photographer David Coleman on this five-day photography experience, which weaves the "Dia De Los Locos" festival in the captivating town of San Miguel de Allende, Mexico, with exploration of the charming adjacent city of Guanajuato.
Dia De Los Locos is a wild and woolly festival that is unique to San Miguel. Mingle with the vibrant locals as you witness the flamboyant procession wind through the cobblestone streets of town and dance to the beat of live music. While the costumes and masks of local politicians, actors, cartoon characters, and monsters appear secular, this colorful and complex festival actually has deep religious roots. David will provide one-on-one instruction in the field and help you capture the spirit of revelry, as the participants shimmy, shake, and stamp their feet aboard their truck bed floats, throwing fistfuls of candy at the crowds like Mardi Gras revelers.​
After three days in San Miguel de Allende, visit the nearby town of Guanajuato, built in a narrow valley hugged by rugged mountains and named a world heritage site in 1988. Observe the merging of past and present in this time-preserved town as you explore Jardin Union, a fountain and tree-filled plaza that is considered the "heart and soul" of the city. Stroll through the colorful Municipal Market (Mercado Hidalgo), a two-story architectural gem built in 1910 that sells everything from locally-made leather handicrafts and woven baskets to dried chiles, spices, and fruits.
​San Miguel de Allende and Guanajuato are as much a feast for the eyes as for the culinary connoisseur. Experience local dishes that are as good or better than any Michelin-star restaurant, from the versatile casuelas - meals baked in earthenware pots and consisting of fresh local ingredients like potatoes, eggs, cheese, and herbs - to an array of pan dulce, the sweet and savory pastries of Mexico. You won't leave hungry!​
David, born and raised in Mexico, is an expert photography instructor and visual storyteller who provides a safe and fulfilling photography workshop experience, planning the best sites and times of day for shooting, local fare, and comfortable accommodations in advance. The workshop also includes visual storytelling instruction and image review sessions.​​
"San Miguel De Allende is a photographer's paradise. David knows the secret spots to photograph and culinary hotspots that rival the restaurants of Europe. First and foremost, safety in San Miguel de Allende and Guanajuato was never a concern of mine shooting into the late evening hours. I certainly felt safer than walking the streets of San Francisco."
- Ed Marlatt, Los Altos Hills, CA
​
"Traveling with a small group of like-minded participants, I loved my fun trip to San Miguel de Allende, with camaraderie, local music, and excellent cuisine, while at the same time learning new skills in street photography.  David handled all of the details from reserving a centrally-located hotel to finding restaurants that are hidden gems, ones that tourists may never find. Mexico is not only a safe place to visit and photograph, but it is also a beautiful and culturally-rich destination."
 - Pam Perkins, Redwood City, CA
​
"David is an outstanding, caring instructor, artist and storyteller. I've done several workshops with him, and most recently the incredible Oaxaca and San Miguel de la Allende experiences. He is encouraging, understands your level and works diligently with you to raise the bar. His day and longer trips are expertly planned and based on his extensive experience in the region, filled with excellent food, thoughtful and smart classroom presentations and critiques, practically flawless logistics, and excellent shooting opportunities."
 - Bryan Scanlon, Walnut Creek, CA
INCLUDED:
Private accommodations, classroom instruction, private coaching, local transportation, tours, leaders and local guides, all permits, entrance fees and taxes.​
Note on limited spaces: Workshops are limited to 7 participants. Small groups allow David to provide one-on-one photography coaching in the field.
A workshop participant may bring an additional guest for an add-on fee of $400. The guest receives all the benefits as a workshop participant except for photography instruction.
​​PRICING: $3,900
RETAINER: $400 (Non-Refundable / Non-Transferable)
Workshop balance: The balance of $3,500 is due and payable by April 1st, 2022 8am. If canceled after April 1st, 2022, 8am PST full cost will be retained. Please contact us with payment options.
Activity level: High. Activities may include long walks and on uneven cobblestone streets, hills, and sidewalks.
david@davidcolemanphotography.com