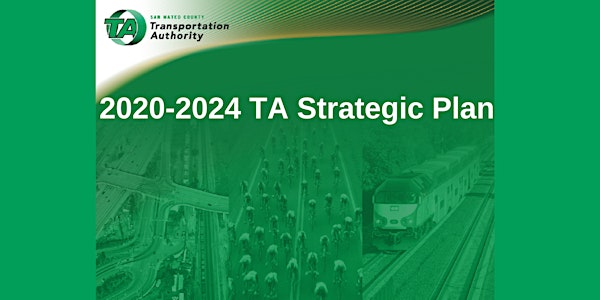 San Mateo County TA Strategic Plan 2020-2024 Virtual Town Hall
A live online presentation of the San Mateo County Transportation Authority's 2020-2024 Draft Strategic Plan
About this event
Please join us for a Virtual Town Hall about the 2020-2024 TA Strategic Plan. Every five years, the San Mateo County Transportation Authority updates its Strategic Plan, a document that guides the policy framework and implementation plan for the new Measure W programs and for the continuation of the existing Measure A programs.
The meeting link is now live! Click here to join the Virtual Town Hall https://youtu.be/RKyo3pwlA4M
For more information, visit www.SMCTA.com/StrategicPlan
The online meeting will be viewed on the San Mateo County Transit District YouTube page and a link will be made available 10 minutes before the event begins. No login is required to view. An interactive chat will be available for any questions which does require a Google/YouTube login to participate in. However chat comments will not be considered or recorded as official public comment.
To make an official comment please use the comment link below. Public comment closes November 15, 2019.
About the TA Draft Strategic Plan
The Draft Strategic Plan development process involves the following components:
Planning context: includes an analysis of existing conditions and projected trends pertaining to transportation and land use, a peer review of other public transportation funding agencies, and a high level needs analysis for key program categories.
Development of the policy framework that includes, but is not limited to: project selection processes, eligible project sponsors, project evaluation criteria building on what exists for Measure A and incorporating criteria that support the Core Principles laid out in Measure W.
Extensive community engagement: throughout the Strategic Plan development process the TA engaged in extensive public outreach including multiple presentations, community meetings, a public survey, and regular meetings with Stakeholder and Technical advisers.