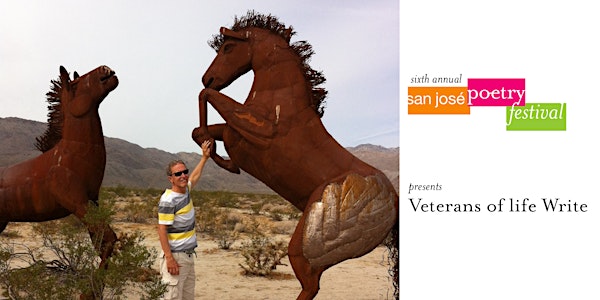 San José Poetry Festival | Veterans of life Write
Online poetry reading featuring participants from the Veterans of life Write program. Part of San José Poetry Festival 2020.
Refund Policy
Contact the organizer to request a refund.
Eventbrite's fee is nonrefundable.
About this event
As part of San José Poetry Festival 2020, participants in Poetry Center San José's Veterans of life Write program will be sharing their work via Zoom. This year's participants will be Nick Butterfield, Carol Coughlin, G. Craige Edgerton, Emilio Gallegos, Jeffrey Leonard, Amy Meier, Doug Nelson, Bill Noyes, and Carol Steele.
This is Day Five of our six-day festival! Check out this list of all the events that are part of the sixth annual San José Poetry Festival or get a festival pass. Help support Poetry Center San José by becoming a member.
"It's not the world that changes us, it's everything else." "A true bibliography is dying of a thousand lives. a thousand times a day." Nick Butterfield served in the USN-R from 1983-1993, and active duty during Operation Desert Storm/Shield 1990-1991. Nick has been working as a Family Practice Nurse Practitioner for 20 years with the Homeless Project and Gardner So. County Community Clinic in Gilroy. Nick has participated in three anthologies sponsored by Poetry Center San José and helps co-facilitate the VeteransWrite group that meets at MLK library at SJSU for the last four years.
Carol Coughlin was born in Germany to an American Army man she never knew; her mother, a young German woman. Raised by her grandmother on stories and poems, she moved to the U.S. at age 9 with her mother and adopted father, an Air Force man.
G. Craige Edgerton came to San Jose in 1976 from Austin, Texas. He has worked as a small retail business owner, self-employed financial planner, a financial consultant for Wells Fargo, and the Executive Director for the Silicon Valley Land Conservancy. He retired in 2017 and now is an avid amateur naturalist having led many nature hikes throughout the South Bay. He is also a Marine Corp combat veteran from Vietnam having served as an artillery forward observer with an infantry company. He has recently taken up writing and now has 14 poems, a short story about his return from Vietnam, and is working on his autobiography.
Emilio Gallegos is a United States Marine Corps and Operation Iraqi Freedom veteran, a Purple Heart recipient, and a single father of two. He holds a Bachelor of Arts in English from SJSU, with a concentration in creative writing, and has previously worked in leadership with a men's ministry group, while simultaneously directing a youth ministry team. He is currently pursuing a Masters of Fine Arts in Writing at California College of the Arts, and serves as a Vet Connect Peer Leader on the San Jose State campus. He has been invited to numerous high school campuses to speak and share his military and writing experiences, continues to work as a guest presenter each semester to an upper division Psychology class at San Jose State University, and progressively pursues personal healing through writing.
Jeffrey Leonard served in the U.S. Army between 1966-1968. Drafted out of San Jose State, he trained as a 11C40, leaving the service as an E-5. He is a 12th generation descendant of men who have served in every major conflict dating back to pre-Revolutionary America. A survivor of the Vietnam Era, he is drawn to the stories of the returning soldiers and how their lives unfold after they remove the uniform.
Amy Meier grew up in New York City and now lives in San Jose, CA. In 2015 Amy founded VeteransWrite, currently meeting once a month in the San Jose State University Dr. Martin Luther King library. She has been published in Caesura, Porter Gulch Review, and online in Portside.
Fifty years after serving in Vietnam, Doug Nelson is still trying to deal with the dissonance that comes with helping his country to be wrong. In 2007, Santa Clara County offered him a way to deal with Vietnam, assisting veterans with disability claims. His friends in the Willow Glen Poetry Project and in VeteransWrite are his mentors and muses.
Bill Noyes, now past 70 years, is a retired TIG welder of thirty years now focused on creative pursuits such as photography and writing. As a Vietnam war veteran, he continues to seek understanding of his war experiences so he can properly communicate those lessons to younger audiences. He is the illustrator of his daughter's book, Cooking With Kinders, and is currently writing his first novel.
Not a veteran herself, Carol Steele's parents both were in the Army during World War II. She married a Vietnam veteran, and they had a daughter. For twelve years, her grandson has been in the Army. Her poetry is about the family experience having a soldier serving during a time of war.
San José Poetry Festival 2020
Want more poetry? Check out the rest of the San José Poetry Festival 2020 lineup. The sixth annual San José Poetry Festival celebrates our community's diverse ethnic and cultural heritage with a wide range of topics and literary styles reflected in performances, workshops, and a small press fair. This year, the festival will move online to keep our community safe while keeping us all connected.
San José Poetry Festival 2020 is presented by Poetry Center San José and is sponsored in part by: Festival and Cultural Affairs grants from the City of San José; a grant from SVCreates, in partnership with the County of Santa Clara and the California Arts Council; funding from Poets & Writers; and with support from Anne & Mark's Art Party and The Center for Literary Arts. We would like to acknowledge and offer our deepest gratitude to our originally booked live venues for this festival: the Art Boutiki, Books Inc., Caravan Lounge, Dr. Martin Luther King Jr. Library, Forager, History/San José, Recycle Bookstore, and Works/San José.
Follow Poetry Center San José on Facebook and Twitter for announcements about performers and events as we get closer to the festival. Also, hear about other amazing South Bay poetry events!