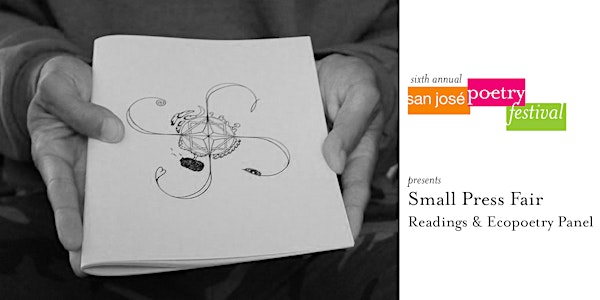 San José Poetry Festival | Small Press Fair Readings & Ecopoetry Panel
Online showcase featuring ecopoetry panel and local small presses & artists reading their work. Part of San José Poetry Festival 2020.
About this event
As part of San José Poetry Festival 2020, the Small Press Fair highlights Bay Area publishers and artists reading samples of their offerings via Zoom. Featured guests for this event will include a panel of Lucille Lang Day, Jade Bradbury, Tobey Hiller, and Lisa Rosenberg discussing ecopoetry, titled "Words for the Earth: Poetry, Ecology, and Environmental Action." The four panelists will discuss the definition of an ecopoem, what inspires them to write ecopoetry, and what they see as the relationship between ecopoetry and environmental activism. They will also read ecopoems, talk about writers at the forefront of environmental writing whose work they admire, and tell about their own process for writing ecopoems. Hosted by Mighty Mike McGee. Ticket registration is required for all attendees.
This is Day Six of our six-day festival! Check out this list of all the events that are part of the sixth annual San José Poetry Festival or get a festival pass. Help support Poetry Center San José by becoming a member.
Lucille Lang Day (panel moderator) is co-editor of Fire and Rain: Ecopoetry of California (Scarlet Tanager Books, 2018) and the author of ten poetry collections and chapbooks, most recently Becoming an Ancestor and Dreaming of Sunflowers: Museum Poems. She is also a co-editor of Red Indian Road West: Native American Poetry from California and the author of two children's books and a memoir. Her poems, essays, and short stories have appeared widely in magazines and anthologies, and her many honors include the Blue Light Poetry Prize, two PEN Oakland/Josephine Miles Literary Awards, and ten Pushcart Prize nominations.
Jade Bradbury is the author of In the Willing Dirt (Purple Passion Press, 2019). Her poems have been published in Poetry on the Move (2013), Song of Los Gatos, Poems of the Gem City (2014), The Literary Nest, Vol. 1, Issue 1 (2015), (AFTER)life, Poems and Stories of the Dead (2015), Spring Mother Tongue (2017), Caesura/Arrival (2019), and Celebrate Creativity, A Cupertino Community Anthology (2020). Other writings have been published in newspapers, magazines, books, and online publications.
Tobey Hiller writes poetry and fiction. She is the author of four books of poems: Crossings, Certain Weathers, Aqueduct, and most recently, Crow Mind (June 2020). She is also author of Charlie's Exit, a novel, and a number of writings about literature and psychology. Her poems have appeared in many magazines, including Askew, Ambush Review, Canary, Sisyphus, MusePie Press's Shotglass Journal, Mediterranean Poetry, and Milkweed Chronicle, as well as five anthologies, most recently Fire and Rain: Ecopoetry of California and The Wild (Marin Poetry Center, 2019). Her poetry has won magazine awards; her fiction has been short-listed for three prizes.
Poet and recovering engineer Lisa Rosenberg is the author of A Different Physics, winner of the Red Mountain Poetry Prize. She holds degrees in physics and creative writing and worked for many years in the space program. A former Wallace Stegner Fellow in Poetry at Stanford University, she served as the 2017/2018 Poet Laureate of San Mateo County, California. Lisa's poems explore shared territory in arts and sciences and the drive to question inherited models. She was recently named a MOSAIC Fellow with Sangam Arts and will be a 2020 Djerassi Resident in Scientific Delirium Madness.
Additional Participating Publishers & Artists: Ashkum Kumar, Blue Bone Books, Darkhouse Books, Dutch Poet Press, Gabrielle LaFrank, Joseph Jason Santiago LaCour, Kevin Arnold, Thinking Ink Press, Tim Myers, and more.
San José Poetry Festival 2020
Want more poetry? Check out the rest of the San José Poetry Festival 2020 lineup. The sixth annual San José Poetry Festival celebrates our community's diverse ethnic and cultural heritage with a wide range of topics and literary styles reflected in performances, workshops, and a small press fair. This year, the festival will move online to keep our community safe while keeping us all connected.
San José Poetry Festival 2020 is presented by Poetry Center San José and is sponsored in part by: Festival and Cultural Affairs grants from the City of San José; a grant from SVCreates, in partnership with the County of Santa Clara and the California Arts Council; funding from Poets & Writers; and with support from Anne & Mark's Art Party and The Center for Literary Arts. We would like to acknowledge and offer our deepest gratitude to our originally booked live venues for this festival: the Art Boutiki, Books Inc., Caravan Lounge, Dr. Martin Luther King Jr. Library, Forager, History/San José, Recycle Bookstore, and Works/San José.
Follow Poetry Center San José on Facebook and Twitter for announcements about performers and events as we get closer to the festival. Also, hear about other amazing South Bay poetry events!