"San Joaquin Stay-Cation, Island Style"

Sunday, October 21, 2012 from 5:00 PM to 9:00 PM (PDT)
Event Details
On October 21, 2012, Healings in Motion will present the 5th annual Coach for Life's Champions Awards Dinner & Show.  Our theme this year is "A San Joaquin Stay-Cation, Island Style".  We all have good intensions to get-away and go on vacation, but time passes and we don't make it.  Others do not feel like dealing with the stress of travelling and prefer the comforts of home.  We have many reasons to stay home, given the high price of gas.  Don't deprive your self of vacation near home!  Our special day of awards and entertainment will transform your day into a get-away for fun, celebration and a safe space to be you!
Like our previous dinners, we will honor a medical professional in San Joaquin County who practices with excellence and with the softer side of medicine.  We still celebrate what is "right" in healthcare in our community and discourage health care disparities and insensitive treatment.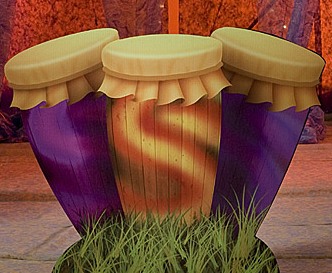 "A San Joaquin Stay-cation, Island Style," promises to be an evening of fun and excitement. You are invited to join Healings in Motion at this event giving recognition to local "Champions" - survivors of brain injuries or strokes, as well as their "Coaches" (a medical professional)  - all amazing individuals who help on the road to recovery.  Awards include the "Caregiver of the Year," "Creative Expressions," "President's Award," and the distinguished "Coach for Life's Champions Award."
This is a time to celebrate the champion in all of us and give many bearing a medical hardship an evening of dignity and respect.  Give them the recognition they deserve!  Do not miss this opportunity to honor the worthy people in your life.
We will honor Caregivers as an appreciation to those who work to care for someone else.  In addition, we will give out the "Expression Award" to someone fighting for recovery and is challenged with aphasia or other forms of communication and finds non-traditional ways to communicate their message, whether through music, art, poetry or unlimited ways.
The President's Award is a special presentation made by Healings in Motion's founder, Mary Nicholson.  This award is for someone who has been instrumental in the growth and sustainability of Healings in Motion.  This year's award recipient is Dotson Wilson, Chief Clerk of the Assembly. Dotson has served us for 20 years in this distinquishing role and has supported the work of Healings in Motion and other organizations serving those in need.
Entertainment includes Comic, "Insane Wayne", the Polynesian Dance Troupe, Te Poly Nui and dance to sweet island music.

     Attire:  Colorful, Comfortable and Ready for fun!

For more information, go to www.healingsinmotion.com
Call us at 877-672-4480
//
When & Where

China Palace Restaurant
5052 West Lane
Stockton, CA 95210


Sunday, October 21, 2012 from 5:00 PM to 9:00 PM (PDT)
Add to my calendar
Organizer
Healings in Motion, Inc.
Healings in Motion is a 501(c)3 non-profit agency focusing on stroke prevention and recovery from stroke, Traumatic Brain Injury("TBI") and some neurological impairments.  Healings in Motion integrated Caregiver education and support as an intricate part of its services because of the significant role Caregivers play in continuum care for chronic illnesses, long-term disabilities, wounded veterans, the elderly and more. Healings in Motion has been offering services since 2007.
Healings in Motion offers the following services:
The Central Valley Recovery, Awareness, Preventing Strokes program ("CV-RAPS")
The Brain Health to Beat Stroke 5k and Expo
Coach for Life's Champions Awards Dinner & Show
INNER SAFARI Caregiver Conference
Professional Health Coaching
Support Group-"Brain Aneurysm-AVM Support Group!"  
Partners for Stroke Awareness & Progress
New In 2017:  Hospital Stroke Designation Team, San Joaquin County 
Healings in Motion was founded by Mary Ann Nicholson, after surviving a subarachnoid aneurysm, grand mal seizure and stroke.  This life-changing event followed the loss of her husband after fighting a rigorous battle with pancreatic cancer..  Within a short window of time, Ms. Nicholson learned the challenges of caregiving and the vital role Caregivers play in recovery.  The programs offered by Healingsin Motion are based largely on services she uses to nurture her continued recovery.
For more information about Healings in Motion visit our website at www.healingsinmotion.org
"San Joaquin Stay-Cation, Island Style"