Description

Pitch and network with venture capitalists, angels and accredited investors from Silicon Valley and throughout the country at the San Francisco Venture Capital Fast Pitch Conference.
Black Dog Venture Partners has hosted investor events throughout the west and has raised millions of dollars for start ups as a direct result of our fast pitch conferences.
Investor Panel:
Scott Kelly, Black Dog Venture Partners
Scott Kelly Founder and CEO of Black Dog Venture Partners, is a 25 year fundraising, marketing, sales, training and publicity veteran. Scott has raised millions of dollars in capital for disruptive companies, garnered national media coverage for hundreds of regional and national brands and generated millions of dollars in revenues for the companies he has represented. He has also trained over 1,000 sales people and has taught marketing at the university level in the United States and Europe.
Michael Hool, Hool Coury Law
Michael Hool is our founding Partner and is a pioneer in the field of venture formation and financing in the Southwest and California. Michael works with select companies as an advisor, legal counsel and periodically serves in executive and board capacities. Michael practice is focused primarily on corporate and commercial representation, securities, finance and venture capital, mergers and acquisitions, corporate governance matters, and all aspects of counseling emerging companies. He represents both issuing companies and investors in a large variety of financing transactions. In the past fiscal reporting year, the firm has assisted entrepreneurs in over $187 million in funding transactions and has assisted funds raise over $100 million for investment in emerging companies.
Michael represents or advises accelerators, incubators, and has formed three active angel investment groups, including ATIF (predecessor to AzTech Investors) and Canyon Angels. Michael has chaired or served on the board of Arizona Venture Capital Conference, BioAccel, AzTech Investors, Canyon Angels, and the Indus Entrepreneurs. Mr. Hool is currently active in formation of three separate seed stage investment funds. Mr. Hool is highly sought after as a speaker and author of papers on a broad variety of topics. Michael is also active as an investor in a growing portfolio of emerging companies.
Josh Bar-On i- VP of Business Development at Eagle Point Funding
Through his role, Josh helps disruptive tech companies that want to fundraise without losing equity by tapping into a $30+ Billion annual market: Federal R&D Grants. Josh's expertise is with deep-tech companies in industries outside of the life-sciences.
John Vitti - Venture Partner at MultiPass Ventures
John Vitti is a Venture Partner at MultiPass Ventures with a focus on investing in startups with companies led by women and underrepresented minorities.
David Lambert - Managing Director of Right Side Capital
David Lambert is Managing Director of Right Side Capital, one of the most active pre-seed stage investment firm in the US. Right Side Capital uses a quantitative, data-driven investment process to build out ultra-diversified portfolios of pre-seed stage technology companies. The firm has invested in over 1,000 portfolio companies since 2012 and is known for its quick and transparent funding process. They strive to give entrepreneurs a firm YES or NO investment decision in about a week. To learn more about Right Side Capital's target investment profile, go to www.rightsidecapital.com/submit.
David has lived in the Bay Area since 1988, and in San Francisco since 1993. Prior to co-founding Right Side Capital, David was founder & CEO of two Bay Area based technology companies over a 17 year period; one a hardware company, the other a software company.
Susan Akbarpour - Partner at Candou Ventures

As a media guru, product designer, entrepreneur and investor Susan Akbarpour has over 30 years of hands-on experience in building innovative products and businesses in technology and media. She is currently the CEO and Co-Founder of Mavatar, the company she founded in 2011 based on her research in graduate school, soon after receiving her MS in Management from Stanford University in 2010.Mavatar's "360 marketplace and shoppable content publishing" solutions provide retailers and media companies with a new way to measure IMPACT at the convergence of data intelligence, content and consumer-centric commerce .Susan's recent mission is leading her world class team to create a " Decentralized Attribution Protocol that combines advanced blockchain technology and a fresh approach to Basket Shopping and Influence Marketing to address the lack of transparency and trust in the retail marketing value chain. Throughout her journey as an entrepreneur, journalist, publisher, investor, board member, community advocate and political fundraiser, Susan has received multiple media, community and business awards, spoken at various conferences and is frequently featured in mainstream media. Susan is also a general partner at Monjeri Investments, member of the board of directors at IMA International Executive Council and VOMax Corporation, member of Stanford Business School Alumni Association, Stanford Women On Boards, a prestige member of Watermark (a nonprofit organization that is a community of executive women) and an official Member of Forbes Agency Council.

Stas Khirman - COCHAIR, SVOD / Managing Partner, Tec Ventures
Stas is an investor, a serial entrepreneur and co-founder of three Silicon Valley startups.
Stas is a Managing Partner of TEC Ventures, an early stage technology venture fund, based in the Silicon Valley, and a founder of TEC Club, a network of thousands of high-tech professionals, investors and angels from all over the world, with the headquarters in the Silicon Valley.
Stas is a Co-Chairman of SVOD Conference , a premier conference for entrepreneurs and investors from all over the world. Also, Stas is a Board Member of AmBAR – the largest American Business Association of Eastern-European and Eurasian professionals in the world.
Following the acquisition of his latest startup ChooChee by Deutsche Telekom, Stas served as CTO of Deutsche Telekom Hosted Business Services.
Prior to co-founding ChooChee, Stas was a Co-Founder of Skyrider, a revolutionary company developing technologies to organize & monetize peer-to-peer networks.
Stas co-founded Narus, a global leader in software and technology for telecom industry and government agencies, where he helped design the world's most scalable network transaction analysis system. Narus was acquired by The Boeing Company.
Stas also served as the networking group leader at VDOnet, a pioneer in internet video. VDOnet was acquired by Citrix. Over the years, Stas has consulted and coached over 1,000 businesses on strategy, business development, and venture financing.
Stas holds a Master's degree in Mathematics from the University of Kiev.
Dan Farrell Chairman & CEO Privos Capital
Mr. Farrell is the Chairman & CEO of Privos Capital, a global Multi-Family Office LP (MFO). Privos partners with single family offices, multi-family offices, sovereign and royal families, their funds, foundations, and portfolio companies, in leading financial centers, as well as in the BRICS, N-11, ASEAN, and Frontier Countries of the Emerging Markets.
Privos' main business is working exclusively with its family office LP partners on global expansionist activities, capital allocations, strategic alliances, joint ventures, secondaries, directs, co-investments, and philanthropy.
Privos is active up and down the capital stack across most sectors, including real estate, reinsurance, art, alternative energy, life science, biotech, fashion, media, aviation, and technology. In Los Angeles, we focus on film finance, gaming, and entertainment. In London, Doha, Luxembourg and Geneva, we serve our European and Arab family office partners while in Hong Kong we work with our Chinese, ASEAN region, Japanese, and Korean family office LPs.
Privos partners with our family office partners (SFO, MFO, HNWI, UHNWI) as allocators of capital across diverse asset classes, including private equity, venture capital, and hedge funds. We are active globally in Sustainable Investing (SI), Impact, ESG, SRI, and the 17 SDGs.
Mr. Farrell has lived and worked in New York, London, Europe, and the Middle East. He is one of the leading experts on the world-wide investments and fund allocations of global family offices. Mr. Farrell currently serves as a senior strategic advisor to one of the largest sovereign wealth funds in the world, a leading private equity fund, a Silicon Valley VC fund, and is on the Board of Directors of a global asset management firm. Prior to joining Privos, Mr. Farrell was a partner in an international law firm. He is a frequent speaker at private equity and alternative investing conferences. He has been featured in Bloomberg and the financial press.
Safa Rashtchy Managing Director, Think + Ventures, LP
Safa is the General Partner and the founder of Think+. He has been an investor in Silicon Valley for more than 15 years, with over 30 investments, including seven exits. Safa has a passion for helping visionary founders create a game-changing environment for their customers. He focuses on scalable businesses that address a major pain point, especially those that can reach favorable unit economics. He is also interested in disruptive ideas in digital health and consumer-centric design. His advice often helps startups with positioning, long-term strategy that leverages the trends in the market, and financial planning to reach the milestone for the next round.
Jiazi Guo, Venture Capitalist/ Investor
UC Berkeley alumni, Entrepreneur since age 16. Formerly Investment Banker, Hedge Fund. Currently active venture capitalist and mentor at TechStars, alchemist accelerator, 500 startups, plug-n-play.
Aakash Jain - Investor at Venture University
Previously, he was an advisor to several seed and growth-stage startups on their operational and fundraising goals, predominantly focused on the fintech and consumer verticals. Before that, he sourced and evaluated investment opportunities at Jump Capital in the areas of robotics, fintech, agtech and cybersecurity. Aakash co-founded Airport Sherpa, a startup that delivers food and retail to your gate inside the airport. Aakash also co-founded and is the Membership Lead of the Booth Bay Area Angel Network. Earlier in his career, Aakash developed algorithms for automated trading at Morgan Stanley. He holds a Masters degree in Business Administration from the Booth School at the University of Chicago, and a Masters in Computer Science from Cornell University. Aakash was a member of the founding class at Jacobs University in Germany, where he earned a Bachelors degree in Electrical Engineering and Computer Science.
Brandon L Drew - Partner SaaS Growth Ventures
Brandon is a 5x founder/founding employee with 2 exits. He focuses on sales operations and finance for SaaS B2B companies with a strict focus on sales revenue. Prior he was an Investment Advisor at Merrill Lynch on a team managing $450MM in assets focusing on Alternative Investments and Structured Products. He has opened and managed subsidiaries in Switzerland, Poland, The Netherlands and JVs in Japan and UK. Has generated 3-5x annual sales growth at several SaaS companies over the span of his career. He is also a mentor a 500 Startup, HWY1 IoT Accelerator and a Board Member at Cal Poly SLO Alumni.
Marisa Alma McGinnis - Managing Director, Golden Seeds (www.goldenseeds.com)
LP, Blumberg Capital Management Fund III (www.blumbergcapital.com)
WABA (Women Angels of the Bay Area) member
Undergraduate Degree in Microbiology
Attorney, licensed in the State of California
Real estate broker, licensed in the State of CA
Previously, CEO of Stratford Healthcare Systems
Vic Kapur - Angel Investor (Angel, Pre-Seed, Seed, Series A/B) Founder & Managing Member, VisionPassage
Vic is an Angel Investor (Angel to Series B) with a former Operating background in Sales, Product and Engineering at startups with five exits - $19M, $55M, $190M, $450M and $1.2B, to Capgemini (IGATE), Cisco Systems, Hitachi, Partners Group (Swiss Private Equity) and Qualcomm, followed by Sales experience with a publicly-traded company that grew from $25 Billion valuation to $100+ Billion in under seven years during his time.
Industries included Technology, Media, Telecom, Services, Manufacturing, Energy and Consumer Goods. Products and Solutions worked on included most of the technology stack, ranging from IC Design, Embedded Systems, Consumer Electronics, Operating Systems, IT Infrastructure, Enterprise Software to Telecommunications, and Business Processes. First "real" job after undergraduate engineering sophomore year was door-to-door retail coupon sales to the local downtown merchants. While crappy and rudimentary, can still code in C, the first programming language learned.
Vic has a joint Master's Degree (Information Networking) in Business, Computer Science and Electrical & Computer Engineering from Carnegie Mellon. He completed his Undergraduate Degree with University Honors in Computer Engineering from Savitribai Phule Pune University. He is actively involved in both schools, and is happy to connect with fellow alums, since continuous learning and ideation helps him improve his dumbness!
He grew up in an Army background and has lived across fifteen states in two different countries. Survived 9/11, thanks to his HR Manager booking him on a lower-cost one-hop flight from Newark via Chicago to San Francisco, and hence, high appreciation till date for "bean-counters", and financial prudence. Happily settled in the San Francisco Bay Area since then. He is community-oriented, foodie, played competitive sports in school, and nowadays, enjoys walking, hiking, swimming and tree-climbing.
Hiroshi Matsui - Investor
Mr. Matsui spent most of his career in investment banking in Japan and the US. As an investment banker, he specialized in Japanese equity sales and corporate access. He worked at WestLB, ING Barings, Mizuho Securities and other multinational banks for over twenty years. He has been involved in startup investments since 2014 and is a member of Swan 2. He also consults startup companies for strategies, especially for the Japanese market.
Mr. Matsui holds a BA from Waseda University and an MBA from UCLA Anderson School of Management. He is fluent in both Japanese and English.
Vatsal Kanakiya - Mehta Ventures
Vatsal is the Technical and India Expert for Mehta Ventures, a family office. We look for early stage startups across sectors and geographies. Our value add comes in the form of unparalleled access to India for our portfolio companies.
Dinesh Gauba - Angel Investor
Dinesh Gauba is a dynamic entrepreneur and savvy investor who has leveraged 16 years of Silicon Valley technology industry experience in numerous senior roles with start-ups and public companies to fuel his current entrepreneurial and philanthropic endeavors. Driven by integrity, innovation, fast thinking and an open mind, he has acquired and/or launched numerous ventures, including a small business online marketing consulting company, numerous income generating websites, dental offices, discounted debt portfolios, and a green waterless carwash company.
One of his portfolio companies called Eco Green Auto Clean is helping the planet by transforming how cars are cleaned around the world using plant-based non-toxic formulas with less than 1 cup of water per wash thereby saving billions of gallons of fresh water per year (www.OneCupOneCar.com).
In addition to his technology and business ventures, Dinesh is a savvy investor who has built up a diverse portfolio of angel investments, real estate investments, and alternate cash flow investments and is frequently sought after for his knowledge of advance tax reduction strategies. He is an expert at growing businesses and helping entrepreneurs and high income earners to keep more of every dollar they earn using some simple but unique tax reduction strategies and then helping them to invest in diversified cash flow streams so they can achieve true financial freedom much quicker.
Dinesh has a degree in Electrical Engineering from the University of Texas in Austin. He lives in the San Francisco Bay Area with his wife Sheila and their dog Fifi. He enjoys a wide range of outdoor adventurous activities and is passionate about driving and traveling the world. He is an avid car lover and enjoys learning about new technologies and healthy living.
Gustavo Márquez Castellanos - Director General Athena Inversión de impacto
Gustavo Marquez( CEO at athena impacto) is an economical empowerment activist, Masters in Environmental Management and Sustainability at Harvard University. More than 10 years of experience investing and accelerating sustainable projects in Latin America and in United States. Gustavo is also Founder of the National Network of sustainable developement in Colombia.
Rana Gujral - Entrepreneur, Executive, and Investor
Rana Gujral is an entrepreneur, speaker, investor and CEO at Behavioral Signals, an enterprise software company that delivers a robust and fast-evolving emotion AI engine that introduces emotional intelligence into speech recognition technology. Rana has been awarded the 'Entrepreneur of the Month' by CIO Magazine, the 'US-China Pioneer' Award by IEIE and listed in "Top 10 Entrepreneurs to follow in 2017" by Huffington Post. He was also recently listed in Inc. Magazine as an "AI Entrepreneur to Watch". He has spoken at conferences such as the World Government Summit and AI Everything in Dubai, the Silicon Valley Smart Future Summit, and IEIE in New York. You can find his writing in publications such as Inc., TechCrunch, and Forbes.
Marlon Evans - CEO, Nex Cubed
Marlon's professional career spans Higher Education, Foundations, Fortune 500s, and Startups. The driving force behind all of his career choices has been a desire to create positive Social Impact. In 2018, Marlon was named CEO of Nex Cubed, an investor that creates and accelerates frontier tech companies. Nex Cubed empowers entrepreneurs to bring new technologies to market, helps rising companies scale and provides paths to liquidity - the power of three. Prior to joining Nex Cubed, Marlon served as CEO of GSVlabs, a global innovation platform that accelerates startups and connects corporations to exponential technologies, business models and ideas. Before entering the startup world, Marlon had a stint at HP as a Director of Corporate Affairs. He helped drive social innovation programming and led HP Company Foundation programs, including Matter to a Million, a company-wide employee engagement program in partnership with Kiva. Marlon received his BA in Political Science and a MA in Sociology from Stanford University, where he competed on the football and track & field teams.
Randall Tran - Program manager of Acceleprise
Randall is an associate and program manager of Acceleprise, a B2B SaaS accelerator and fund based in San Francisco, New York, and Toronto. A Los Angeles native, Randall joined Acceleprise from UC Berkeley's Goldman School of Public Policy. His journey to the startup ecosystem began as a technology policy consultant for the Inter-American Development Bank, which led to his work with the City of San Francisco on technology procurement and public investments. Randall is a Fulbright recipient and a former educator that worked in Mongolia, Macau, China, and the US. He holds a BA in Sociology and an MPP from UC Berkeley.
Massimiliano Genta -Silicon Valley entrepreneur and Angel Investor
He is former founder of Upploud, a social game based on Face recognition technology which allowed users to monetize from their content, and Senstek, a sensor platform company, founded to commercialize low cost, highly accurate, durable, flexible, compact and easy to integrate sensor platforms for Medical, Agriculture and Cosmetic applications. He is also a Board Director of Clyste, Coralba, Voltn, Swayup, BanglaTalk, Silicon Spectra and Mann Arc and a partner for some of the top technology VCs in Silicon Valley such as SVG, Plug & Play Silicon Valley Advantage and NEC X.

Eric Dew - PhD, MBA Operating Partner at Enter Capital
Eric Dew, PhD in math, University of Pennsylvania, MBA, Hult International Business School. Currently consulting with startups on attaining market traction as well as strategies to gain investor funding.
Marin Lesot - Associate of GS Capital
Marin is an associate of GS Capital, a tech investment bank based in the Bay Area. The team have long track records as entrepreneurs, investors, and investment bankers and have completed over $2B in transactions across 20 countries. Transactions range from growth capital to mergers and acquisitions. Prior to San Francisco, Marin has lived in 7 countries, from London, Berlin, to Paris, Prague, and Singapore.
MANY MORE INVESTORS SCHEDULED TO ATTEND!
Testimonials from past conferences: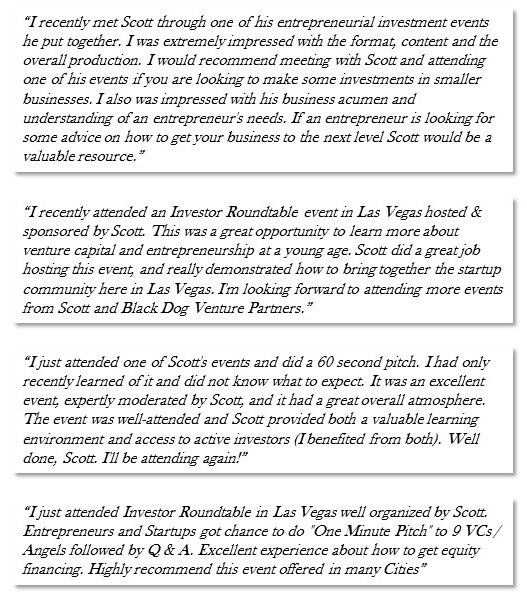 This event will sell out so register today!
Looking forwwrd to meeting you all.
Sincerely,
Scott Kelly, CEO
Black Dog Venture Partners