Description

Pitch and network with venture capitalists, angels and accredited investors from Silicon Valley and throughout the country at the San Francisco Venture Capital Fast Pitch Conference.
Black Dog Venture Partners has hosted investor events throughout the west and has raised millions of dollars for start ups as a direct result of our fast pitch conferences.
Investor Panel:
Scott Kelly, Black Dog Venture Partners
Scott Kelly Founder and CEO of Black Dog Venture Partners, is a 25 year fundraising, marketing, sales, training and publicity veteran. Scott has raised millions of dollars in capital for disruptive companies, garnered national media coverage for hundreds of regional and national brands and generated millions of dollars in revenues for the companies he has represented. He has also trained over 1,000 sales people and has taught marketing at the university level in the United States and Europe.
Michael Hool, Hool Coury Law
Michael Hool is our founding Partner and is a pioneer in the field of venture formation and financing in the Southwest and California. Michael works with select companies as an advisor, legal counsel and periodically serves in executive and board capacities. Michael practice is focused primarily on corporate and commercial representation, securities, finance and venture capital, mergers and acquisitions, corporate governance matters, and all aspects of counseling emerging companies. He represents both issuing companies and investors in a large variety of financing transactions. In the past fiscal reporting year, the firm has assisted entrepreneurs in over $187 million in funding transactions and has assisted funds raise over $100 million for investment in emerging companies.
Michael represents or advises accelerators, incubators, and has formed three active angel investment groups, including ATIF (predecessor to AzTech Investors) and Canyon Angels. Michael has chaired or served on the board of Arizona Venture Capital Conference, BioAccel, AzTech Investors, Canyon Angels, and the Indus Entrepreneurs. Mr. Hool is currently active in formation of three separate seed stage investment funds. Mr. Hool is highly sought after as a speaker and author of papers on a broad variety of topics. Michael is also active as an investor in a growing portfolio of emerging companies.
Safa Rashtchy Managing Director, Think + Ventures, LP
Safa is the General Partner and the founder of Think+. He has been an investor in Silicon Valley for more than 15 years, with over 30 investments, including seven exits. Safa has a passion for helping visionary founders create a game-changing environment for their customers. He focuses on scalable businesses that address a major pain point, especially those that can reach favorable unit economics. He is also interested in disruptive ideas in digital health and consumer-centric design. His advice often helps startups with positioning, long-term strategy that leverages the trends in the market, and financial planning to reach the milestone for the next round.

Jiazi Guo, Venture Capitalist/ Investor
UC Berkeley alumni, Entrepreneur since age 16. Formerly Investment Banker, Hedge Fund. Currently active venture capitalist and mentor at TechStars, alchemist accelerator, 500 startups, plug-n-play.
Aakash Jain - Investor at Venture University
Previously, he was an advisor to several seed and growth-stage startups on their operational and fundraising goals, predominantly focused on the fintech and consumer verticals. Before that, he sourced and evaluated investment opportunities at Jump Capital in the areas of robotics, fintech, agtech and cybersecurity. Aakash co-founded Airport Sherpa, a startup that delivers food and retail to your gate inside the airport. Aakash also co-founded and is the Membership Lead of the Booth Bay Area Angel Network. Earlier in his career, Aakash developed algorithms for automated trading at Morgan Stanley. He holds a Masters degree in Business Administration from the Booth School at the University of Chicago, and a Masters in Computer Science from Cornell University. Aakash was a member of the founding class at Jacobs University in Germany, where he earned a Bachelors degree in Electrical Engineering and Computer Science.
Dan Farrell Chairman & CEO Privos Capital
Mr. Farrell is the Chairman & CEO of Privos Capital, a global Multi-Family Office LP (MFO). Privos partners with single family offices, multi-family offices, sovereign and royal families, their funds, foundations, and portfolio companies, in leading financial centers, as well as in the BRICS, N-11, ASEAN, and Frontier Countries of the Emerging Markets.
Privos' main business is working exclusively with its family office LP partners on global expansionist activities, capital allocations, strategic alliances, joint ventures, secondaries, directs, co-investments, and philanthropy.
Privos is active up and down the capital stack across most sectors, including real estate, reinsurance, art, alternative energy, life science, biotech, fashion, media, aviation, and technology. In Los Angeles, we focus on film finance, gaming, and entertainment. In London, Doha, Luxembourg and Geneva, we serve our European and Arab family office partners while in Hong Kong we work with our Chinese, ASEAN region, Japanese, and Korean family office LPs.
Privos partners with our family office partners (SFO, MFO, HNWI, UHNWI) as allocators of capital across diverse asset classes, including private equity, venture capital, and hedge funds. We are active globally in Sustainable Investing (SI), Impact, ESG, SRI, and the 17 SDGs.
Mr. Farrell has lived and worked in New York, London, Europe, and the Middle East. He is one of the leading experts on the world-wide investments and fund allocations of global family offices. Mr. Farrell currently serves as a senior strategic advisor to one of the largest sovereign wealth funds in the world, a leading private equity fund, a Silicon Valley VC fund, and is on the Board of Directors of a global asset management firm. Prior to joining Privos, Mr. Farrell was a partner in an international law firm. He is a frequent speaker at private equity and alternative investing conferences. He has been featured in Bloomberg and the financial press.
Nuno Goncalves Pedro - Strive Capital
Nuno is Grishin Robotics' Venture Partner. Grishin Robotics is a series A and B Sand Hill firm focused on Smart Hardware with investments in companies such as Zume Pizza, Starship, Zipline, Spin, Yellow, Ring and others. He is also the Managing Partner & Founder of Strive Capital, the San Francisco Bay area's first quant micro-VC firm, now focused on "deep" AI and Blockchain, with investments in companies like AppAnnie, KeepSafe and Gusto. He has had a 22 year career in Tech as a Product Manager, Operator, Investor and Board member in the Bay area, Europe and Asia, and was previously a Senior Expert and member of the Asia-Pacific leadership team at McKinsey & Co, based in Beijing.
Aaron Michel Partner at 1984 Ventures
1984 Ventures, a seed stage venture capital firm in San Francisco. Prior to that he founded PathSource, a venture-backed startup that rose to be the top career app in the Apple App Store and was acquired in 2017. Named an Innovation Rockstar by the Boston Business Journal, Aaron has written for Entrepreneur Magazine, Fast Company and a range of business outlets. He graduated from Harvard Business School and the Harvard Kennedy School of Government.
Rohit Gupta - Plug and Play Ventures
UC Berkeley alumni with previous experience in consulting and investment banking at Deloitte and Credit Suisse. Previously, Rohit was a Product Manager at ShieldX Networks, a cybersecurity startup, and helped the company grow from series A to series B. Rohit is currently an investor at Plug and Play Ventures, which focuses on seed and series A deals, with investments in companies including Dropbox, Paypal, Guardant Health, Rappi, and others.
Garrett Cecchini - Angel Investor, Corporate Reorganization Specialist, Venture Capital

Co Authored 2 Vol hard cover law-guide primarily marketed to Corporate legal professionals and law libraries as a resource ; Callaghan & Co Law Book Publishers; Quick Reference Guide to Complex Process's in Title 11 United States Bankruptcy Code .. [Corporate Reorganizations] Legal "Best Seller"
Ben Bergsma- senior associate for Munich Re Ventures (MRV) in the Bay Area
Prior to MRV, Ben spent time as an investor at Samsung NEXT Ventures and Alpha Venture Partners. Ben began his career in VC by launching JetBlue Technology Ventures in Silicon Valley. Previously, he was the CEO of SeatAdvance, a mobile software startup focused on the travel sector. Ben holds an MBA from Columbia Business School where he was the president of the Venture Capital Club and holds a Bachelor of Arts in Economics from Claremont McKenna College.
At MRV, Ben focuses on Series A-C investments in the InsurTech, FinTech, and IoT verticals with check sizes ranging from $1M-$15M. His deals include Hippo, Forge (fka Equidate), Slice Labs, and Augury, among others.
Brandon L Drew - Partner SaaS Growth Ventures
Brandon is a 5x founder/founding employee with 2 exits. He focuses on sales operations and finance for SaaS B2B companies with a strict focus on sales revenue. Prior he was an Investment Advisor at Merrill Lynch on a team managing $450MM in assets focusing on Alternative Investments and Structured Products. He has opened and managed subsidiaries in Switzerland, Poland, The Netherlands and JVs in Japan and UK. Has generated 3-5x annual sales growth at several SaaS companies over the span of his career. He is also a mentor a 500 Startup, HWY1 IoT Accelerator and a Board Member at Cal Poly SLO Alumni.

Marisa Alma McGinnis - Managing Director, Golden Seeds (www.goldenseeds.com)
LP, Blumberg Capital Management Fund III (www.blumbergcapital.com)
WABA (Women Angels of the Bay Area) member
Undergraduate Degree in Microbiology
Attorney, licensed in the State of California
Real estate broker, licensed in the State of CA
Previously, CEO of Stratford Healthcare Systems
Languages: English, Italian and French
Vic Kapur - Angel Investor (Angel, Pre-Seed, Seed, Series A/B) Founder & Managing Member, VisionPassage
Vic is an Angel Investor (Angel to Series B) with a former Operating background in Sales, Product and Engineering at startups with five exits - $19M, $55M, $190M, $450M and $1.2B, to Capgemini (IGATE), Cisco Systems, Hitachi, Partners Group (Swiss Private Equity) and Qualcomm, followed by Sales experience with a publicly-traded company that grew from $25 Billion valuation to $100+ Billion in under seven years during his time.
Industries included Technology, Media, Telecom, Services, Manufacturing, Energy and Consumer Goods. Products and Solutions worked on included most of the technology stack, ranging from IC Design, Embedded Systems, Consumer Electronics, Operating Systems, IT Infrastructure, Enterprise Software to Telecommunications, and Business Processes. First "real" job after undergraduate engineering sophomore year was door-to-door retail coupon sales to the local downtown merchants. While crappy and rudimentary, can still code in C, the first programming language learned.
Vic has a joint Master's Degree (Information Networking) in Business, Computer Science and Electrical & Computer Engineering from Carnegie Mellon. He completed his Undergraduate Degree with University Honors in Computer Engineering from Savitribai Phule Pune University. He is actively involved in both schools, and is happy to connect with fellow alums, since continuous learning and ideation helps him improve his dumbness!
He grew up in an Army background and has lived across fifteen states in two different countries. Survived 9/11, thanks to his HR Manager booking him on a lower-cost one-hop flight from Newark via Chicago to San Francisco, and hence, high appreciation till date for "bean-counters", and financial prudence. Happily settled in the San Francisco Bay Area since then. He is community-oriented, foodie, played competitive sports in school, and nowadays, enjoys walking, hiking, swimming and tree-climbing.
Ha Nguyen - Founding partner of Spero Ventures
Spero Ventures is an early stage venture capital firm that invests in the things that make life worth living: well-being, work & purpose and human connections. Ha is passionate about investing in startups led by underrepresented founders that have the potential to reach venture scale . She also advises portfolio CEOs and product leaders on design-thinking, org design, product strategy and helps with product recruiting. Ha also leads the firm's marketing, branding & network building efforts.
Ha cares deeply about designing products with empathy, and gives talks around the globe on design-thinking and how to build products that customers love. Ha believes in building community and elevating women in tech. She is the Board VP of Women In Product (non-profit organization of 12k female product builders) and co-founded the Product Leader Summit (invite-only conference bringing together founders and VP-level product leaders).

Ha previously was a product executive at several early and mid-stage startups. She started her product career at eBay in its early years during a period of hyper-growth. Ha received her MBA from Harvard and BS in Economics from the Wharton School at the University of Pennsylvania.
Paul Willard - Storm Ventures
Paul Willard focuses on SaaS, including digital health, and hardware enabled SaaS. Hardware-enabled SaaS looks very similar to SaaS from a financial model perspective but needs some piece of hardware in order to execute, like a robot or a virtual reality (VR) headset. Paul has a rare combination of software and hardware experience that gives him a unique insight when evaluating the level of hardware difficulty and risk in hardware enabled SaaS platform.
Before there was the internet, Paul worked for Boeing as an Aerodynamics Engineer for 7 years, learning how to specify, write and manage large complex code bases. After graduating with his Masters degree, Paul applied this software knowledge to four tech startups over the next 14 years; NextCard, the first online bank (ipo: NXCD), Coupons.com online coupons (ipo: QUOT), Practice Fusion electronic medical records (Allscripts), and Atlassian SaaS for teams (ipo:TEAM).
He started as a software product manager to work with complex code bases and evolved to run product, design, marketing, sales, and analytics as a CMO. As an investor, Paul applies his large network of operators in Silicon Valley to find companies with strong leadership teams and leverages his vast experience to help founders grow to be enterprise leaders.
Prior to joining Storm at the beginning of 2018, Paul started an enterprise software focused seed firm Subtraction Capital. Paul invested and worked with great companies like Cobalt Robotics, Zipline, Carta, Captiv8, Collective Health, and HealthLoop.
Paul holds a B.S. in Aerospace Engineering from Iowa State University and an M.S. in Manufacturing Systems Engineering from Stanford University.

Hiroshi Matsui - Investor
Mr. Matsui spent most of his career in investment banking in Japan and the US. As an investment banker, he specialized in Japanese equity sales and corporate access. He worked at WestLB, ING Barings, Mizuho Securities and other multinational banks for over twenty years. He has been involved in startup investments since 2014 and is a member of Swan 2. He also consults startup companies for strategies, especially for the Japanese market.
Mr. Matsui holds a BA from Waseda University and an MBA from UCLA Anderson School of Management. He is fluent in both Japanese and English.
Manny Fernandez - Founder of SF Angels Group and Dreamfunded.com
Manny is a Silicon Valley Angel Investor and TV Personality on multiple networks like Oprah Winfrey Network and Showtime and shows including CNBC's "Make Me A Millionaire Inventor" as an "Investor Shark".
A thought leader—Fernandez was recognized on Inc Magazine's "33 Entrepreneurs To Watch" list with the likes of CEO of Sprint Marcelo Claure. Two of Manny's early investments include TaskRabbit and DropBox. He is always looking for the next right startup idea to fund
Vatsal Kanakiya - Mehta Ventures
Vatsal is the Technical and India Expert for Mehta Ventures, a family office. We look for early stage startups across sectors and geographies. Our value add comes in the form of unparalleled access to India for our portfolio companies.
Andrew Ponomar - CEO of Enter Capital
Andrew is the CEO of Enter Capital, an investment and advisory firm based in San Francisco. Enter Capital represents buyout funds with over $2 billion in cash reserves, its partners invested in early tech ventures in the entertainment, video gaming, transportation industries. Andrew sourced and executed dozens of successful strategic M&A, Private Equity, and VC deals. The former head of investment analysis at a $3 Billion asset management firm. For reference, the closed deal accounts amounting to $1.5 Billion. Andrew holds an MBA degree from Hult International Business School. Winner of the Emerging Leaders Award (fka 40 under 40) the Dealmaker Nomination by The M&A Advisor, New York.
Wilson Wu - WI Harper Group
Wilson Wu is a Vice President at WI Harper Group focusing on the technology industry, specifically on frontier enterprise software technologies including fintech, blockchain, artificial intelligence, cloud and information security etc. Wilson currently serves as an advisor to two stealth startups – a blockchain startup focusing on domain name services and a Natural Language Processing (NLP) platform from Stanford University focusing on the travel industry. Wilson is a Board Member of Visenze, an early growth stage Computer Vision (CV) company based out of Singapore that originated from NExT, a leading research center jointly established between National University of Singapore (NUS) and Tsinghua University of China. Wilson also serves on the board of GrubMarket, a growth stage fresh produce logistic company from Y Combinator Winter 2015 and PreNav, an autonomous drone company for structural inspection.
Before joining WI Harper Group, Wilson worked briefly at Khazanah Nasional Berhad, a Malaysian sovereign wealth fund seeking direct investment opportunities in growth stage companies and Rimonci, a boutique financial advisory and investment firm focusing on Israeli startups in ophthalmology. Prior to that, Wilson worked six years as an Information Security (InfoSec) Advisory Manager at Ernst & Young (EY) in McLean Virginia providing security and compliance consultancy to private and public companies in the technology and financial services industries as well as government and non-governmental organizations (NGOs). Wilson interned at J.P. Morgan as a commodity futures trading analyst during his senior year at college.
Wilson completed pre-med requirements and double majored in Commerce concentrating on Information Technology (IT) and Finance from the McIntire School of Commerce, and Economics from the College of Arts and Sciences, receiving both Bachelor of Science (BSc) degrees from the University of Virginia. With a full scholarship, Wilson received his Master of Science degree in Accountancy (MSA) from the Mendoza School of Business at the University of Notre Dame, graduating Magna Cum Laude. Wilson also received full scholarship to complete his Master of Business Administration (MBA) degree from the Tsinghua-MIT Global Program. Wilson is a Certified Public Accountant (CPA), Certified Information Systems Security Professional (CISSP), Certified Information System Auditor (CISA), Certified Fraud Examiner (CFE) and a Charted Financial Analyst (CFA) Level II Candidate for June 2019.
Wilson is an avid gamer who used to compete in the Cyberathlete Amateur League (CAL) for Counter Strike 1.5 and 1.6. Wilson enjoys video games on all platforms and spend significant time playing PvP games such as League of Legends, PUBG, Fortnight and Arena of Valor etc. as well as PvE games including as Soul series (Bloodborne NG+6), Zelda, God of War, Uncharted, and Super Mario etc. Wilson spend his winter time snowboarding/skiing and summer time playing golf. Wilson was the captain of the EY Greater Washington Dragonboat team from 2011 to 2015 and lead the team to win Corporate Division Championships in 2012, 2013 and 2015.
Angelo Del Priore - Partner HP Tech Ventures
Angelo is a partner at HP Tech Ventures, where he leads investments and partnerships in AI, VR, AR, PC Gaming & Services, Healthcare and Education. He is also a frequent speaker and judge at industry conferences and an active advisor.
Previously Angelo was with HP's corporate strategy group where he focused on M&A and market entry strategies. Before HP, Angelo was VP Business Development and Strategy at Couchsurfing, where he helped raise $23M in VC funding (Benchmark, General Catalyst) and grow membership to 5M+ users. Angelo also ran a tech sector focused management consulting company for 8 years and worked for numerous startups and Fortune 500 companies, including Apple, Cisco, Dell, Groupon, Intel, Microsoft, Oracle, and YouSendIt.
Angelo has taught graduate business classes around the world, including at Wharton and Haas. He earned degrees from Northwestern and Wharton (Finance).
Dinesh Gauba - Angel Investor
Dinesh Gauba is a dynamic entrepreneur and savvy investor who has leveraged 16 years of Silicon Valley technology industry experience in numerous senior roles with start-ups and public companies to fuel his current entrepreneurial and philanthropic endeavors. Driven by integrity, innovation, fast thinking and an open mind, he has acquired and/or launched numerous ventures, including a small business online marketing consulting company, numerous income generating websites, dental offices, discounted debt portfolios, and a green waterless carwash company.
One of his portfolio companies called Eco Green Auto Clean is helping the planet by transforming how cars are cleaned around the world using plant-based non-toxic formulas with less than 1 cup of water per wash thereby saving billions of gallons of fresh water per year (www.OneCupOneCar.com).
In addition to his technology and business ventures, Dinesh is a savvy investor who has built up a diverse portfolio of angel investments, real estate investments, and alternate cash flow investments and is frequently sought after for his knowledge of advance tax reduction strategies. He is an expert at growing businesses and helping entrepreneurs and high income earners to keep more of every dollar they earn using some simple but unique tax reduction strategies and then helping them to invest in diversified cash flow streams so they can achieve true financial freedom much quicker.
Dinesh has a degree in Electrical Engineering from the University of Texas in Austin. He lives in the San Francisco Bay Area with his wife Sheila and their dog Fifi. He enjoys a wide range of outdoor adventurous activities and is passionate about driving and traveling the world. He is an avid car lover and enjoys learning about new technologies and healthy living.
Nuno Goncalves Pedro - Venture Partner Grishin Robotics
T-Shaped. Entrepreneur. Investor, Operator, Speaker, Advisor and Board member.
Former McKinsey Technology, Digital, Media and Telecom Senior Leadership, Stanford GSB with Computer Engineering background. Growth strategist and operator: extensive experience in strategy and getting things done in the form of deals, playbooks, processes and products. Guest Lecturer at Stanford GSB and UC Berkeley Haas on product management, marketing and analytics.
20+ year track record in digital strategy, digital transformation; business development/strategic partnerships; corporate development - M&A and investments; product strategy, planning and product management; corporate and competitive strategy; and general management/business building of organizations and business units. Operating experience leading teams of 200+ people, as well as small SWAT/entrepreneurial teams of 2+ people. Thrive in creating and enhancing high performance teams both as a leader and as a manager.
Zac Rowley - VC, Angel Investor, Health Tech Advisory
Zac is an Angel Investor and VC at a $100m fund in SF.
He is also the Managing Partner of ETS*Z, a boutique advisory service in SF and Sydney. Focusing on Seed and Series A companies, with a particular interest in sport and health technologies.
Before entering the investment side of things, Zac worked for Apple where he managed some confidential R&D projects across the Asia Pacific region. Prior to Apple he also spent some time at medical device company, Alere (acquired by Abbott) and before this he was part of an unsuccessful start up.
Gustavo Márquez Castellanos - Director General Athena Inversión de impacto
Gustavo Marquez( CEO at athena impacto) is an economical empowerment activist, Masters in Environmental Management and Sustainability at Harvard University. More than 10 years of experience investing and accelerating sustainable projects in Latin America and in United States. Gustavo is also Founder of the National Network of sustainable developement in Colombia.
Josh Rieders - Angel Investor and VC at VU Venture Partners
He is also the founder of GroverScore.com. GroverScore helps college students stand out from the crowd and get jobs through advanced data. Josh is a contributor at Rebel One (www.rbl1.com), Rebel One is a startup and innovation media outlet on disruptive innovation on iTunes, Medium, and Soundcloud.
Before joining the startup community as a VC and entrepreneur, Josh sold financial instruments to C-Suite wealth managers at First Eagle Investment Management and Prudential Investments. Preceding his time in financial sales, Josh taught retail clients option trading at tradeMONSTER (Acquired by OptionsHouse). Josh got his start as an investor in public markets during the internet bubble.
Michael Siegel - Venture University
Michael is an investor at Venture University. Prior to joining VU's permanent investment team, he was a member of the first cohort of their apprenticeship program. Before that, he worked as the Venture Fellow at VentureSouth, a network of 275+ angel investors with groups in the Carolinas and Georgia. Michael has gained experience evaluating early stage investments within the sharing economy, consumer, mobility, robotics, and biotech verticals among others. He holds a Masters in Business Administration with a focus in Entrepreneurship from Clemson University and a Bachelors of Arts in Business Economics from Wofford College.
MANY MORE INVESTORS SCHEDULED TO ATTEND!
Testimonials from past conferences: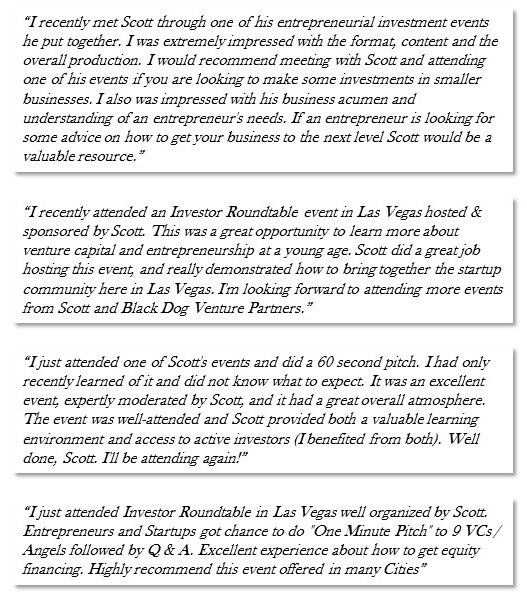 This event will sell out so register today!
Looking forwwrd to meeting you all.
Sincerely,
Scott Kelly, CEO
Black Dog Venture Partners