Description

Pitch and network with venture capitalists, angels and accredited investors from Silicon Valley and throughout the country at the San Francisco Venture Capital Fast Pitch Conference.
Black Dog Venture Partners has hosted investor events throughout the west and has raised millions of dollars for start ups as a direct result of our fast pitch conferences.
Investor Panel:
Scott Kelly, Black Dog Venture Partners
Scott Kelly Founder and CEO of Black Dog Venture Partners, is a 25 year fundraising, marketing, sales, training and publicity veteran. Scott has raised millions of dollars in capital for disruptive companies, garnered national media coverage for hundreds of regional and national brands and generated millions of dollars in revenues for the companies he has represented. He has also trained over 1,000 sales people and has taught marketing at the university level in the United States and Europe.
Michael Hool, Hool Coury Law
Michael Hool is our founding Partner and is a pioneer in the field of venture formation and financing in the Southwest and California. Michael works with select companies as an advisor, legal counsel and periodically serves in executive and board capacities. Michael practice is focused primarily on corporate and commercial representation, securities, finance and venture capital, mergers and acquisitions, corporate governance matters, and all aspects of counseling emerging companies. He represents both issuing companies and investors in a large variety of financing transactions. In the past fiscal reporting year, the firm has assisted entrepreneurs in over $187 million in funding transactions and has assisted funds raise over $100 million for investment in emerging companies.
Michael represents or advises accelerators, incubators, and has formed three active angel investment groups, including ATIF (predecessor to AzTech Investors) and Canyon Angels. Michael has chaired or served on the board of Arizona Venture Capital Conference, BioAccel, AzTech Investors, Canyon Angels, and the Indus Entrepreneurs. Mr. Hool is currently active in formation of three separate seed stage investment funds. Mr. Hool is highly sought after as a speaker and author of papers on a broad variety of topics. Michael is also active as an investor in a growing portfolio of emerging companies.
Angelo Del Priore, Partner HP Tech Ventures
Angelo is a partner at HP Tech Ventures, where he leads investments and partnerships in AI, VR, AR, PC Gaming & Services, Healthcare and Education. He is also a frequent speaker and judge at industry conferences and an active advisor.
Previously Angelo was with HP's corporate strategy group where he focused on M&A and market entry strategies. Before HP, Angelo was VP Business Development and Strategy at Couchsurfing, where he helped raise $23M in VC funding (Benchmark, General Catalyst) and grow membership to 5M+ users. Angelo also ran a tech sector focused management consulting company for 8 years and worked for numerous startups and Fortune 500 companies, including Apple, Cisco, Dell, Groupon, Intel, Microsoft, Oracle, and YouSendIt.
Angelo has taught graduate business classes around the world, including at Wharton and Haas. He earned degrees from Northwestern and Wharton (Finance).
Ravi Mulugu, UL Ventures
Ravi is an Investment Director at UL Ventures based in Fremont, California. He focuses on early stage venture investments related to Cybersecurity, Industrial Internet of Things and Machine Learning/Artificial Intelligence. Before joining UL Ventures, Ravi worked at Next47 (Siemens Venture Capital) where he invested in growth stage startups in smart grid, industrial IoT and analytics.
Ravi's professional experience includes working in both the solar and wind energy industries in various technical and managerial roles. Before joining Siemens Venture Capital, Ravi worked at SunPower Corp. as a Product manager responsible for utility scale solar inverters and plant control software. Earlier in his career Ravi worked at GE Wind Energy where he was responsible for various electrical subsystems within the 1.5 MW wind turbine. Ravi received a Masters degree in Electrical Engineering from the University of Texas at Arlington and an MBA from the UCLA Anderson School of Management.

Winston Fu, Partner at LDV Partners
Winston is a seasoned entrepreneur, athlete, coach scientist and technology investor. Entrepreneurs appreciate that Winston's advice and support is based on his experience as a fellow entrepreneur and technologist.
Before founding LDV Partners, Winston served as a General Partner at US Venture Partners for 14 years. Winston backed industry leaders such as Box (BOX), Brion Technologies (acquired by ASML), Clear Shape Technologies (acquired by Cadence), Guidewire (GWRE), MaxLinear (MXL), Mellanox (MLNX) and New Focus (NUFO).
Prior to USVP, Winston was a founder of Vixel Corporation, where he helped bring Fiber-Channel and Gigabit Ethernet fiber-optic interconnects to market. Vixel (VIXL) made its initial public offering in 1999 and was subsequently acquired by Emulex in 2003. Winston led Product Marketing at Vixel where he focused Vixel's technology on the short-reach fiber-optic communications.
Winston began his venture career as a Kauffman Fellow at US Venture Partners. He earned his MBA from the Kellogg School of Management where he was an Austin Scholar. Winston holds a PhD in Applied Physics from Stanford University and a BS in Physics from MIT. Winston is a former captain of MIT's NCAA volleyball team and a former coach and a current Director of the Front Range Volleyball Club in Colorado.

Brian Bordley, Director of Operations Berkeley SkyDeck Fund
Brian Bordley is a startup operator turned venture capitalist. He has spent time in business roles at various startups (TechValidate, Marqeta, Remeeting), including time as a founder of a 3D printing company, Eucl3D, that went through Berkeley SkyDeck Accelerator in 2015

Rana Gujral, Entrepreneur, Executive, and Investor
In 2014, he founded TiZE, a Cloud software for specialty chemicals, and held the role of CEO until his exit in 2016. He is currently leading Smart Home Initiatives at Logitech and an advisor to several startups. Rana is a contributing columnist at TechCrunch and Forbes and was awarded the 'Entrepreneur of the Month' by CIO Magazine and the 'US-China Pioneer' Award by IEIE 2017. He was listed among Top 10 Entrepreneurs to follow in 2017 by Huffington Post and is a sought-after international speaker. Rana has most recently been a featured speaker at the World Government Summit in Dubai, the Silicon Valley Smart Future Summit 2017, and IEIE 2017 in New York.
Prior to TiZE, Rana was recruited to be a part of the core turnaround team for Cricut Inc. At Cricut, Rana led the initiative to build a first of its kind, innovative product for the DIY community and prompted the turnaround of Cricut's EBITDA position from bankruptcy to profitability within a span of 2 years. Previously, Rana held leadership positions at Logitech S.A. and Kronos Inc., where he was responsible for the development of best-in-class products generating billions in revenue and contributed towards several award-winning engineering innovations.
Rana has earned a variety of personal and product awards and has been featured in TechCrunch, Forbes, Inc magazine, Huffington Post, Fast Company, NBC, Fox and CBS.
Marisa Alma McGinnis Angel Investor
Marisa Alma McGinnis has an undergraduate degree in Microbiology, a law degree and a California real estate broker's license. She is a private investor in real estate and high-tech seed startups. She is currently an investor in 25 startups located in Israel, Europe, Canada and Silicon Valley. She is a limited partner with Blumberg Capital headquartered in San Francisco. She is a member of WABA.
Carol Mao - Vice President at Fusion Fund
Carol has extensive experience in US and Asian capital markets. Prior to joining Fusion Fund, she was a Senior Investment Banking Associate at Deutsche Bank and CITIC Securities International for a total of over five years. During this time, she participated in or completed more than 15 IPO/M&A/Bond/pre-IPO investment transactions. Carol holds a M.B.A. degree from Columbia Business School, a M.S. in Financial Mathematics and Statistics from HKUST and a B.S. in Mathematics from Peking University.
Vishal Arora, Technology Executive, Startup Investor, Incubator, and Advisor
Vishal is a technologist at heart. He enjoys building disruptive, innovative technology products and services that have worldwide impact, as well as investing in, incubating, and advising startups that do the same. He has Bachelor's and Master's in Computer Science and an Executive MBA from Kellogg School of Management at Northwestern University.
Vishal has served multiple product and professional services organizations like Microsoft, Symantec, Accenture, and Avanade in different leadership capacity, where his roles included enterprise product and services strategy, design and delivery, product and portfolio management, global technology and P&L management. He is a founder of both Netvega Solutions, an IT services firm focused on providing services and solutions for small to mid-market companies, and VDOSH, an investment and advisory firm focused on growing technology startups in the early stages of their development.
Vishal is passionate about startup mentorship and incubation and supports startups throughout the United States and India. He also leads Kellogg Entrepreneurs Organization, Los Angeles Chapter.
Investor & Advisor:
SeerNet Technologies (www.deepaffects.com)
Lemon Ideas Pvt. Ltd. (www.lemonideas.in)
Virtual Healthcare - Startup focused on bringing telehealth services in India. (www.virtualhealthcare.co.in)
Dan Farrell Chairman & CEO Privos Capital
Mr. Farrell is the Chairman & CEO of Privos Capital, a global Multi-Family Office (MFO) LP investment firm.
As a multi-family office, our family office partners run successful private equity firms, secondaries, sovereign wealth funds, hedge funds, fund of funds, real estate funds, venture capital firms, wealth and asset management firms, foundations, endowments, multi-national corporations, early-stage venture firms, foundations, global and local businesses.
Our family office partners own international corporations, including national airlines, global shipping companies, African mining companies, Hollywood studios, Australian junior mines, US real estate funds, Hong Kong global businesses, US private equity secondary funds, Argentinian vineyards, Canadian oil sands energy companies, London property companies, and Arab surgical centers and hospitals. We bring an impressive club of worldwide influence, business experience, and wealth. Our partners are both LPs and GPs mixing it up on the world stage. To work with our firm, you must a family office passionately engaged in changing the world.
Our People have deep experience helping family offices turn highly complex and confidential financial problems into opportunities and successful liquidity events, whether from an IPO or successful trade sale. We are experts in working with the Next Generation, Millennial ("NextGen") family office investors and family members who embrace ESG, SRI and sustainable investments.
Mr. Farrell has lived and worked in New York, London, Europe, and the Middle East. He is one of the leading experts on the world-wide investments and fund allocations of global family offices. Mr. Farrell currently serves as a senior strategic advisor to one of the largest sovereign wealth funds in the world, a leading private equity fund, and is a member of the board of a global investment firm. Prior to joining Privos, Mr. Farrell was a partner in an international law firm. He is a frequent speaker at private equity, hedge fund, venture capital, life science, real estate, energy, impact, ESG, and alternative investment conferences. He has been featured Bloomberg and the international financial press.
Artem Tokariev, Partner 408 Ventures
Strategic, Innovative, Driven Business Leader and Mentor, Angel Investor, Venture Capitalist with more than 10 years of progressive experience in Business Management and Operations in the High-Tech industry. Hands-on Professional with specialized expertise in Business Development, Operations, Marketing, Sales, eCommerce and High-Tech Consumer. In addition, Artem assists innovation companies in the emerging markets with their US and international market expansion.
Previously, Artem managed of Huawei Direct-to-Consumer eCommerce business in the United States. He was responsible for the P&L and the overall performance of eCommerce business including growth, revenue and margin targets; managing the online customer acquisition, retention and loyalty programs; establishing integrated marketing plans to ensure targets are achieved for average order size, conversion and traffic goals; setting up yearly and quarterly operational plans and business reviews, forecasts and budgets to support demand generation and other marketing efforts.
Artem earned a Master's Degree in Computer Sciense from National Technical University of Ukraine.
JD Morris Red Hook Capital

JD Morris focuses is serving on the board of advisors and board of directors of private and publicly traded companies. He co-invest with friends & family in EBITDA and moonshot deals. He Co-Found the spin-off Red Hook Capital with several family offices to invest in moonshot to EBITDA deals.

He has been a speaker at various industry forums, has been quoted in numerous leading publications, such as the Wall Street Journal, He has made several appearances on Bloomberg, CNET, CNBC, ESPN, WSJ, and other media sources (with more than 500 hours on Bloomberg).

JD worked through college with family offices starting in the development office of Hampden-Sydney College in Virginia. He is an Omega Rho student from The George Washington University in Washington, D.C
Matt Lee Managing Partner at CRCM Ventures
An early stage venture capital fund based in US and China. Matt helps entrepreneurs think globally from day one. His experience with technologies such as visual computing (AR/VR), autonomous systems (drones, robotics, AV) and emerging media (eSports, livestreaming) spans China, Australasia, Europe and North America. Matt is also excited about digital health and wellness.
Jiazi Guo, Venture Capitalist/ Investor
UC Berkeley alumni, Entrepreneur since age 16. Formerly Investment Banker, Hedge Fund. Currently active venture capitalist and mentor at TechStars, alchemist accelerator, 500 startups, plug-n-play.
Eric Bahn- Co-Founder & General Partner Hustle Fund
Eric Bahn is Co-Founder and General Partner at Hustle Fund, an early-stage venture capital firm based in San Francisco. Hustle Fund invests in software-enabled startups at the pre-seed and seed stages. Hustle Fund will make 100 investments out of its current fund.
Previous to Hustle Fund, Eric was an angel investor and partner at 500 Startups. And prior to becoming a professional investor, he spent over a decade as an operator (Facebook, Instagram) and entrepreneur (Beat The GMAT, The Hustle). Eric draws from his product and growth experience to advise his founders in scaling their own enterprises.
Eric is a native of Detroit, Michigan and first arrived to Silicon Valley to attend Stanford University (BA, MA), which launched his career into software and startups. Eric is happily married with two kids.
Tom Cervantez, Accelerator Venture Partners
Tom Cervantez works in operations with Accelerator Ventures (AVC) in San Francisco, is a real estate investor and lawyer/advisor for early stage ventures. Tom brings strong deal background AVC, having been a venture deal lawyer since 1992 and completed hundreds of financings and M&A transactions in Silicon Valley. Tom has also co-founded 2 companies that were subsequently acquired, Geonet (acquired by Level 3 Networks) and Britton Silberman & Cervantez LLP (Acquired by Thelen Reid & Priest). Tom also presently is a founding partner with Bizlaw, a law firm that works with venture capital and startup clients in Silicon Valley.
On the investment side, Tom has been an active angel investor since the early 1990s, with investments including Open Table (IPO), Friendster (acquired by MOL Global), Knowledgeweb (acquired by iVillage), Virtual Chips (acquired by Phoenx Technologies), Three Rings (acquired by SEGA), Specialty Café & Bakery (acquired by Cadena Comercial USA/FEMCO) and Survox (acquired by Enghouse Interactive). Tom also co-founded the HBS Alumni Angels, the global angel investment alumni group for Harvard Business School and the HBS Latino Alumni Association. Tom is also on the Board of the HBS Alumni Association of Northern California and recently completed his 3 year term on the HBS Global Alumni Advisory Board.
Tom speaks frequently on topics of venture investment and deal structuring, including at UC Berkeley, Stanford and Harvard.
Tom holds a BA in Business Administration from Loyola Marymount University and a JD/MBA from Harvard University.
Stas Khirman, Managing Partner TEC Ventures
Stas is a Managing Partner of TEC Ventures, an early stage technology venture fund, based in the Silicon Valley, and a founder of TEC Club, a network of thousands of high-tech professionals, investors and angels from all over the world, with the headquarters in the Silicon Valley.
Stas is a Co-Chairman of SVOD Conference , a premier conference for entrepreneurs and investors from all over the world. Also, Stas is a Board Member of AmBAR – the largest American Business Association of Eastern-European and Eurasian professionals in the world.
Following the acquisition of his latest startup ChooChee by Deutsche Telekom, Stas served as CTO of Deutsche Telekom Hosted Business Services.
Prior to co-founding ChooChee, Stas was a Co-Founder of Skyrider, a revolutionary company developing technologies to organize & monetize peer-to-peer networks.
Stas co-founded Narus, a global leader in software and technology for telecom industry and government agencies, where he helped design the world's most scalable network transaction analysis system. Narus was acquired by The Boeing Company.
Stas also served as the networking group leader at VDOnet, a pioneer in internet video. VDOnet was acquired by Citrix. Over the years, Stas has consulted and coached over 1,000 businesses on strategy, business development, and venture financing.
Roman Glukhovsky Partner Andra Capital
Roman started his career in tech M&A, having worked at Lehman Brothers, Banc of America Securities and Morgan Stanley. More recently he was a Partner at Kernel Capital, a Silicon Valley venture fund focused on B2B enterprise software companies, co-investing with the likes of Founders Fund, 500 Startups, Kleiner Perkins, SGE, Microsoft Ventures and Motorola Ventures. Today Roman is a Partner at Andra Capital, a billion dollar technology growth fund.
Hobert Wai - Partner, Black Tiger Capital
Hobert is a partner at Black Tiger Capital focusing on the lifescience and healthcare sectors. He co-founded Black Tiger to invest and partner with innovators to vitalize novel ideas into feasible entrepreneurship. He also co-founded J.A.D.E. (Joint Association to Develop Entrepreneurship) to build sustainable entrepreneurship in Hong Kong and Southeast Asia by elevating the region's startup ecosystem resiliency through intimate cross-pollination with successful entrepreneurs and capitalists.
Prior to Black Tiger, he was the associate director at Becton Dickinson (BD) in which he was instrumental in driving the clinical business to achieve $1 billion revenue primarily through new oncology and HIV diagnostic product development. Hobert led multiple teams of scientists and business managers to develop and launch novel system solutions to address the infectious disease and oncology unmet medical needs in both developed and developing markets. Hobert is an expert in agile development, business development, design control, FDA and ISO regulations, and technology development. He has hands on product registration experience with all continents excluding Antarctica with regulatory agencies including FDA, CFDA, EU, and others. Before BD, Hobert worked at Bio-Rad on medical device quality systems and at Beckman Coulter on automated clinical assay, specialty chemistry, cellomics, proteomics, genomics, and laboratory automation systems.
Hobert launched 5 in vitro diagnostic (IVD) platforms, 10 IVD assay kits, 22 Analyte Specific Reagents, 8 Research Use Only (RUO) platforms, and 15 RUO assay kits. Dr. Wai's effort in collaborative science advancement also resulted in numerous peer-reviewed scientific publications and patent insurance.
Hobert received an A.B. in Molecular Cell Biology from the University of California, Berkeley, Ph.D. in Biological Chemistry from the University of California, Irvine, and a M.B.A. from The Wharton School at University of Pennsylvania.
Andrew King - Lead with OCA Ventures
OCA is a Chicago-based venture fund that invests in promising startups at the Seed and Series A stage across a broad range of industries ranging from fintech to cybersecurity and marketplaces to consumer, with the only excluded industries being hardware and life-science. The firm's last fund had $73M under management. Previously, he served as an EIR at Techstars Boston. Techstars is a selective accelerator that offers the startups mentorship, capital, and a global network of alumni. Techstars selects a dozen companies out of the thousands of applicants per location (Atlanta, Austin, Berlin, Boston, Boulder, Chicago, London, New York City, Seattle as well as corporate programs in Cape Town, Detroit, Kansas City, London, Los Angeles, Minneapolis, New York City, San Antonio, and Tel Aviv) each cycle. Techstars also has a venture capital fund based in Boulder, CO with approximately $265 million under management and is currently investing its 3rd fund focused on co-investing at the Seed and Series A stage of companies built by Techstars' alumni, mentors and others across the ecosystem.
Andrew also leads a small broadcast media startup called Rough Draft, which works with students at various schools. He is also an advisor and a startup and venture capital-focused lawyer with a previous background in sports and finance. He has a law degree from Northwestern University and an MBA from Cornell University. Andrew's personal and professional interests combine in the innovation and startup areas, specifically, in digital media, drone technology, privacy issues, financial literacy, and e-gaming. We're excited to welcome him here today.
Tom Niehaus is the Co-Founder and General Partner of Pivotal Capital Partners, LLC.
Pivotal Capital Partners, LLC., an SBIC Licensed Venture Debt provider based in Menlo Park, CA with over $100 Million of assets under management (AUM). Pivotal Capital provides senior secured loans to some of the Countries' top venture backed Companies. Tom previously served as the first Managing Director of TriplePoint Capital, a leading venture lending firm, where he originated over $140 million in venture leases and loans to some of the most notable Silicon Valley start ups including YouTube, Ruckus Wireless, OncoMed Cyan Optics and Proteolix. Prior to TriplePoint, Tom was the Co-Founder and President of ZoneTrader, Inc., a venture backed, provider of equipment asset management services, where he raised over $65 Million in venture capital and venture debt. Prior to co-founding ZoneTrader, Mr. Niehaus served as Executive Vice President of Sales at Comdisco, Inc. where he was responsible for more than $900 million of technology lease transactions. Mr. Niehaus holds a B.S. in Journalism from the University of Iowa, Class of 1984.
Aakash Jain - Investor at Venture University
Previously, he was an advisor to several seed and growth-stage startups on their operational and fundraising goals, predominantly focused on the fintech and consumer verticals. Before that, he sourced and evaluated investment opportunities at Jump Capital in the areas of robotics, fintech, agtech and cybersecurity. Aakash co-founded Airport Sherpa, a startup that delivers food and retail to your gate inside the airport. Aakash also co-founded and is the Membership Lead of the Booth Bay Area Angel Network. Earlier in his career, Aakash developed algorithms for automated trading at Morgan Stanley. He holds a Masters degree in Business Administration from the Booth School at the University of Chicago, and a Masters in Computer Science from Cornell University. Aakash was a member of the founding class at Jacobs University in Germany, where he earned a Bachelors degree in Electrical Engineering and Computer Science.
MANY MORE INVESTORS SCHEDULED TO ATTEND!
Testimonials from past conferences: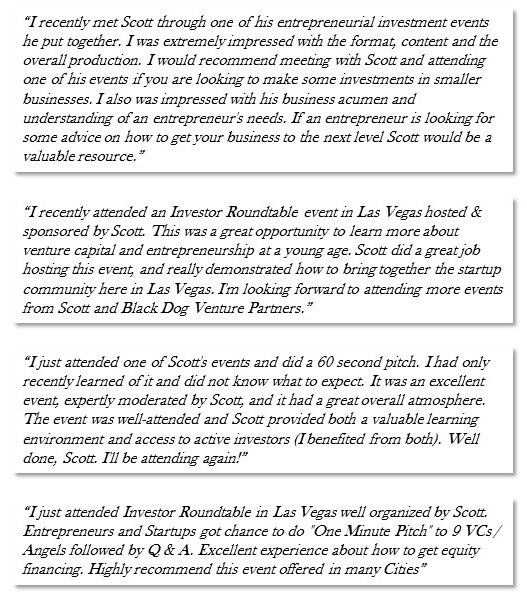 This event will sell out so register today!
Looking forwwrd to meeting you all.
Sincerely,
Scott Kelly, CEO
Black Dog Venture Partners