Description

Pitch and network with venture capitalists, angels and accredited investors from Silicon Valley and throughout the country at the San Francisco Venture Capital Fast Pitch Conference.
Black Dog Venture Partners has hosted investor events throughout the west and has raised millions of dollars for start ups as a direct result of our fast pitch conferences.
Investor Panel:
Scott Kelly, Black Dog Venture Partners
Scott Kelly Founder and CEO of Black Dog Venture Partners, is a 25 year fundraising, marketing, sales, training and publicity veteran. Scott has raised millions of dollars in capital for disruptive companies, garnered national media coverage for hundreds of regional and national brands and generated millions of dollars in revenues for the companies he has represented. He has also trained over 1,000 sales people and has taught marketing at the university level in the United States and Europe.
Michael Hool, Hool Coury Law
Michael Hool is our founding Partner and is a pioneer in the field of venture formation and financing in the Southwest and California. Michael works with select companies as an advisor, legal counsel and periodically serves in executive and board capacities. Michael practice is focused primarily on corporate and commercial representation, securities, finance and venture capital, mergers and acquisitions, corporate governance matters, and all aspects of counseling emerging companies. He represents both issuing companies and investors in a large variety of financing transactions. In the past fiscal reporting year, the firm has assisted entrepreneurs in over $187 million in funding transactions and has assisted funds raise over $100 million for investment in emerging companies.
Michael represents or advises accelerators, incubators, and has formed three active angel investment groups, including ATIF (predecessor to AzTech Investors) and Canyon Angels. Michael has chaired or served on the board of Arizona Venture Capital Conference, BioAccel, AzTech Investors, Canyon Angels, and the Indus Entrepreneurs. Mr. Hool is currently active in formation of three separate seed stage investment funds. Mr. Hool is highly sought after as a speaker and author of papers on a broad variety of topics. Michael is also active as an investor in a growing portfolio of emerging companies.
Danielle Davenport of Angels by the Sea and Santa Cruz Ventures
Danielle Davenport is considered a key thinker and contributor in the launch of several innovative start-ups. She is currently VP of Sourcing/Board Member for Angels by the Sea and Co-Founder for Santa Cruz Ventures (420 Foundry), a provider of funding and business acceleration. Danielle is an active investor, advisor, and board member in several high-tech initiatives. She provides capital, strategic analysis and capacity building to high potential ideas with a focus on disruptive technologies. Danielle is considered a technology innovator in the domains of sports/recreational, mixed-media (AR&VR), canna/agri-business, and transformative applications with hard/software. She has been included in the Global Speakers Bureau as an expert in Start-Up Acceleration. Danielle has been invited to speak, judge and advise on ideas for the ABC Global Accelerator, Santa Cruz Works Accelerator, Commonwealth Silicon Valley, William James Foundation, FundingPost, Ag-Tech Forum, Produce Marketers Association, The Hub, Bpeace, Silicon Valley Young Entrepreneurs, Pitchtank, Thrive Young Innovators and various others.
Danielle has over 20 years of experience at high technology companies, most notably with Royal Dutch Shell in London and The Hague and for Hewlett-Packard Corp., Ltd. and GmbH in the US and across Europe. She has served as an Executive within IT, Operations, Marketing and Corporate Development. She has successfully led large-scale operational functions and the implementation of complex corporate strategies and mergers/acquisitions. Danielle has launched two successful companies, authored patents and won several awards for innovation such as, the 2015 Stevie's Entrepreneur of the Year. She also co-founded a successful Angel Investor network with over a 1B in investments. She graduated from UC Texas with an M.S. in Computer Science and from San Jose State University with a B.A. in Economics. She has also completed post-graduate studies in Technology and Corporate Strategy from IESE in Barcelona Spain. Danielle is a Silicon Valley Native and is an advocate for leveling the entrepreneurial playing field and for advancing women's rights and education worldwide.
Suraj Rajwani - DoubleRock General Partner
Suraj is the co-founder and managing partner of DoubleRock. He has over ten years of management, investment, and M&A experience in Silicon Valley, China, and India. He was previously the Managing Director of the Global Entrepreneurs Network Organization (GENO) in Singapore. Suraj is an expert on multinational company branding, exit strategies, and deal origination.
Harry Dixon - Flint Capital
Harry is the associate for Flint Capital a $100MM early stage venture capital fund investing across Israel, Europe and the US. Harry manages the sourcing, due diligence process and LP interactions for Flint Capitals Palo Alto office.
Harry has a strong background in investing and company growth with time spent at a family office in LA, an M&A firm, FTI Consulting, Angel Investing and successfully exiting Frank Gehry's Technology company, Gehry Technologies, to Trimble (TRMB). Harry has further built a machine learning company, Bypass, through winning LA AngelHack hackathon.
Harry is an Australian native obtaining a Bachelor of Commerce and Bachelor of Economics from the University of Western Australia (UWA) with time spent at University of California Los Angeles (UCLA) and Queens University (Ontario).
Rana Gujral - Entrepreneur, Executive, and Investor
In 2014, he founded TiZE, a Cloud software for specialty chemicals, and held the role of CEO until his exit in 2016. He is currently leading Smart Home Initiatives at Logitech and an advisor to several startups. Rana is a contributing columnist at TechCrunch and Forbes and was awarded the 'Entrepreneur of the Month' by CIO Magazine and the 'US-China Pioneer' Award by IEIE 2017. He was listed among Top 10 Entrepreneurs to follow in 2017 by Huffington Post and is a sought-after international speaker. Rana has most recently been a featured speaker at the World Government Summit in Dubai, the Silicon Valley Smart Future Summit 2017, and IEIE 2017 in New York.
Prior to TiZE, Rana was recruited to be a part of the core turnaround team for Cricut Inc. At Cricut, Rana led the initiative to build a first of its kind, innovative product for the DIY community and prompted the turnaround of Cricut's EBITDA position from bankruptcy to profitability within a span of 2 years. Previously, Rana held leadership positions at Logitech S.A. and Kronos Inc., where he was responsible for the development of best-in-class products generating billions in revenue and contributed towards several award-winning engineering innovations.
Rana has earned a variety of personal and product awards and has been featured in TechCrunch, Forbes, Inc magazine, Huffington Post, Fast Company, NBC, Fox and CBS.
Brad McManus - managing director at Motorola Solutions Venture Capital
His role is to oversee the strategic venture unit, which actively identifies, analyzes, invests in and manages compelling and relevant startups strategic to the core and emerging businesses of the corporation. The mission of Motorola Solutions Venture Capital is to accelerate sustainable growth through investments in new technologies, new businesses and new talent.
Brad is a veteran strategic venture investor. His background includes heading Panasonic's venture investment group for over eleven years. He has also advised dozens of other corporations in the building of their internal strategic investment arms with the objective of seeking innovation and new business growth by partnering in targeted vertical markets. Corporate venture investing enables access to external seeds of innovation and offers unique engagement strategies for successful business outcomes.
Andrew C. Romans - Rubicon Venture Capital General Partner
Andrew Romans, based in Silicon Valley, is a successful VC-backed entrepreneur, author of two top-selling books on venture capital, former tech VC and M&A investment banker, cofounder of an angel group and now General Partner of Rubicon Venture Capital, a VC fund active in Silicon Valley, New York and Europe. Masters of Corporate Venture Capital and have been translated into Chinese, Japanese and Russian by major publishers.
Romans raised over $48m for tech startups he founded by the age of 28. He has continually raised VC funding as a founder, banker or VC ever since. Romans was the founder and General Partner of The Founders Club and also acted as the Managing Director of EMEA at VC-backed Sentito Networks where he raised over $58m in VC funding (acquired by Verso Technologies). Founder and President of The Global TeleExchange (The GTX), where he raised $50m from VCs and corporates including Lucent Technologies, built and managed a team of 90. He managed enterprise software sales at VC-backed Motive Communications (NASDAQ IPO) opening new markets in France, Benelux, Scandinavia and Ireland. Opened new markets and acted as country manager for fiber optic cable manufacturing and turn-key project construction company Dura-Line in the UK, Austria, Czech & Slovak Republics, Slovenia, Croatia and Bosnia-Herzegovina.
He is also a frequent VC guest speaker on TV shows including MSNBC, CNBC and ABC, as well as various TV channels in China and Russia. He was born in Japan, lived in Europe for 15 years and is fluent in English, German, and French, can speak conversationally in Slovak and holds US and UK passports. He began his career in 1993 working in the UNIX computing industry at Pencom Systems in New York, Silicon Valley, and Austin. He holds a BA from the University of Vermont, studied in Paris and Berlin at École Active Bilingue (now École Jeannine Manuel), Humboldt-Universität zu Berlin and Freie Universität Berlin and an MBA in finance from Georgetown University, which he completed on scholarship. In his spare time Andrew coaches boys lacrosse.
Carol Mao i- Vice President at Fusion Fund
Carol has extensive experience in US and Asian capital markets. Prior to joining Fusion Fund, she was a Senior Investment Banking Associate at Deutsche Bank and CITIC Securities International for a total of over five years. During this time, she participated in or completed more than 15 IPO/M&A/Bond/pre-IPO investment transactions. Carol holds a M.B.A. degree from Columbia Business School, a M.S. in Financial Mathematics and Statistics from HKUST and a B.S. in Mathematics from Peking University.
MANY MORE INVESTORS SCHEDULED TO ATTEND!
Testimonials from past conferences: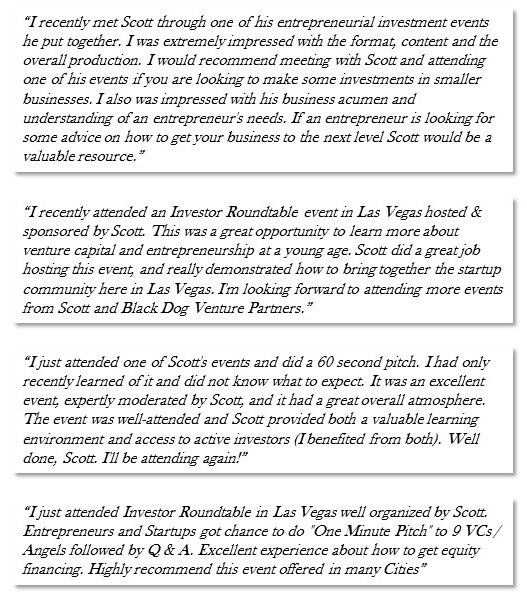 This event will sell out so register today!
Looking forwwrd to meeting you all.
Sincerely,
Scott Kelly, CEO
Black Dog Venture Partners