Description

Pitch and network with venture capitalists, angels and accredited investors from Silicon Valley and throughout the country at the San Francisco Venture Capital Fast Pitch Conference.
Black Dog Venture Partners has hosted investor events throughout the west and has raised millions of dollars for start ups as a direct result of our fast pitch conferences.
Investor Panel:
Scott Kelly, Black Dog Venture Partners
Scott Kelly Founder and CEO of Black Dog Venture Partners, is a 25 year fundraising, marketing, sales, training and publicity veteran. Scott has raised millions of dollars in capital for disruptive companies, garnered national media coverage for hundreds of regional and national brands and generated millions of dollars in revenues for the companies he has represented. He has also trained over 1,000 sales people and has taught marketing at the university level in the United States and Europe.
Michael Hool, Hool Coury Law
Michael Hool is our founding Partner and is a pioneer in the field of venture formation and financing in the Southwest and California. Michael works with select companies as an advisor, legal counsel and periodically serves in executive and board capacities. Michael practice is focused primarily on corporate and commercial representation, securities, finance and venture capital, mergers and acquisitions, corporate governance matters, and all aspects of counseling emerging companies. He represents both issuing companies and investors in a large variety of financing transactions. In the past fiscal reporting year, the firm has assisted entrepreneurs in over $187 million in funding transactions and has assisted funds raise over $100 million for investment in emerging companies.
Michael represents or advises accelerators, incubators, and has formed three active angel investment groups, including ATIF (predecessor to AzTech Investors) and Canyon Angels. Michael has chaired or served on the board of Arizona Venture Capital Conference, BioAccel, AzTech Investors, Canyon Angels, and the Indus Entrepreneurs. Mr. Hool is currently active in formation of three separate seed stage investment funds. Mr. Hool is highly sought after as a speaker and author of papers on a broad variety of topics. Michael is also active as an investor in a growing portfolio of emerging companies.
Jason Nyeh, Yardy Ventures
A Bay Area local, Jason Nyeh is an Entrepreneur, a partner in Yardy Ventures based in Silicon Valley. He has held leadership roles in operations, marketing, finance, business development, project management, training, and consultation in industries, such as Fintech, Healthcare, Medical IOT, Travel & Hospitality. He is also an associate and mentor at BayAngels, a leading angel investor organization in the Bay Area, helping aspiring professionals and entrepreneurs to be top players in Silicon Valley and other markets, such as China and India. Self-motivated and stellar leader describe Jason's personality. In his leisure time, he loves traveling, networking, and volunteering in various communities.

Roger King - Founder of Bay Angels,
A Bay Area angel group that has helped launch a number of well-known companies including OpenTable, Photobucket, and CashBet. He's the Founder and CEO of ChiefPeople, an executive & technical recruitment firm. Roger is an active angel investor, board member, and advisor to a number of tech start-ups including Manage, CashBet, Trpz, GetPinn, and HandyMan Heroes.
Roger is the Founder of and lead investor in Pree Media, (www.pree.it ) a stealth start-up scheduled to launch later this year. He is an active member of the Bay Area tech community and frequently moderates pitch panels for a number of organizations including VC TaskForce, Shark Tank, and Pitch Globally.
Roger has been published in Forbes and Fortune magazine, and appeared on CNN News as a subject matter expert (recruiting for start-ups). A serious amateur photographer, he's become a big fan off all things Cuba and has led several photography trips there. As a hobby, he spent 5 years as a game photographer for the San Francisco 49ers. Originally from Great Britain, Roger moved to the Bay Area in 1987, after running a global outsourcing firm, based in London.
Mike Walsh, Structure VC
Mike has designed missile defense systems, designed and sold air and water pollution control systems and was an early angel investor in Salesforce.com. After a decade of software sales and sales management, Mike successfully founded and sold an enterprise social networking company, while attending business school at Haas and Columbia University. Following the sale of Leverage, Mike focused his efforts on investing and was a first round investor in Uber. Leveraging his early investment success and love for helping early stage companies, Mike launched Structure Capital in June of 2013 and invested in 50 companies during the first year of business.

Sasha Talebi, Founder/Managing Partner of Sequence Venture Group
Sasha Talebi is founder and Managing Partner of Sequence Venture Group, an early-stage venture capital investment and advisory firm headquartered in Newport Beach, California.
Over the past two decades, Mr. Talebi has launched or helped fund operating companies across a range of industries including ecommerce, wireless, mobile, enterprise software, financial services, healthcare services, clean energy, social media, and data analytics.
In conjunction with his work in the startup community, Mr. Talebi plays a critical role in technology transfer and commercialization of advanced integrative science projects through his relationships with university research groups, private think tanks and academic institutions.
Mr. Talebi serves on the boards of several venture-backed companies, non-profit organizations and public-private partnerships.
Prior to launching Sequence, he managed investment portfolios for hedge funds of various strategies on behalf of multinational family offices and private banks.
Mr. Talebi is a graduate of the University of California, Irvine where he earned a bachelor's degree in astrophysics and an MBA from the Paul Merage School of Management.

Mar Perez, InCube Ventures and VentureHealth
Mar Perez is an Principal for InCube Ventures and VentureHealth, investment funds focused on disruptive healthcare innovation based in San Jose, California. In her role, Mar wears multiple hats – from screening over 500 deals per year and managing due diligence to speaking in public forums and building relationships with Limited Partners. She also manages the Fund's online presence, and contributes to organizational strategy. She is passionate about breakthroughs that can change medicine. She has spent her career in life sciences, most recently in governmental relations and sales with Johnson & Johnson. When Mar heard about VentureHealth, she fell in love with the opportunity to help investors and entrepreneurs dramatically improve the lives of patients
Prior to joining VentureHealth, Mar earned an international MBA from a joint program of the ADM Business School and UC Riverside. Her earlier academic training focused on business management, at the Universidad San Pablo CEU.
Born and raised in Spain, Mar lived in Australia and the United Kingdom prior to relocating to Silicon Valley, California – her current home.

Jun Li, Wisemount Capital
Jun Li is founder and General Partner of Wisemont Capital, a VC fund focused on early stage technology startups, especially in B2B and enterprise software, IoT, and healthcare.
Previously she is a Sr. Vice President of Beyondsoft (002649.SZ) and managing partner of Beyondsoft US Startup investment. She has over 16 years industry experience in Enterprise Software and Services. Before managing Beyondsoft US investment, Jun led Beyondsoft US Strategic Account Business Group, and grew its business from $3million to $65million. She had experience of building and leading a high performance team of over 2000 people. Her Microsoft Practice team had received 2014 Global Preferred Supplier Excellence Award. Jun often consults Fortune 500 companies and Startups on their China goto market strategy. Before joining Beyondsoft, she worked at Microsoft and CompareNet.
Jun is also a member of Tsinghua Entrepreneur and Executive Club (TEEC), mentoring and contributing to the startups communities in both US and China for many years.

Suraj Rajwani - DoubleRock General Partner
Suraj is the co-founder and managing partner of DoubleRock. He has over ten years of management, investment, and M&A experience in Silicon Valley, China, and India. He was previously the Managing Director of the Global Entrepreneurs Network Organization (GENO) in Singapore. Suraj is an expert on multinational company branding, exit strategies, and deal origination.
Oleg Koujikov - Managing Partner Maxfield Capital Partners
Oleg Koujikov is a partner at Maxfield Capital where his investments include drchrono, Machinioand iodine. Prior to that, he was investing in the likes of Zone Labs, Musicmatch and Atom Films within several venture settings including Intel Capital. Early in his career, Oleg worked as an investment banker in London, a product manager in Chicago and an architect in Paris. He holds an MBA from the Wharton School of Business.
Terri Hanson Mead is the Managing Partner of Class Bravo Ventures
A consulting company that provides IT strategy and IT compliance services in the life sciences space in addition to expert witness consulting services. She is an active angel investor, former Vice President of Sand Hill Angels, an EIR with Tech Futures Group, a podcaster (Piloting Your Life), a speaker, a blogger, and regularly advises early stage startups across all sectors. Terri invests in early stage digital health startups, specifically FemTech and PediaTech. In her spare time, Terri flies helicopters. She is passionate about supporting, and advocating for, under-represented founders and investors.

Matt Greenleaf - Founding Partner of Magic Carpet Capital
Matt is the Founding Partner of Magic Carpet Capital, a hybridized venture-hedge fund founded with Y Combinator alumni. Magic Carpet invests in pre-seed and seed stage companies, with an additional focus on emerging markets and minority founded startups. Prior to VC, Matt started TEDxSFState, SF Hacks and INCUBED, to build the foundation for entrepreneurship and innovation at San Francisco State University.
Danielle Davenport, Angels by the Sea and Santa Cruz Ventures
Danielle Davenport is considered a key thinker and contributor in the launch of several innovative start-ups. She is currently VP of Sourcing/Board Member for Angels by the Sea and Co-Founder for Santa Cruz Ventures (420 Foundry), a provider of funding and business acceleration. Danielle is an active investor, advisor, and board member in several high-tech initiatives. She provides capital, strategic analysis and capacity building to high potential ideas with a focus on disruptive technologies. Danielle is considered a technology innovator in the domains of sports/recreational, mixed-media (AR&VR), canna/agri-business, and transformative applications with hard/software. She has been included in the Global Speakers Bureau as an expert in Start-Up Acceleration. Danielle has been invited to speak, judge and advise on ideas for the ABC Global Accelerator, Santa Cruz Works Accelerator, Commonwealth Silicon Valley, William James Foundation, FundingPost, Ag-Tech Forum, Produce Marketers Association, The Hub, Bpeace, Silicon Valley Young Entrepreneurs, Pitchtank, Thrive Young Innovators and various others.
Danielle has over 20 years of experience at high technology companies, most notably with Royal Dutch Shell in London and The Hague and for Hewlett-Packard Corp., Ltd. and GmbH in the US and across Europe. She has served as an Executive within IT, Operations, Marketing and Corporate Development. She has successfully led large-scale operational functions and the implementation of complex corporate strategies and mergers/acquisitions. Danielle has launched two successful companies, authored patents and won several awards for innovation such as, the 2015 Stevie's Entrepreneur of the Year. She also co-founded a successful Angel Investor network with over a 1B in investments. She graduated from UC Texas with an M.S. in Computer Science and from San Jose State University with a B.A. in Economics. She has also completed post-graduate studies in Technology and Corporate Strategy from IESE in Barcelona Spain. Danielle is a Silicon Valley Native and is an advocate for leveling the entrepreneurial playing field and for advancing women's rights and education worldwide.

Keting Chu, MD, Ph.D Managing Partner of Maia Venture Partners
Keting Chu is Managing Partner of Maia Venture Partners that is focused on venture capital investments in the biotech industry. Keting is a scientist, entrepreneur and life science venture investor with a broad range of experiences in therapeutic development and venture investment.
Prior to founding Maia Venture Partners, Dr. Chu was venture partner at Apple Tree Partners. Before joining Apple Tree Partners, Keting spent five years as VP, Research TAP at The Leukemia and Lymphoma Society (LLS), and is responsible for venture philanthropy. Prior to LLS, Keting co-founded, as head of RnD or CEO, four biotech companies including Five Prime Therapeutics, Bio3, DigitAB and Mission therapeutics. Before that, Keting was the Head of Immunotherapy and Antibody Therapeutics Division at Chiron Corporation.
Keting received her MD in Sun Yat-sen Medical University specialized in infectious diseases in China, Ph.D. in Microbiology and Immunology at University of California at San Francisco (UCSF).
Rana Gujral - Entrepreneur, Executive, and Investor
In 2014, he founded TiZE, a Cloud software for specialty chemicals, and held the role of CEO until his exit in 2016. He is currently leading Smart Home Initiatives at Logitech and an advisor to several startups. Rana is a contributing columnist at TechCrunch and Forbes and was awarded the 'Entrepreneur of the Month' by CIO Magazine and the 'US-China Pioneer' Award by IEIE 2017. He was listed among Top 10 Entrepreneurs to follow in 2017 by Huffington Post and is a sought-after international speaker. Rana has most recently been a featured speaker at the World Government Summit in Dubai, the Silicon Valley Smart Future Summit 2017, and IEIE 2017 in New York.
Prior to TiZE, Rana was recruited to be a part of the core turnaround team for Cricut Inc. At Cricut, Rana led the initiative to build a first of its kind, innovative product for the DIY community and prompted the turnaround of Cricut's EBITDA position from bankruptcy to profitability within a span of 2 years. Previously, Rana held leadership positions at Logitech S.A. and Kronos Inc., where he was responsible for the development of best-in-class products generating billions in revenue and contributed towards several award-winning engineering innovations.
Rana has earned a variety of personal and product awards and has been featured in TechCrunch, Forbes, Inc magazine, Huffington Post, Fast Company, NBC, Fox and CBS.

Lu Zhang - Founding and Managing Partner of Fusion Fund
Prior to starting Fusion Fund, she was a Venture Partner at Fenox Venture Capital. She participated in over 20 investments and assist M&A of the portfolios. Lu was also the Founder and CEO of a start-up focused on non-invasive technology for the early diagnosis of Type II diabetes (acquired in 2012). Lu received her M.S. in Materials Science and Engineering from Stanford University and holds several patents. She is an advisor and mentor to several innovative programs and incubators in Silicon Valley. Lu has won numerous awards and is frequently invited to speak at events. She was awarded the Forbes US 30 under 30 & Featured as the Honoree of VC category. She was also awarded the Forbes Asia 30 under 30 of Finance category in the same year. She was recently awarded as the T&C 50 Modern Swans Influencer, representing top female entrepreneurs in US.
Brad McManus - managing director at Motorola Solutions Venture Capital
His role is to oversee the strategic venture unit, which actively identifies, analyzes, invests in and manages compelling and relevant startups strategic to the core and emerging businesses of the corporation. The mission of Motorola Solutions Venture Capital is to accelerate sustainable growth through investments in new technologies, new businesses and new talent.
Brad is a veteran strategic venture investor. His background includes heading Panasonic's venture investment group for over eleven years. He has also advised dozens of other corporations in the building of their internal strategic investment arms with the objective of seeking innovation and new business growth by partnering in targeted vertical markets. Corporate venture investing enables access to external seeds of innovation and offers unique engagement strategies for successful business outcomes.
Marty Mulvihill - co-founder and a managing partner in Safer Made
Safer Made a mission-driven venture capital fund investing companies and technologies that reduce human exposure to harmful chemicals. Marty is also a researcher and advisor at the Berkeley Center for Green Chemistry, which he helped create and where he served as the initial Executive Director from 2010-2015.
Marty Mulvihill received his Ph.D. in 2009 from the University of California, Berkeley in Chemistry and Nanoscience. Marty's research and work have focused on developing technologies that help provide access to clean drinking water and the creation of safer chemicals and materials based on biological feedstocks. He has a number of publications and patents related to the detection of arsenic in drinking water, and he has developed safer chemicals and materials for the personal care, construction, electronics, and textile industries.
Harry Dixon - Flint Capital
Harry is the associate for Flint Capital a $100MM early stage venture capital fund investing across Israel, Europe and the US. Harry manages the sourcing, due diligence process and LP interactions for Flint Capitals Palo Alto office.
Harry has a strong background in investing and company growth with time spent at a family office in LA, an M&A firm, FTI Consulting, Angel Investing and successfully exiting Frank Gehry's Technology company, Gehry Technologies, to Trimble (TRMB). Harry has further built a machine learning company, Bypass, through winning LA AngelHack hackathon.
Harry is an Australian native obtaining a Bachelor of Commerce and Bachelor of Economics from the University of Western Australia (UWA) with time spent at University of California Los Angeles (UCLA) and Queens University (Ontario).

Andrew Romans, General Partner of Rubicon Venture Capital
Andrew Romans is a successful VC-backed entrepreneur, author of two top-selling books on venture capital and a new book on blockchain and ICOs, former tech VC and M&A investment banker, cofounder of an angel group, General Partner of Rubicon Venture Capital and is launching 7crypto.vc. Romans raised over $48m for tech startups he founded by the age of 28. Romans founded and raised VC funding for numerous companies and led startups to exits including The Founders Club, Sentito Networks ($58m in VC funding, acquired by Verso Technologies), The Global TeleExchange (raised $50m) and Motive Communications (enterprise sales Europe, NASDAQ IPO). MBA, Georgetown University.

Additional investor panelists to be announced soon!
Testimonials from past conferences: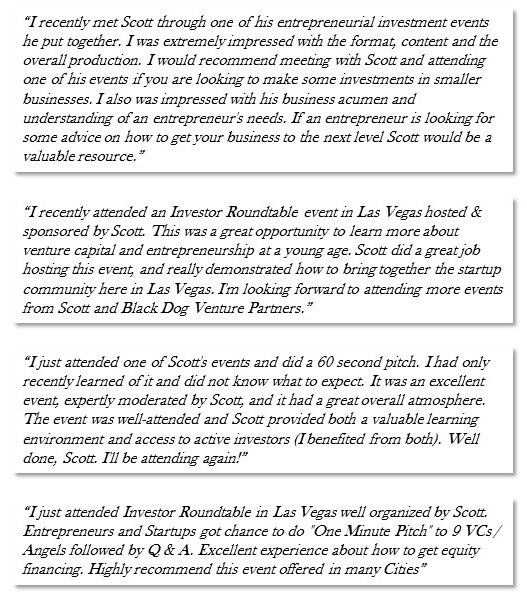 This event will sell out so register today!
Looking forwwrd to meeting you all.
Sincerely,
Scott Kelly, CEO
Black Dog Venture Partners