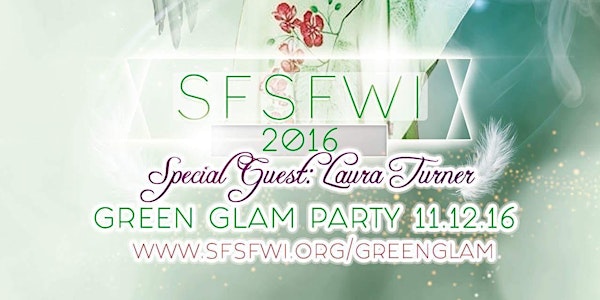 San Francisco Sustainable Fashion Week International "Green Glam Industry"...
Location
Pier 35
1454 The Embarcadero
San Francisco, CA 94133
Description

"Green Glam Industry" Featuring Skintie!


Supporting Designers entering Sustainability!




Lily Marotto ~ Sonia Moreno ~ Johnna Ward





Meet Special Guest, Laura Turner Seydel:
Speaking about Sustainability and Fashion!

Boticelli inspired Fashion Show at
the Mansion in Fremont!
VIP Limousine ride from SF to the Mansion
Enjoy sipping Veuve Cliquot Champagne. Worry Free!
Arrive in Style ~ Dress to impress!

5:00 PM SF Pier 35​ - Limo Ride to Mansion Note: Leaving time is 5 PM from SF.

6:00 PM Reception at Mansion
​​7:00 PM Fashion Show

8:00 PM Party with DJ

10:00 PM Limo Returns to SF

One VIP Limousine Ride includes:
Ride from SF to Mansion and back.
A bottle of
Veuve Cliquot, Champagne
A bottle of Coppola, Cabernet Sauvignon

Be Fabulous!

At the Masion:
Receive a glass of
Champagne
Receive a Skintie as a Souvernir

Cash Bar &
Complimentary hors d'oeuvres all night
!

And Exclusive & Extraordinary Evening! ​
Buy your Ticket now! Space is limited.​

​One ​
VIP LIMO RIDE to Mansion & Back
to SF​ $100
One VIP LIMO RIDE and VIP Seating Fashion Show $140
​
Get VIP Extraordinaire! $320


Tickets are not refundable