San Francisco Sustainable Fashion Week Int.' Eco-Fashion Film Program prese...
Description
San Francisco Sustainable Fashion Week International
First Eco-Fashion Film Program: "Understanding the Stories within the Apparel Industry"
Presented by San Francisco Green Film Festival
April 23, 2019 6:00 PM to 7:30 PM
Free to the public, San Francisco Library, Civic Center


An evening about the Human Rights component and importance of Workers in the Apparel Industry! A glimpse of different short films to inform audiences about some of the main issues of human suffering within the fashion industry.

An evening of Short Films followed by a Eco Fashion Presentation and Q&A
Bringing the conversation of Fashion Revolution and Who Made My Clothes?
FashionRevolution.org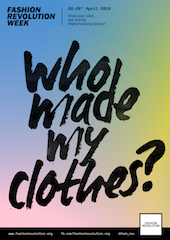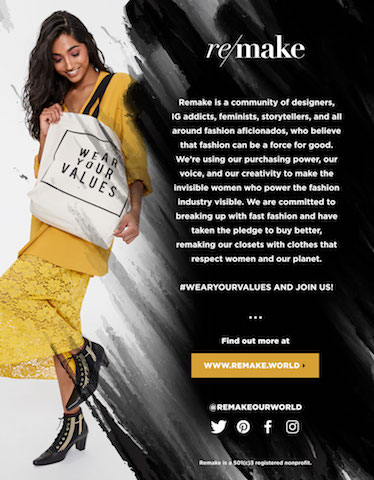 remake.world
Detox Your Fashion 4 mins
Produced by Greenpeace
A documentary about the reality of the fashion industry and the impact on the environment, the health of people. Also, includes the solution and what we can do as people who buy products.

Reject Child Labour! Who Made My Clothes? 2:09 mins
Around 260 million children are in employment around the world, according to the International Labour Organization work in the apparel industry. Children speak up for children's rights.

Who Made My Clothes? The People Bringing Transparency To The Fashion Industry 4:19 mins
By Co-Founder Fashion Revolution, Orsola De Castro
The majority of the people who make clothes for the global market live in poverty, unable to afford life's basic necessities. Many are subject to exploitation; verbal and physical abuse, working in unsafe and dirty conditions, with very little pay. Fashion Revolution created a movement around the world about Who Made My Clothes?
www.FashionRevolution.org
MADE IN MEXICO 14 mins
Produced by re/make,
re/make is igniting a conscious consumer movement to turn fashion into a force for good. Our original documentary footage brings you face to face with the women who make our clothes. We share facts and stories to help you break up with fast fashion and provide seasonal curated collections to remake your closet with fashion that respects women and our planet. #remakeourworld www.remake.world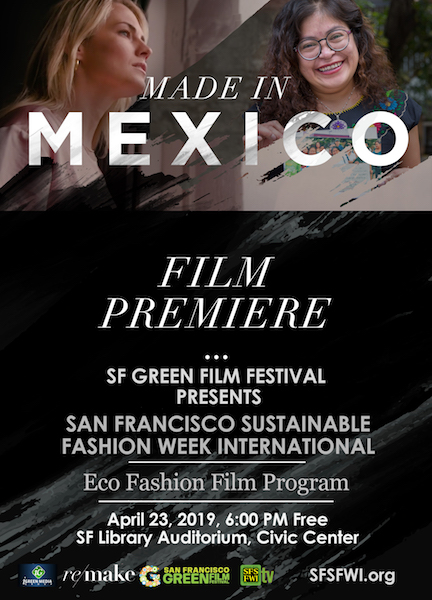 Eco-Fashion by SFSFWI Catwalk Beauties!
Take a closer look at Sustainable Fashion as we show you models in creative designs...
Closing with a Panel Discussion Q&A
Let's take a closer look at Labour Justice and the safety provided by the manufactures to millions of those working to create our clothes!
Guests speak about the industry and the importance to honor workers in the apparel industry and the future of the fashion industry and sustainability.

Karen Topakian; Topakian Communications, Fund Board of Greenpeace
Caro Collazos; Co-Founder Tangui/Bee Social Group
Sandra Hanns; Founder & Organizer SFSFWI
Moderator: Rachel Caplan; Founder SF Green Film Festival
We are looking forward to seeing you all.
Thank you!


This is a free event, sponsored by SFPL's Green Stacks Program in Partnership with San Francisco Green Film Festival, SFSFWI and re/make in support of Fashion Revolution Week!
San Francisco Sustainable Fashion Week Int.' runs April 20-27. For more visit: http://sanfranciscosustainablefashionweek.org http://SFSFWI.org