San Francisco Screening of CITY SLICKERS CAN'T STAY WITH ME: THE COACH BOB...
Description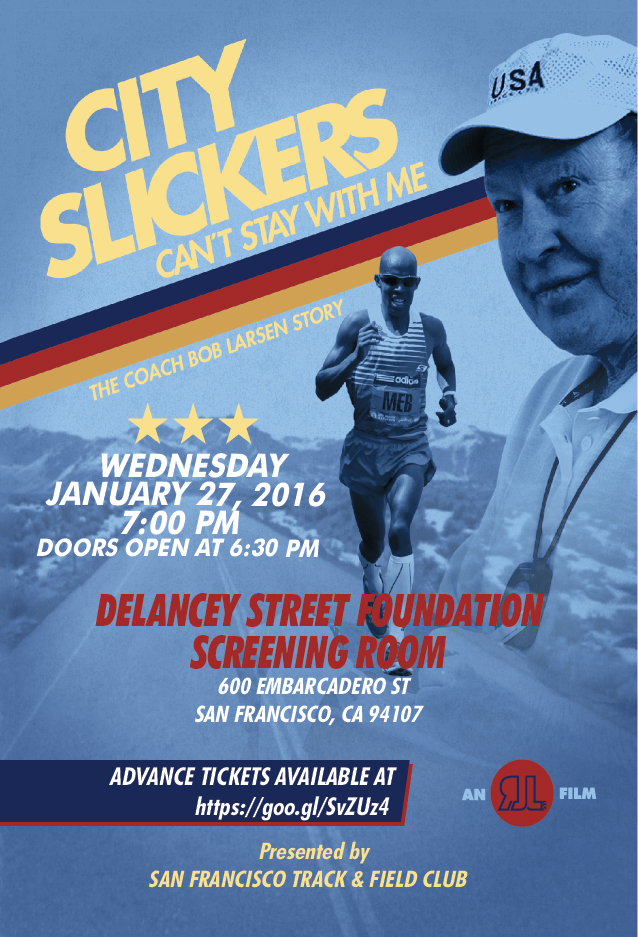 San Francisco Track and Field Club is excited to host screening of City Slickers Can't Stay with Me on Wednesday, January 27. The door will open at 6:30 pm and tickets will be available prior to the 7:00 pm screening. The ticket price will be $14.00 on the day of event.
Dedication, discipline, drive and heart are qualities in all great long distance runners and in all those who reach for the American Dream. They are also at the core of the documentary; City Slickers Can't Stay With Me.
City Slickers Can't Stay With Me tells the story of Hall of Fame distance running coach Bob Larsen, tracing his extraordinary career from his roots at San Diego State through coaching at Monte Vista High, Grossmont College, and then his 20 record-breaking years at UCLA. Framing the film's narrative is Coach Larsen's collaboration with long-time protege, Marathon Champion, Meb Keflezighi, and their pivotal role— along with Deena Kastor and Coach Joe Vigil— in rebuilding the status of American long distance running internationally.
Mebrahtom (Meb) Keflezighi is a world class distance runner with a unique American success story. Born during a war of Independence in Eritrea, Meb and his family were forced to flee the war torn country when he was only 10 years old. They eventually settled in San Diego, CA, setting Meb on a path to represent the United States as an Olympic distance runner in 2000, 2004, and 2012, winning the Silver Medal in 2004 marathon. Through Meb, City Slickers Can't Stay With Me reminds us that great achievements are rarely made on one's own.
The film features breathtaking footage, including Meb's victory at the Boston Marathon in 2014 (the first American man to win Boston in 31years), plus training at altitude in Mammoth Lakes, rare photos and exclusive, in-depth interviews with running greats such as Meb, Deena, Alberto Salazar and many more. City Slickers Can't Stay With Me illustrates what continues to make Coach Bob Larsen such an influential figure in his field. His ability to galvanize the emotional, intellectual, and physiological components of his runners has garnered unwavering respect from his athletes, former athletes, his peers, and has produced winning teams and star athletes from unlikely circumstances.
Watch trailer here: https://youtu.be/I8wYgmNRp_s