San Francisco Rising Strong™ Workshop based on the research of Brené Brown
Sales Have Ended
Ticket sales have ended
Congrats for signing up! I'm looking forward to our whole hearted weekend together. I will send out further details closer to the workshop. Warmly, Beth
Sales Have Ended
Ticket sales have ended
Congrats for signing up! I'm looking forward to our whole hearted weekend together. I will send out further details closer to the workshop. Warmly, Beth
Description





March 11-12, 2017 Rising Strong ™ Workshop
Led by Beth Jaeger-Skigen, LCSW & Michelle Gannon, PhD
Inn at the Presidio, San Francisco 9:00 - 5:00 pm
Everyone Welcome
WEEKEND RETREAT:
Saturday, March 11, 2017 9:00- 5:00 and Optional Wine & Cheese Social 5:00-7:00 PM
Sunday, March 12, 2017 9:00 -5:00
Rising Strong™ Workshop is based on the latest groundbreaking research of Dr. Brené Brown.
Would you like to learn positive, proactive tools and strategies to live a more satisfied and wholehearted life?
Brené Brown's research findings help people find the strength and courage to rise strong in their personal and professional lives.
The Rising Strong ™ Workshop is led by Beth Jaeger-Skigen, LCSW and Michelle Gannon, PhD.
Both Michelle and Beth have helped individuals, couples and groups lead more meaningful lives and create more satisfying relationships for over twenty years.
Beth Jaeger-Skigen, LCSW is a Certified Daring Way™ and Rising Strong™ Faciliator, Workshop leader, and Organizational Consultant in private practice in San Francisco.
Michelle Gannon, PhD is a Clinical Psychologist, Individual and Couples Therapist and Workshop Leader in private practice in San Francisco. Michelle attended the International Daring Way ™ and Rising Strong™ Training Program withe Brené Brown in Australia and is excited to bring back Brené Brown's research to her San Francisco workshops and trainings.
Over the Rising Strong ™ Workshop Weekend, Michelle and Beth will guide the group with many positive psycho-educational and experiential exercises, personal exploration, videos from Brené Brown created specifically for Rising Strong™ participants and an opportunity for personal reflections and growth in a safe, supportive, positive and fun environment.
Rising Strong™ Workshop is based on the latest groundbreaking research of Dr. Brené Brown and led by Beth Jaeger-Skigen, LCSW and Michelle Gannon, PhD.
Do you want to have more joy, gratitude, contentment, authenticity, courage, calm and creativity in your life?

Would you like to have more compassion and acceptance of yourself and others?

Do you need strategies for getting back up after a fall, disappoinment or setback in a personal or professional setting?

Are you going through any life transitions?

Is it time for you to become more empowered to make positive changes in your life?
Rising Strong™ is based on the simple physics of vulnerability: If we are brave enough, often enough, we will fall.
When we take risks in our lives, we will inevitably fall and experience disappointments, hurts, failures and heartbreak.
This is a program about what the research finds takes us to get back up, live a more wholehearted and satisfying life and how owning our stories of struggle gives us the power to write a daring new ending. By participating in the Rising Strong™ Workshop, you will have the opportunity to explore how to live bravely every day by showing up in the arenas of your life and relationships to become the best, most authentic version of you. The method is designed for work with individuals, couples, work teams and organizational leaders. It can be facilitated in clinical, educational, corporate and professional settings.
The Rising Strong™ Workshop led by Beth and Michelle will be safe, supportive, positive and fun.
Space is limited. Please register early to guarantee space. We look forward to meeting you!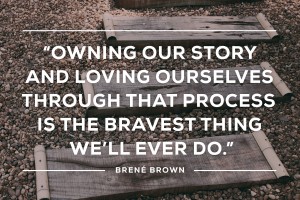 The Rising Strong™ Workshop Fee of $750 includes:
Rising Strong ™ Workbook, Coffee, Tea, Continental Breakfasts, Healthy Snacks & Picnic Lunches
+ Optional Fireside Wine & Cheese with Michelle & Beth
FAQs
Where is The Rising Strong™ Workshop located?
The Rising Strong ™ Workshop will be held at the Inn at the Presidio in San Francisco. This is an award winning boutique hotel in the heart of the Presidio. It is a national park site and National Historic Landmark at the Golden Gate. Inn at the Presidio offers an authentic historic experience and exceptional recreational opportunities in a setting of immense natural beauty. The Georgian Revival-style building has been restored as a guest lodge.
If you would like to stay overnight, contact (415) 800-7356 for reservations.
Cancellation Policy
Your registration fee is non-refundable, but transferable within 12 months of the registration date. However, if you cancel within 72 hours or fail to show up for the workshop, there will be a $75 transfer fee applied. All Rising Strong ™ Workshops are enrolled on a first come, first serve basis.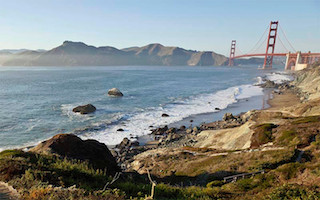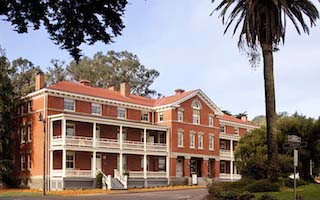 What are my transport/parking options getting to the event?
Parking is available for $8 per day. You can purchase your parking pass from the lobby on the morning of the workshop. If you need transportation arranged for you from the airport or from another Bay Area location, contact The Inn and the Presidio (415)-800-7356 and they will arrange for a car for you.
Where can I contact the organizers with any questions?
Beth@TherapistSF.org or call 415-317-4893
DrMichelleGannon.com or call 415-717-4008
More Details at RisingStrongWorkshop.com
ABOUT BRENÉ BROWN:
The Daring Way™ and Rising Strong™ method is based on the research of Brené Brown, Ph.D. LMSW.
Dr. Brené Brown is a research professor at the University of Houston Graduate College of Social Work. She has spent the past thirteen years studying vulnerability, courage, worthiness, and shame. Her groundbreaking research has been featured on PBS, NPR, CNN, and Oprah Winfrey's Super Soul Sunday. Brené is the author of three #1 New York Times Bestsellers; Gifts of Imperfection: Let Go of Who you Think You're Supposed to Be and Embrace Who You Are (2010), Daring Greatly: How the Courage to Be Vulnerable Transforms the Way We Live, Love, Parent, and Lead(2012), Rising Strong: The Reckoning, The Rumble, The Revolution (2015). She is also the author of I Thought It Was Just Me (2007). Brené Brown's 2010 TEDx Houston talk "The Power of Vulnerability" is one of the top five most viewed TED talks in the world, with over 25 million viewers. Additionally, Brené gave the closing talk at the 2012 TED conference where she talked about shame, courage and innovation.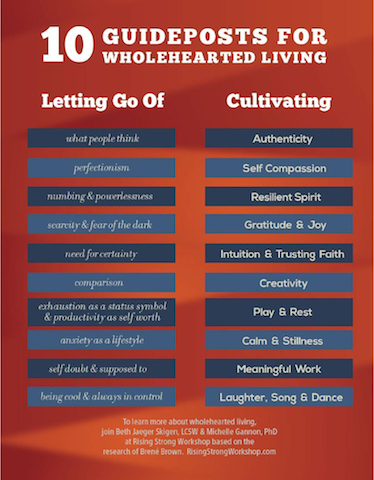 Words from Rising Strong™ Workshop Participants:
Thanks so much for an amazing weekend, I left feeling so motivated and inspired so THANK YOU Michelle & Beth! I will be sure to spread the word about this amazing Rising Strong ™ Workshop.
All you have to do is enter with an open heart and you will leave feeling empowered, motivated and inspired. You will learn the difference between shame and guilt and learn how to be vulnerable and have a lot more self compassion for yourself so you can reach your goals. Beth and Michelle do a wonderful job of creating a safe and open learning environment. They gave me the tools I've been searching for to lead a more authentic and wholehearted life. Focusing on my core values really grounded me and gave me clarity of the person I want to be and the life I want to live. Rising Strong is a powerful yet simple framework that can really change lives!
~Jacqueline, Petaluma, CA
I am grateful and appreciative after attending the Rising Strong Workshop with Michelle and Beth last weekend. They created a safe environment to explore vulnerabilities and process through the Brené Brown's Rising Strong Workshop. Both Michelle and Beth were generous in their warm and personal facilitation and giving emotional support and recognition. It was a powerful and positive experience. I am definitely "rising strong" from the personal work I did. Thank you Michelle and Beth! ~ Phyllis V., MFT, San Francisco
I had the good fortune to attend the Rising Strong Workshop last week with Michelle and Beth. Wow! I am still integrating. It was so rewarding on many levels to spend two days looking deeply within and gaining new clarity and insights into some of the beliefs that I have been operating from. Seeing more clearly the stories I tell myself with the added insight that the brain does not give me the "right" story, it gives me the story to keep me safe was eye opening! Having gone through a breakup last year that I am still learning from, the two days gave me so much more understanding and emotional movement of pain I was carrying. I gained so much clarity about choices I made and from what core beliefs those choices came from. It was liberating to see and feel and share some of these most vulnerable experiences with a group of beautiful, powerful, vulnerable women. I came away feeling seen, understood, accepted and loved by myself and by others. There is a knowing and a honoring of this without words that I so value and I felt at this workshop. Thank you, thank you Michelle and Beth for creating such a safe and wonderful experience of going deep and rising strong. ~ Barbara, San Francisco

There are days in our lives that we can look back on and reflect and say "these were days well lived." The two days I spent with Michelle Gannon, PhD and Beth Jaeger-Skigen, LCSW at the Rising Strong ™ Workshop in San Francisco were definitely in this category. Prior to attending Rising Strong Workshop with Michelle and Beth, I had read several of Brené Brown's books. Her viral Ted Talks lured me in. I found it fascinating and was looking for something more. I didn't want to just read about it, I wanted to "work on it"! Serendipitously, I logged on to Facebook one evening and saw that Michelle & Beth were leading Rising Strong Workshop based on the research of Brené Brown in San Francisco! I researched it and immediately signed up at the first opportunity. Here was this work that fascinated me, being held in my favorite city, being led by an incredible woman who had already helped me make lasting change in my relationships. I had no idea what to expect, but I knew that it was going to be good. The weekend exceeded my expectations. The group of women that attended were some of the most fascinating, kindest, nonjudgmental, authentic, strong, supportive and emotionally articulate people that I had ever spent time with. The space that Michelle and Beth created facilitated a sense of safety where true vulnerabilities could be shared and raw connections for growth could be fostered. I had so many "aha" moments and shared so many insightful conversations, even outside of the seminar, I can already feel the trajectory of my course shifting in my daily life now that I am home. I really believe that there is no greater gift that we can give to ourselves and the people that we love than the ability to learn how to be truly, vulnerably, authentically wholehearted. Our life is not going to be perfect and it will most definitely not be easy, but when you can learn how to pick yourself up from the trials and failures and Rise Strong, you will have lived a life that is beautifully admirable. ~Nicola, Los Angeles
Rising Strong ™ Workshop exceeded all of my wishes for a life changing experience. I read Brené Brown's books, saw her TED Talks and was seeking to learn more. The Rising Strong Workshop was exactly what I needed. I now have more tools that I can use daily to for more shame resilience and help me "rumble" with many of my vulnerabilities. I received personal attention and also built connections with others in the workshop that aided me and validated that I am not alone in this struggle. The Rising Strong Workshop took place at the beautiful Inn at the Presidio in San Francisco and this made the workshop that much more special. I highly recommend Rising Strong Workshop! ~Amanda, San Francisco
The Rising Strong Workshop was conveniently located in San Francisco but I felt like I was swept into a retreat center miles away. It was an amazing supportive community with engaging and wise facilitators.. I felt like every exercise applied to various parts in my life and were taught in easily digestible, creative and fun ways. I did walk into the workshop feeling some anxiety but throughout the weekend, I felt a lot of hope for me to find more joy, calm and balance in my life. When I went back to work on Monday, I felt centered, less anxious and had more energy than I've had in months. After the Rising Strong Workshop, I now feel like I have new tools and strategies to jump- start my life towards whole hearted living. I look forward to incorporating what I learned about Brené Brown's research and the Rising Strong philosophy into my daily practice. ~Eva, San Francisco