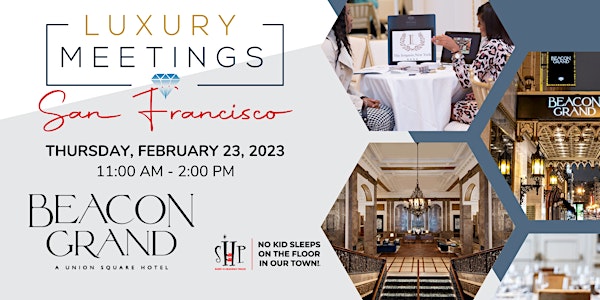 San Francisco: Luxury Meetings Luncheon & Showcase @ Beacon Grand Hotel
Connecting San Francisco Corporate, Association, & 3rd Party Meeting Planners w/ the World's Best Hotels, Resorts, & Destinations Since 2008
When and where
Location
Beacon Grand, A Union Square Hotel 450 Powell St San Francisco, CA 94102
About this event
Luxury Meetings has been connecting hoteliers and destination suppliers with San Francisco's qualified corporate, association, and 3rd party meeting planning companies since 2008 (over 800+ events of this kind).
Luxury Meetings focuses on bringing qualified meeting planners who are located within a 45-min drive radius of downtown San Francisco to meet with twenty-five (25) of The World's Best Hotels, Resorts, & Destinations, for the sole purpose of finding potential locations to host their future meetings, incentives, conferences, expositions, or events.
The Luxury Meetings Luncheon & Showcase is an efficient 3-hour event versus a high-cost, time-consuming trade show. The format ensures that every meeting planner meets face-to-face with every supplier via our semi-structured Speed Meetings™ format while simultaneously enjoying a gourmet plated luncheon, prizes, live charity auction, and gifts from our global gifting partners.....and, most importantly, having FUN with your industry colleagues IN-PERSON!
Luxury Meetings is committed to attracting only pre-qualified, top-tier meeting planners with viable and active meetings for which they are sourcing. Upon registering to attend, your registration must be approved by the Luxury Meetings team.
We encourage you to apply to register now, as space is very limited, for this complimentary luncheon and showcase.
We invite and encourage you to register now to attend!
AGENDA
11:00 am-11:15 am - Meeting Planners arrive, check-in, pick up name badge & swag bag, step and repeat, and then take a moment to say hi to all your friends and colleagues while enjoying light morning appetizers, coffee, tea, and non-alcoholic welcome morning beverages. A professional photographer will be present to capture each moment.
11:15 am-11:30 am - Introduction of our host hotel, corporate gifting partners, Partner DMC, and our charity recipient Sleep in Heavenly Peace 501(c)(3) by our Emcee Jacob Ahrens.
11:00 am-1:00 pm - Speed Meetings™ between Meeting Planners & Hoteliers/Suppliers. This time allows for networking between meeting planners & attending hoteliers via our semi-structured Speed Meetings™ format, which ensures every meeting planner spends 8 minutes with every hotelier/supplier and vice versa. During this time and in-between rotations, show participants may actively peruse the LIVE Auction Items, which both suppliers and planners will have the opportunity to bid on during the luncheon portion of the event.
1:00 pm-2:00 pm -Gourmet Plated Luncheon provided by the Host Hotel
1:30 pm - LIVE Charity Auction to raise money for the San Francisco Area Chapter of Sleep In Heavenly Peace 501(c)(3).
1:45 pm - 2:00 pm - Announcement of how much money was raised for charity recipient Sleep in Heavenly Peace 501(c)(3). Drawing of prizes for the meeting planners who completed their Speed Meetings™ and were present for the duration of the event.
2:00 pm - Attendee Departure with Complimentary Valet Parking & Hotel Site Visit of the host hotel.