About this Event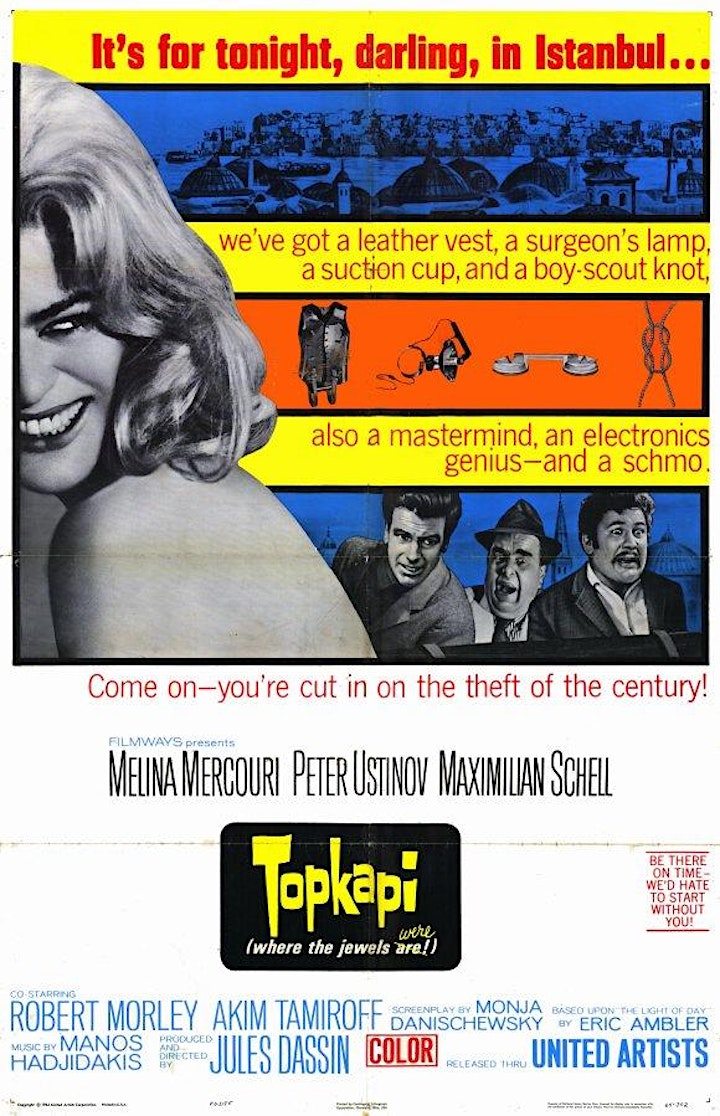 The Greek Culture Ministry has declared 2020 as the "Year of Melina Mercouri" to mark the 100-year anniversary since the birth of the internationally-acclaimed Greek actress, politician, and culture champion.
The San Francisco Greek Film Festival presents the film Topkapi in her honor. This film is family-friendly.
Beautiful thief Elizabeth Lipp (Melina Mercouri) and criminal genius Walter Harper (Maximilian Schell) put together a plan to steal an emerald-encrusted dagger from Istanbul's Topkapi Palace. As part of their crew, they hire small-time hustler Arthur Simon Simpson (Peter Ustinov) to act as their fall guy. When the Turkish secret police capture Simpson at the border, they persuade him to spy on his partners in crime, mistakenly believing that they're Communist agents plotting an assassination.
TOPKAPI 1964
Rating: unrated - For All Ages
Runtime: 2 Hours
Movie Genre: Adventure, Comedy, Crime
Director: Jules Dassin
Music composed by: Manos Hadjidakis
Par 3 has created a safe, sanitized and secure environment so everyone can feel comfortable to enjoy delicious food, craft cocktails and a Summer movie!
DRIVE-IN Lot opens at 6:00 PM
Movie starts at 7:00 PM
$30/per vehicle: One Drive-In Movie Ticket per one vehicle. Fit as many people as your vehicle legally allows.
Dine-out with a picnic or patio dining at Par 3 before the movie. Dinner reservations are REQUIRED. Please Call (650) 522-7525 or email: jessica@par3thelodge.com
Scroll down to access the QR code for our SPECIAL TO-GO Greek inspired menu (open your phones camera and scan). We recommend that you pre-order your TO GO ORDERS as ordering onsite is not guaranteed and subject to availability. The cut off time to order from the Greek Inspired Menu is October 1st , 2020 at 3:00 pm. Be sure to specify the time you would like to pick up your order on the To Go Checkout Page under the "Store Pick Up" section. Orders can be picked up as late as 6:00 pm
We are sorry The Greek Inspired Menu is for TOGO ONLY. If you make a restaurant reservation for patio dining and wish to have the Greek menu you must order in advance when making the reservation.
As you enter the Poplar Creek Golf Course, turn LEFT. The drive-in is located at the East End of the Par 3 Parking lot.
Upon entering an attendant will guide you to your reserved stall and will provide an FM radio station to tune into for the movie sound.
Drive - In Rules
– Per the San Mateo County Health Order, everyone must wear a face mask outside their vehicle at all times unless you are eating or drinking
– Your vehicle must fit in ONE parking spot
– Headlights must be turned off while parked
– Large vehicles such as SUVs and trucks will be assigned to the back row of the parking lot
– No sitting on your roof
– No sitting in empty car spots, if you are outside your vehicle, please stay within your paid parking spot
– NO DOGS or pets are permitted unless it is a certified service dog
– No outside food or drinks
– Public Bathrooms available. While visiting the public bathroom face masks are mandatory. Please ask attendant for bathroom locations
– No Refunds / If you cannot make it please share with a friend!
Please help us by following these rules and HAVE FUN!
SF Greek Film Festival Website