San Francisco Fashion Week (tm) 2011. Workshop Series: SOCIAL MEDIA, PR & Marketing In The Fashion Industry

Tuesday, August 9, 2011 from 6:00 PM to 9:00 PM (PDT)
Event Details
[ ATTN: TICKETS ARE VERY LIMITED. TICKETS ARE NON-REFUNDABLE. DRESS CODE IS ENFORCED (NO JEANS OR SWEATS).  ONLY APPROVED PHOTOGRAPHERS/VIDEOGRAPHERS ARE ALLOWED TO COVER THIS EVENT. TAKE PUBLIC TRANSPORTATION. PRESENT YOUR TICKET AT THE DOOR. SEE WEEK SCHEDULE ]
Present:
SAN FRANCISCO FASHION WEEK (tm) 2011
TECH SERIES

Social Media, PR & Marketing in the Fashion Industry

Date:
AUG. 09, 2011, Tuesday, Door Opens at 6pm
$15 Online, $20 at the door
Location:
Pigment Cosmetics, One Market, Studio # 2, San Francisco, CA
We're inspired by moments of brilliant fashion and style wherever we are, so we created Lookaroo to help capture, store, and share those moments quickly and easily. We also made it easy to organize and search inspirations so you can find your looks and styles for whatever you need.
Started by former owners of apparel brands who have a penchant for small labels and boutiques, Lookaroo is based in San Francisco, CA, but is happy to call the global community its home.
SPEAKERS:
Lizzy Eisenberg is responsible for business development and marketing efforts for ShopStyle, US. Lizzy manages relationships and grows partnerships with over 300 retailers and editorial partners including Barney's New York, AOL, Saks Fifth Avenue, and Style.com. Lizzy was an integral part of the ShopStyle Australia launch and manages the day-to-day operations of the Australian site.

After eight years in the web industry, it wasn't long before Helen Zhu decided to branch out on her own. A Berkeley Graduate with a degree in Mechanical Engineering, Helen partnered with then roommates Corinne Chan and Richard Ho to launch Chictopia in April of 2008. Seeking to spearhead a project that would keep their interest, the three settled on fashion; an industry that, in Helen's words, "lacked innovation."

Helen now enjoys doing what she loves in San Francisco, a city she calls home. While she may have gotten a perfect math score on her SATs, Helen isn't just brains. She also has quite a knack for Salsa and Swing dancing, even belonging to a Swing dance group with husband Ricky. When she isn't dancing, doing math, or building the Chictopia brand, you can find her watching Gossip Girl and scouring the web for more style photos of Blair Waldorf.
Jen Bennett is founder and designer of Jendarling bags. She started designing garment bags in early 2008 with a passion to create something stylish, yet reusable. Her eco-line has since expanded and Jendarling's collection encompasses garment bags, shoe bags, totes and pouches. The bags have been featured in numerous press outlets including DailyCandy, Treehugger, Elle UK, San Francisco Chronicle and NBC among others, toting its eco chic qualities. Celeb clients include Rachel Zoe, Renee Loux, Anne Hathaway and the New England Patriots. Prior to Jendarling, Jen worked with numerous start-ups and Fortune 100 companies executing various programs involving PR, event management, online and offline marketing, and social media strategy for clients such as American Express, Sears and Chevron Global Lubricants.
DISCUSSIONS:
What do you use social media for? (e.g.,

customer service, monitored support, communities, forums, peer-to-peer support, etc.)

How do you engage with followers and readers? What's working for you? How do you leverage Facebook, Twitter, Google+ or LinkedIn? Facebook Page discussions?

How do you build public interest? D

o you engage with bloggers and other online media channels? Do you engage in Twitter chats? Why use #Handles?


Who manages your social media efforts? In-house or third party? 

Please describe your experience and your future plans for the role.

What metrics are important for social media success? Do you measure your clout or your brand influence? If so, how?


How does social media, PR and marketing affect the bottom line or profitability of a company?

What technologies or companies are you excited about and how can they benefit the fashion industry?

Do you have any advice for people interested in working in fashion social media, PR or marketing?
WEEK SCHEDULE 08/08/2011 - 08/14/2011
08/08-08/10 - Apple Workshops, Apple Store, Stockton & Market, Free, 5-7pm
08/08 - SFFW 2011, Opening Party/ Industry Event,

Invite Only

08/09 - Social Media Workshop, Pigment Cosmetics, Buy Tix Online
08/10 - Fashion Bloggers Connect & Mini-Trunk Show, EFactor HQ Office, 870 Market St. Suite 828 San Francisco. Buy Tickets
08/11 - Reception: Fashion Exhibit and Installation with Art, 5 Claude Lane Gallery, 6-10pm
08/12 - Runway # 1, Emerging, Madrone Studios, Dress Code Enforced, 6-9 pm, Buy Tix Online, Tickets Are Very Limited
08/13 - Runway # 2, Ready To Wear, Madrone Studios, Dress Code Enforced, 6-9pm, Buy Tix Online, Tickets Are Very Limited
08/14 - Runway # 3, Couture/Avant Garde, Madrone Studios, Dress Code Enforced, 6-9pm, Buy Tix Online, Tickets Are Very Limited
PRESS RELEASE:
SAN FRANCISCO (June 21, 2011) - San Francisco Fashion and Merchants Alliance, Inc. (SFFAMA) and Wix.com are pleased to announce San Francisco Fashion Week 2011 August 8-14, 2011. San Francisco Fashion Week (tm) 2011 will highlight the convergence of fashion and technology unique to the San Francisco fashion industry while showcasing emerging designers and student collections. Events include week-long technology and fashion workshops to be held at various locations, including Wix Lounge, the Apple Store in downtown San Francisco, EFactor HQ Office, 5 Claude Lane Gallery, Pigment Cosmetics and weekend runway shows August 12, 13,& 14, 2011 to be held at MADRONE STUDIOS.
In utilizing social media and fashion-focused event production, San Francisco Fashion And Merchants Alliance, Inc. is the leading organization acting as a catalyst for fashion and technology locally.With the burgeoning indie fashion scene, SFFAMA is leading the San Francisco fashion industry toward reinventing itself as the next fashion capital and signifies this year's theme of "A New Beginning." San Francisco Fashion Week (tm) 2011 is produced by SFFAMA Inc., a California non-profit corporation focused on business and technology education for fashion and creative industries.
San Francisco Fashion Week ™, 2011 is one of the many successful fashion events along, with Project San Francisco, The Beauty Expo, Fashion Feud, Fashion Mash-Up Workshops and Pret-A-Porter SF that SFFAMA has brought to fruition locally.
To find more about San Francisco Fashion Week (tm) 2011: advance purchase tickets, week-long schedule, list of sponsors and designer line-up for runway shows are available online by visiting www.sanfranciscofashionweek.org
SPONSORED BY:
5 Claude Lane Gallery, Apple San Francisco, Belli Capelli Salon, Bodega Wine Estates, Cheat-A-Little Catering, Cherie Sherrie, City Model Management, Dry Soda, EFactor, FashionablyMarketing.me, Knightswood Wine, Lookaroo, Luv.it, Pigment Cosmetics, Pretzel Crisps, Scout Talent & Model Agency, Stein Family Wines, Rabbit Foot Fern, SFFAMA, SFIEC, SFStation, Solz Shoes, Trumer Pils, Wix.com, WWD MAGIC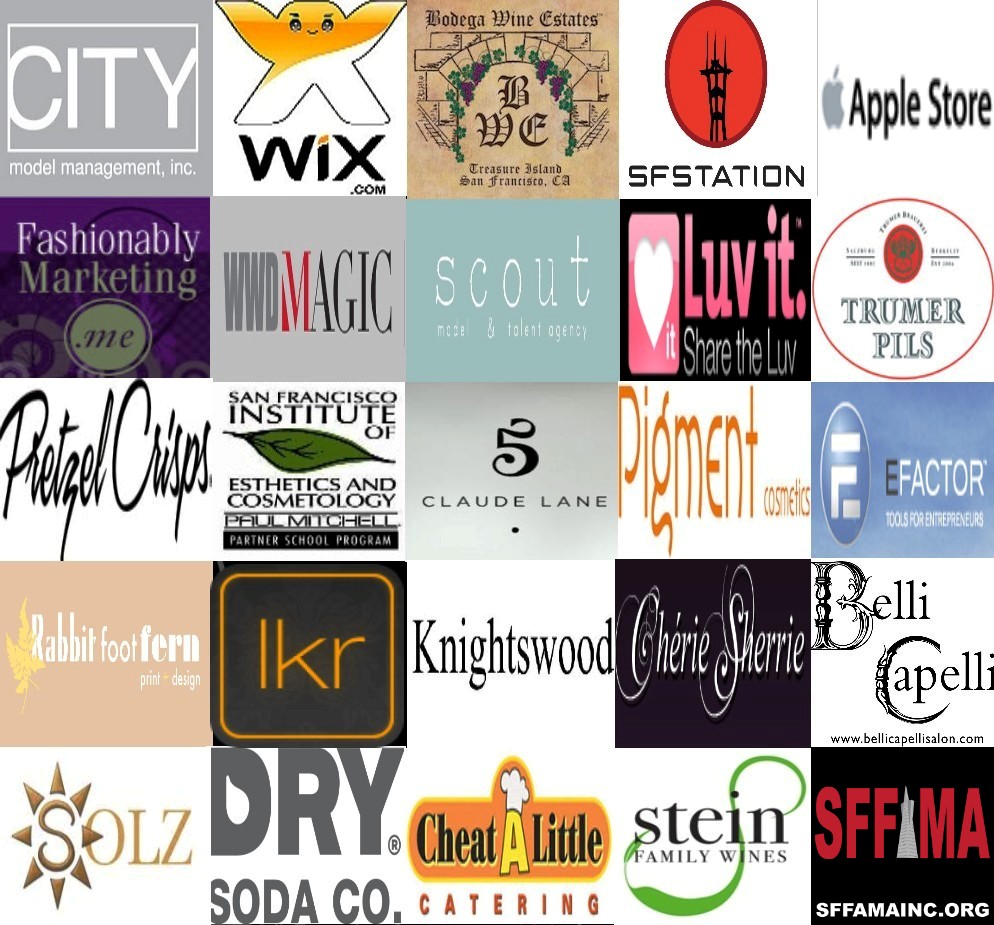 When & Where

(FIDM) Fashion Institute of Design & Merchandising
55 Stockton Street
5th Floor, Conference Room
San Francisco, CA 94108


Tuesday, August 9, 2011 from 6:00 PM to 9:00 PM (PDT)
Add to my calendar
Organizer
SAN FRANCISCO FASHION MERCHANTS ALLIANCE, INC. is a 501c3 educational and economic developement non-profit corporation that is a social development network that champions in various sustainable projects in support of the thriving local creative and fashion industry in the San Francisco Bay Area.

We possess the in depth understanding of the ever changing and unique San Francisco Bay Area fashion industry landscape. In utilizing the latest technology in social media marketing and hosting innovative industry related events.

SFFAMA, Inc. was created to provide an ongoing open dialogue between the local merchants and fashion entrepreneurs to form a cohesive alliance in promoting altruistic creative synergy and productive business opportunities.