San Francisco Fashion Week ® 2012: Building the Sewn Products Infrastructure in San Francisco. Presented by Janet Lees, Senior Director of SFMade and Chair of Mayor Ed Lee's FashionSF Initiative. Sponsored by: Stylet.ag

Thursday, September 27, 2012 from 6:00 PM to 8:30 PM (PDT)
Event Details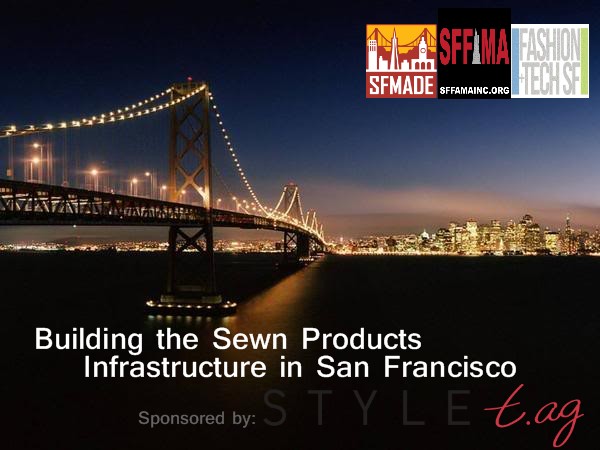 San Francisco Fashion Week ® 2012: Building the Sewn Products Infrastructure in San Francisco. Presented by Janet Lees, Senior Director of SFMade and Chair of the Mayor's FashionSF Initiative. Sponsored by: Stylet.ag
Topic: Building A Stronger Apparel Sector

When: Sept. 27th, 2012, Thurs, 6:00-9:00pm

Where: NextSpace, 28 2nd Street, San Francisco, CA, 94105

RSVP: $10 both online and at the door

Who should attend: botique owners, retailers, fashion designers, fashion startups, business owners, fashion designers, enterpreneurs, app developers, students, 
ABOUT THIS WORKSHOP:
Janet Lee's will discuss the challenges of ensuring that apparel and designcompanies of all sizes start, stay, grow and hire in San Francisco. She will cover the manufacturing sector, the increase in the number of apparel/accessory product design companies and how San Francisco brand helps locally manufactured products differentiate themselves in the marketplace. FashionSF, is a new economic development initiative focused on supporting the retention and growth of apparel manufacturers and fashion designers in San Francisco.
About JANET LEES: 
Janet Lees played a lead role in launching SFMade and has been with the organization since its inception. As SFMade's Senior Director, Janet oversees SFMade's educational programming, the Local Retail/Brand platform, workforce programs, and the organization's marketing communications strategy. Janet also oversees the City of San Francisco's Fashion SF initiative. Janet has over 20 years of experience in small business, workforce, and economic development. Prior to SFMade, Janet served as Program Director at Renaissance Entrepreneurship Center, a position she held for over 10 years. Under Janet's leadership the Renaissance Center became the first and only organization in the Bay Area to provide industry specific support to apparel entrepreneurs, expanded its footprint to operate in three Bay Area locations, and received numerous national awards for program innovation and excellence. Throughout her career, Janet has demonstrated a particular interest in supporting artisanal manufacturing and crafts people. She has worked with hundreds of small manufacturing businesses, including her husband's modern furniture company, Jason Lees Design. Janet was nominated in 2009 for the Small Business Administration's Women's Business Advocate of the Year Award, currently serves as a mayoral appointee to the Workforce Investment San Francisco Board, and is Co-Chair of the City of San Francisco's FashionSF Initiative. Janet is a regular speaker at local, national and international conferences and symposiums on urban manufacturing and economic development. A native of the UK, Janet studied English Literature, History and Politics at the University of Newcastle- Upon-Tyne, UK.
GUEST SPEAKERS:
An entrepreneur since 2004, Sean Peng founded Inspirare.com in San Francisco to fund and promote emerging fashion designers throughout the world.  Fashion designers can submit their designs to Inspirare.com, get voted on, have their designs produced in San Francisco, and sold to over 30 countries.  Inspirare takes care of all the funding, production and customer service, and shares royalty with designers.
The mission of Inspirare is to become a true business partner for emerging innovative designers, promote their work and name, and bring them financial success.  Fashion is a challenging industry, yet it offers so many exciting opportunities. Creativity has no limitation of geography, race or age.  Inspirare likes to provide real solid value to all independent fashion designers and help them get discovered sooner, and their designs sold faster.  Inspirare works with super creative designers, yet our business is a mixture of old school solid operation empowered by smart new age digital media reach.  We take on the real challenges of funding, product development and production, and we ensure consistent product quality and customer shopping experience.  As a result, both consumers and designers break the traditional barrier, and enjoy the new and innovative fashion.
About SFMADE:
SFMade is a California 501(c)(3) non-profit corporation, established in 2010 and headquartered in San Francisco. It is the only organization of its kind focused on building San Francisco's economic base by developing the local manufacturing sector. SFMade's mission is to build and support a vibrant manufacturing sector in San Francisco,  that sustains companies producing locally-made products, encourages entrepreneurship and innovation, and creates employment opportunities for a diverse local workforce.  SFMade engages directly with entrepreneurs and growing small companies, all of whom are headquartered in and manufacture within San Francisco, offering industry-specific education, networking opportunities, and connecting these companies to powerful local resources. By building strong companies, SFMade helps sustain and create job opportunities for the City's low-income communities and individuals with less typical education, experience, or skills.  We also work with manufacturers directly on workforce issues, including connecting companies to local hiring resources and job training programs and connecting their workers to relevant local resources and assistance.
In addition to working with manufacturers and their employees, SFMade engages with the larger San Francisco community, offering educational workshops, factory tours, and other programs designed to heighten the public awareness of manufacturing, the craftspeople they employ, and their collective role in the local economy. SFMade also collaborates with both the public and private sectors to define and enhance the local infrastructure  -from access to capital to industrial land use policy -required to support a vibrant manufacturing sector. In our work, SFMade seeks to develop and share a model for manufacturing incubation that other major US cities can use to catalyze their own local manufacturing sectors. 
SPONSORS: 
FASHION+TECHSF is the longest running monthly workshop and event series in the San Francisco Bay Area focused synergistically on building, promoting and educating the vibrant community of fashion and technology entrepreneurs, designers, developers, bloggers, business professionals, students, investors and numerous enthusiastic companies, schools, groups and individuals who share our vision of a world-class fashion and technology industry that is innovative, disruptive and uniquely San Francisco.  Our mission is to create educational, social and business opportunities for the fashion and technology industries. In the past two years, FASHION+TECHSF has become the leading network for all things fashion and technology in the SF Bay Area.  
San Francisco Fashion and Merchants Alliance, a California non-profit corporation, is the leading institution in the San Francisco Bay Area's fashion industry. Over 3,000 members on Facebook, 105 events. Winner of Best Fashion Event Producer of the Year and Best Marketing at San Francisco Fashion Awards 2011. SFFAMA Inc, is the producer of San Francisco Fashion Week (tm), Project SF, Fashion Feud, Pret-A-Porter SF, The Beauty Expo, Dapperhood, Fashion Socialsand FASHION+TECHSF. SFFAMA provides business and technology education for fashion entrepreneurs and serves as a business and social development network for the thriving local fashion industry.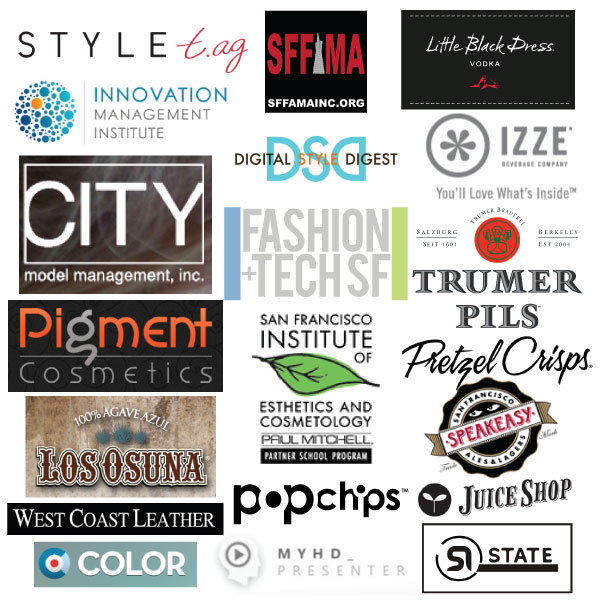 Brown-Forman, Color, City Model Management, Digital Style Digest, Izze Sparkling Drink, Los Osuna, Moda Cinema, Pigment Cosmetics, Pretzel Crisps, SFIEC, Speakeasy Ale & Lager, Trumer Pils, My HD Presenter, Juice Shop, Popchips, R State Store SF, West Coast Leather
San Francisco Fashion and Merchants Alliance, Inc. (SFFAMA) is pleased to announce San Francisco Fashion Week ® 2012 September 24-30, 2012. San Francisco Fashion Week (tm) 2012 will highlight the convergence of fashion and technology unique to the San Francisco fashion industry while showcasing emerging designers and student collections.  
+++ For vending, speaking and sponsorship opportunities, media relations and publicity contact OwenGeronimo at http://about.me/owengeronimo or send an email to: contact@sffamainc.org 
Have questions about San Francisco Fashion Week ® 2012: Building the Sewn Products Infrastructure in San Francisco. Presented by Janet Lees, Senior Director of SFMade and Chair of Mayor Ed Lee's FashionSF Initiative. Sponsored by: Stylet.ag?
Contact SAN FRANCISCO FASHION AND MERCHANTS ALLIANCE, INC.
When & Where

NextSpace
28 2nd Street
San Francisco, CA 94105


Thursday, September 27, 2012 from 6:00 PM to 8:30 PM (PDT)
Add to my calendar
Organizer
SAN FRANCISCO FASHION MERCHANTS ALLIANCE, INC. is a 501c3 educational and economic developement non-profit corporation that is a social development network that champions in various sustainable projects in support of the thriving local creative and fashion industry in the San Francisco Bay Area.

We possess the in depth understanding of the ever changing and unique San Francisco Bay Area fashion industry landscape. In utilizing the latest technology in social media marketing and hosting innovative industry related events.

SFFAMA, Inc. was created to provide an ongoing open dialogue between the local merchants and fashion entrepreneurs to form a cohesive alliance in promoting altruistic creative synergy and productive business opportunities.