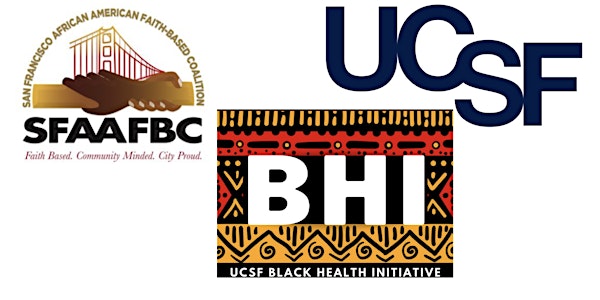 San Francisco COVID-19 Vaccination Clinic Moderna Only
Location
San Francisco Christian Center
5845 Mission Street
San Francisco, CA 94112
SFAAFB Coalition & UCSF's Black Health Initiative offer COVID-19 vaccine appointments for SF residents 18+
About this event
SFAAFB Coalition & UCSF's Black Health Initiative now offers COVID-19 vaccine appointments for individuals 18 and older who live or work in San Francisco.
About this Event
In an effort to provide convenient access to vaccines, SFAAFB Coalition & UCSF's Black Health Initiative are offering appointments for eligible individuals 18 and older who live/work in San Francisco.
REQUIRED DOCUMENTS
Please be sure to bring the following with you:
Insurance card, Medicare card, Medi-cal card (if applicable)
Once registered, you will receive a confirmation email--please print it out or show it on your mobile device.
Vaccination Clinic - When and Where:
Date: Saturday, April 24, 2021
Time: 10:00 am - 1:00 pm
Location: San Francisco Christian Center 5845 Mission St, San Francisco, CA 94112
Appointment Logistics:
• You must bring: some form of ID.
• Appointment arrival - Please check your scheduled time and arrive on time. Please do not arrive more than 15 minutes before your scheduled appointment.
• Wear your face covering and maintain social distancing of 6' at all times.
• Be comfortable! Waiting areas are outdoors, please dress accordingly.
• Be prepared to wait for approximately 15-30 minutes prior to receiving the vaccine. A 15-minute observation period is also required after the vaccination (to monitor for adverse reaction). Please remember to eat breakfast/lunch and hydrate before your vaccine.
• Chairs will be available while you are waiting in line (6' apart). Please bring your own walker and/or wheelchair if you need one.
• Wear a loose fitting or short-sleeved shirt to make it comfortable for you to receive your shot in a public area.