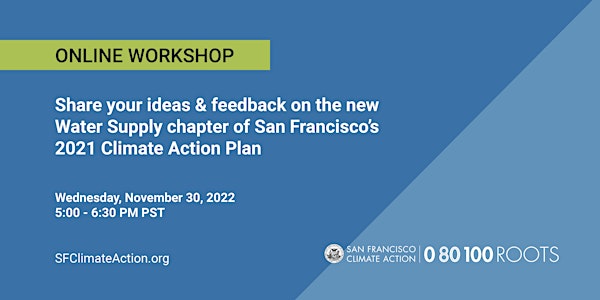 San Francisco Climate Action Plan: Water Supply Workshop 2022
Virtual workshop about proposed strategies to build the resilience of San Francisco's water supply, to be added to its Climate Action Plan.
About this event
The workshop will begin with a brief overview of San Francisco's 2021 Climate Action Plan, including its structure, goals, focus on community benefits, and progress to date.
Then, SFPUC Water Resources Division staff will present on the impacts that climate change is having on local and regional water supplies, and the opportunities and challenges that lie ahead.
The second part of the workshop will feature small group discussions focused on reviewing a selection of the draft strategies and actions for the Water Supply sector of the Climate Action Plan; City staff will lead structured conversations to hear your ideas and get feedback on the proposed interventions.
Spaces are limited! Please register in advance.
On Wednesday, November 30 at 5:00pm join Zoom meeting: https://sfwater.zoom.us/j/85368736979?pwd=UWx0KzRTaVRELzY4ZzhINHdSTGxIZz09&from=addon
Or call in:
Meeting ID: 853 6873 6979
Passcode: 939890
Call-in numbers: +1 669-219-2599 or +1 669-900-6833 or +1 213-338-8477 or +1 646-518-9805