Description
Education, Development, and Consumer Adoption, No Fluff!
2 Days, 5 Stages, 3000+ Attendees, 100+ Speakers, 60+ Companies, and more!


Free for Developers - Apply Here (Closed)
Student Discount - Apply Here (Closed)
Limited Discounted Hotels: Book Here (Sold Out)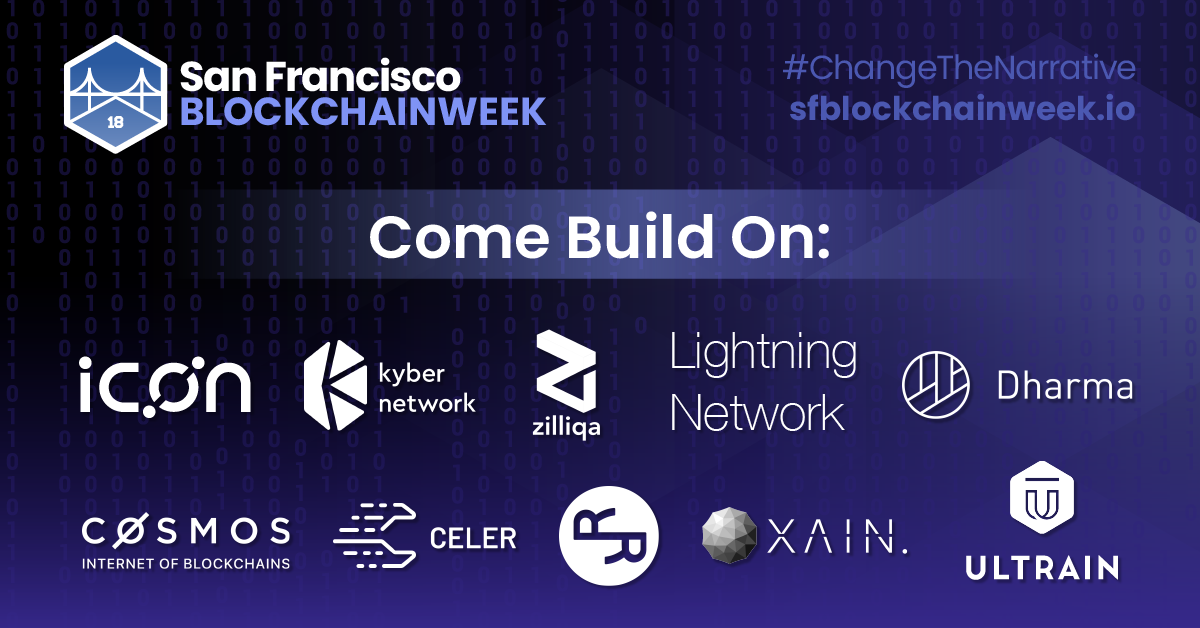 Why Attend?
The San Francisco Blockchain Week Epicenter is a 2-day event that bring the world's blockchain community for educational events focused on consumer adoption, technical innovation and insight from blockchain leaders in academics and industry. SFBW strives to educate developers, consumers, and entrepreneurs on technical topics and familiarize them with leading projects currently in development. This immersive experience aligns projects with the community by giving teams a platform to teach, and the community an opportunity to learn all in one place.
Who is Attending?
SFBW brings the top educators, thought-leaders, developers, investors, influencers, and the retail consumers to learn more from each other and challenge the status quo for the direction of the industry. Whether you consider yourself a newbie or an expert, our agenda is designed to address the interests and curiosity for every level of knowledge.
The Goal:
We designed panels and workshops to create friendly debates on critical topics that the industry is facing today. Panelists and speakers are guided to express their honest opinions, even if it's controversial, in order to foster a open conversation about the topics that matter. We hope that by doing so, you will receive the most real picture on the current state of the industry in a way you have never experienced before.

Ticket Prices:
Our mission to support consumers adoption and educate the masses led us to challenge the high costs of conference tickets around the world. Therefore, we decided to price our tickets at cost so we can deliver a meaningful event yet still be inclusive and welcome everyone who desire to attend. In addition, we decided to donate any profits left after the event to multiple non-profits who are donating their time and sweat to the blockchain community in SF. Thank you for supporting SFBW Epicenter!
Stages and Speakers:
(1) Mainstream Stage:
Charlie Lee(Litecoin Creator), Naval Ravikant(Founder Angelist), Jutta Steiner(CEO Polkadot/Parity), John Burbank(Founder Passport Capital), Jae Kwon(CEO Cosmos), John Tornatore(CBOE), Slava Rubin(CEO Indigogo), Karthik Raju(Polychain), Mick Hagen(Mainframe), Howard Wu(Dekrypt Capital), Reuben Bramanathan(Coinbase), Will Peets(Passport Capital), Andy Bromberg (Coinlist), Harrison Hines(Token Foundry), Sam Lessin(Slow Venture), Loi Luu(Kyber Network), Dave Farmer(Coinbase), Nadav Hollander(Dharma), Amir Bandeali(0x Protocol), Kendrick Nguyen(Republic.co) and more coming!
(1) Titans of Tech:
Dan Robinson(Chain), Zaki Manian(Tendermint Labs), Sunny Aggrawal(Cosmos), Izaak Meckler(Coda Protocol), Awa Sun Yin(Cryptium Labs), Aviv Eyal(Spacemesh), Iddo Bentov(Spacemesh), Akash Khosla(Chain), Evan Schwartz(Interledger), Nate Rush(Ethereum Foundation), Mo Dong(Celer), and more coming!
(1) Building Blocks:
Chris McCann(Greylock Partners), Jessica Salomon(MakerDAO), Kartik Talwar(SVAngles), Jon Choi(Ethereum Foundation), Duran Liu(Atlas Protocol), Hitters Xu(Nebulas), Jeffrey Tong, Ameen Soleimani(Spankchain), Paul Veradittakit(Pantera), Wesley Graham(Blockchain at Berkeley), Jon Kol(Passport Capital), Will Warren(0x Protocol), Jacob Arluck(Tezos), and more coming!
(2) Blockchain Academy(Technical Workshops):
Lightning Network, ICON, Shyft, Ultrain workshops, and Bitcoin Cash Hackathon...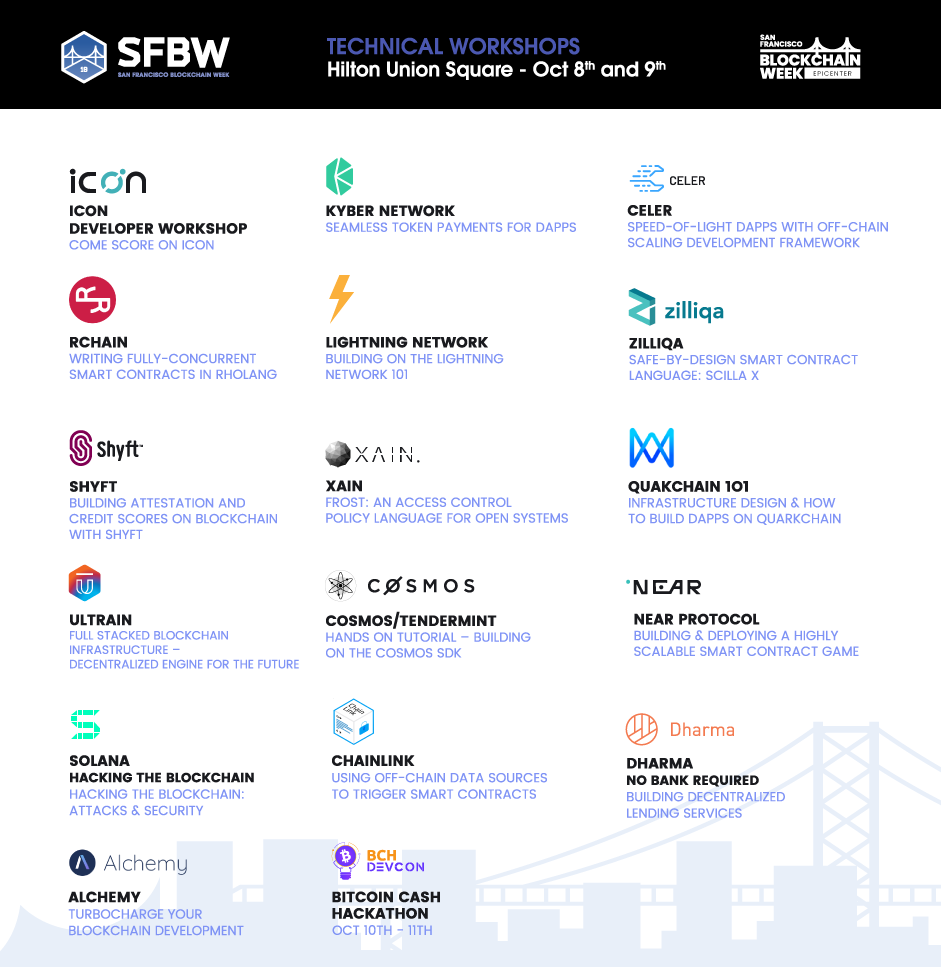 Your Epicenter Ticket provides you with access to:
More than 40 talks and panels

Technical and Mainstream Workshops

Crypto Happy Hours

Block Parties and Meetups
**This is not an admission ticket for ETHSanFrancisco or CESC and is only valid for the Epicenter during San Francisco Blockchain Week. Please refer to their sites for more information.
More events:
The
Epicenter
will be structured as the center of the
San Francisco Blockchain Week
consisting of:
Ethereum Hackathon ETHSanFrancisco on October 5-7, 2018

The Epicenter on October 8-9, 2018

Crypto Economic Security Conference (CESC) on October 10-11, 2018

Bitcoin Cash Hackathon on October 10-11, 2018
For all FREE Workshops check out this link.
Help Us Out!
Want to volunteer and help the community? Sign up here: http://bit.ly/sfbw-volunteer
Want to host a Official SFBW Satellite Event? Please email us at events@sfblockchainweek.io.
About Us:
San Francisco Blockchain Week utilizes multiple technologies to pair leading Founders, Researchers, Creators, dApps, and Platforms with aspiring blockchain developers, entrepreneurs, and consumers. This week will teach everything from basic knowledge on how to handle private keys and interact with wallets to how to build consumer facing applications are meaningful contributions to the global blockchain movement. The week is designed for blockchain amateurs and experienced-founders alike. Blockchain Week is well-positioned to be the hub for meaningful discussion and tangible developments in the ever-changing and rapidly growing blockchain industry.
For more information, visit us at SFBlockchainWeek.io
FAQs
Do you provide sponsored/free tickets for scholars, academics, or developers?
Yes! Please fill out this form and one of our sponsors will contact you if you are approved for the sponsorship.
How can I contact the organizer with any questions?
Please email: info@sfblockchainweek.io
Do you provide discounted tickets for students?

Yes, please submit your application above.
What's the refund policy?
Up to 30 days before the event.
Is my registration fee or ticket transferrable?
Yes, feel free to sell your ticket if you cannot attend. We might be able to help as well to connect you with other buyers.

Is it ok if the name on my ticket or registration doesn't match the person who attends?
Yes.
**We will share our attendees list with selected partners.