San Francisco Bay Area Waldorf Teachers Conference 2019
Description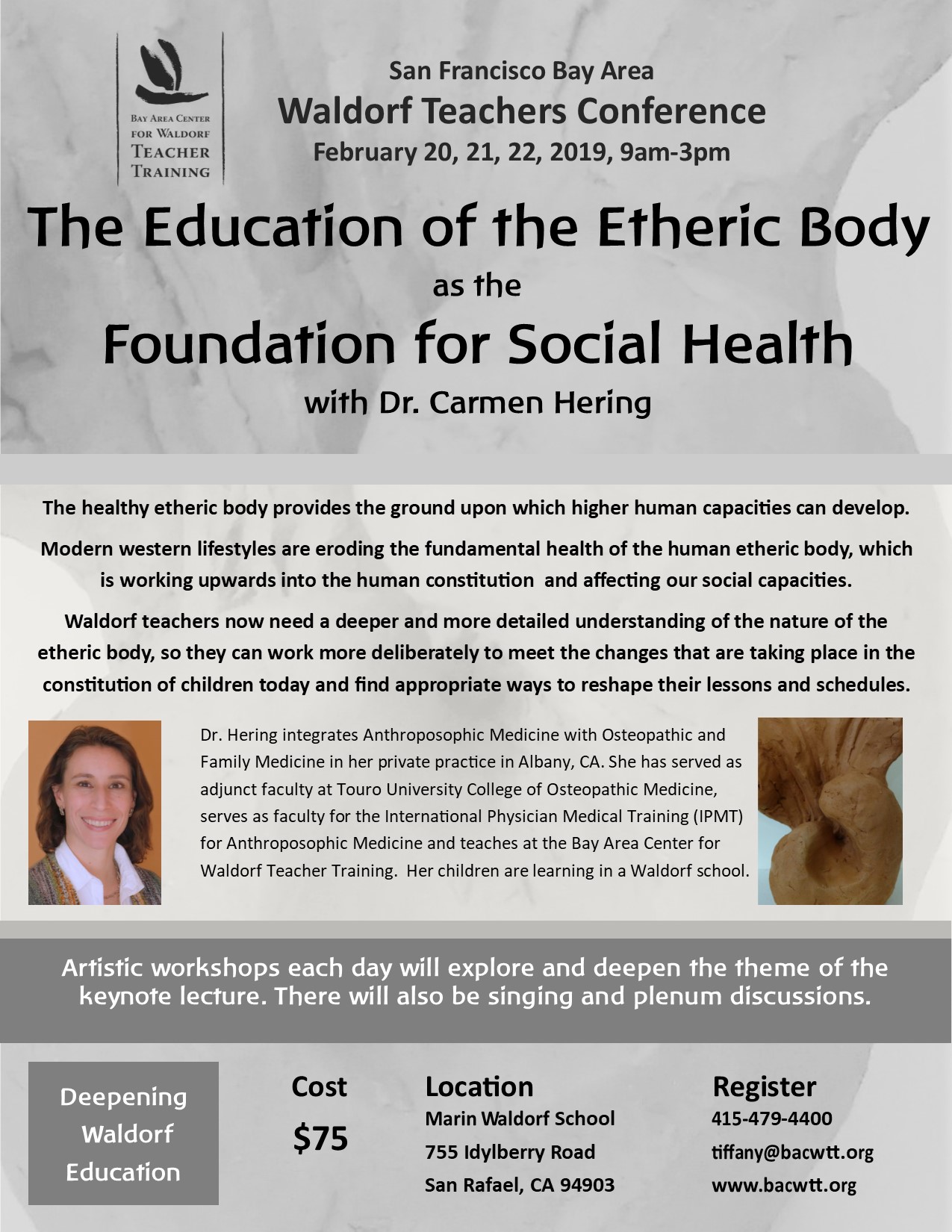 ---
For full conference schedule, please click here.
---
CONFERENCE WORKSHOPS
Each workshop will explore and deepen the ideas brought in the morning's keynote lecture through artistic activity. The workshop leaders will guide specific activities that allow the thoughts about the relationship of the etheric body to social health to become more experiential. There will be time for discussion, and we would like to create a space for collaborative research into these important issues. All of the workshop leaders have many years of experience in their artistic practice and a deep connection with the Anthroposophical background of the lectures.

On the last day of the conference, workshop groups will have the opportunity to share their work and discoveries.

Please select one workshop per attendee. There is limited space in each workshop; availability is on a first come, first served basis.
Singing with Lisa Sargent
Eurythmy with Renate Lundberg
Bothmer Gymnastics with Kate Hammond
Projective and Dynamic Drawing with Beth Weisburn
Colored Window Tissue Paper Images with Margrit Haeberlin
From Thought to Image - Poster Making with Jeff Loubet and Kristine Deason
Sculpture with Ken Smith
Speech Arts with Helen Lubin
---
Additional Information:
Please note that this conference is for Waldorf educators/staff only.
Coffee, tea, and snack are provided each day. A simple soup lunch will be available for purchase each day on a first come, first served basis. Otherwise, please bring your own lunch or purchase lunch at a nearby store/cafe (about 5-10 minutes from campus by car). For more information about food options, directions to campus, and other useful information, please click here and here.
All credit card orders will be processed through Eventbrite. If you prefer to pay by check/money order, please mail your payment, along with your 1) name, 2) email address, and 3) top TWO workshop choices in order of preference. We will make every effort to place you in your first choice workshop, but please note that availability is on a first come, first served basis. Your final workshop placement will be confirmed to you via email. Checks/money orders ($75 pp) should be made out to "BACWTT" and mailed to us at P.O. Box 21265 | El Sobrante, CA 94820.
For more information, please contact tiffany@bacwtt.org.
---
Sponsors:
Bay Area Center for Waldorf Teacher Training