San Francisco Bay Area Waldorf Teachers Conference 2018
Description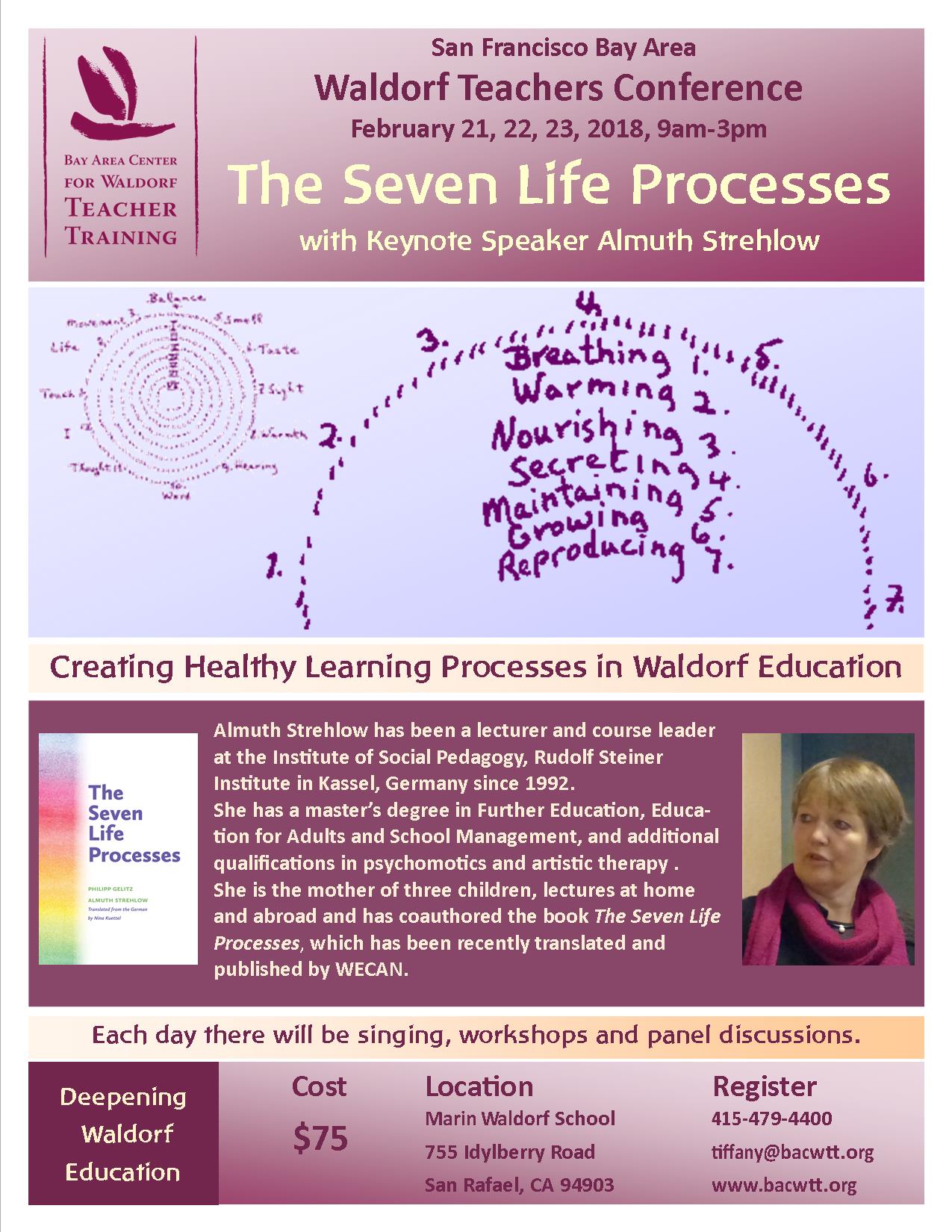 ---
Please click here for the full conference schedule.
---
WORKSHOPS
Please select one workshop per attendee. There is limited space in each workshop; availability is on a first come, first served basis.
Organic Storytelling - with Nancy Mellon
Hope, and the Power of Seven - Every lesson provides opportunities to attune to the grand organic rhythms of the planetary orchestra. Explore mathematical pictorial language that strengthens memory and nourishes hearty hopefulness throughout childhood.
Therapeutic Eurythmy - with Dale Robinson
Can we experience the seven planetary spheres of Saturn, Jupiter, Mars, Sun, Mercury, Venus and Moon through Eurythmy? The planetary gestures and associated vowels and soul gestures all speak to this question, opening up secrets of what is working into and through our soul from the past, the present and into the future.

Curative Education - with Robyn Brown
Using the framework of the Seven Life Processes, we will look at the work of Steiner's Curative Education following the progression of healing in the children and our own understanding as educators.
Singing - with Lisa Sargent
Through exploring a modern treatment of Hildegard's "O Virtus Sapientiae" through practice and performance, participants will experience the gesture of the musical intervals.
Painting - with Jennifer Bundey
Working with breathing, rhythm, expansion and contraction, polarity and harmony, we will explore the artistic process as a reflection of life.
Form Drawing - with Patrick Marooney
Can we characterize the seven life processes artistically through form/gesture? Might there be correspondences in Rudolf Steiner's planetary seals? We will explore through form drawing the quality of each planetary mood and the way they metamorphose one into the other.
Puppetry - with Jennifer Aguirre
We will explore the puppetry arts through the lens of the Seven Life Processes and specifically the story of The Swan Geese, which will be presented as a table puppet show. A fleece table puppet will be made to take home.
Sculpture - with Ken Smith
Sculpt in clay the forms of the seven Goetheanum columns to follow and experience the archetypal forces behind all creative processes.
---
Additional Information:
Please note that this conference is for Waldorf educators/staff only.
Coffee, tea, and snack are provided each day. Please bring your own lunch or purchase lunch at a nearby store/cafe (about 5-10 minutes from campus by car). For more information about food options, directions to campus, and other useful information, please click here and here.
All credit card orders will be processed through Eventbrite. If you prefer to pay by check/money order, please mail your payment, along with your 1) name, 2) email address, and 3) top TWO workshop choices in order of preference. We will make every effort to place you in your first choice workshop, but please note that availability is on a first come, first served basis. Your final workshop placement will be confirmed to you via email. Checks/money orders ($75 pp) should be made out to "BACWTT" and mailed to us at P.O. Box 21265 | El Sobrante, CA 94820.
For more information, please contact tiffany@bacwtt.org.
---
Sponsors:
Bay Area Center for Waldorf Teacher Training
Waldorf Educational Foundation