Description
The San Francisco Arts Commission, California Historical Society, and Heyday invite you to share in this historic moment: the publication of

San Francisco: Arts for the City
Civic Art and Urban Change, 1932–2012
Join us as we acknowledge and thank all the wonderful talent that helped bring this incredible book to fruition and celebrate the events, politics, and creativity that made San Francisco the cultural icon it is today.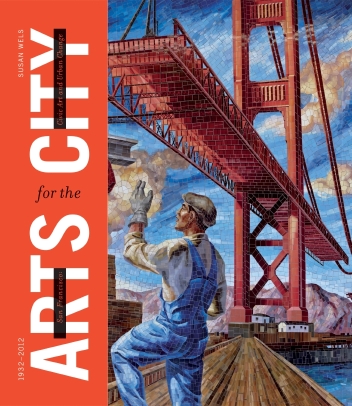 Thursday, March 21, 6-8pm
California Historical Society
678 Mission St., San Francisco (map) Free, but ticket is required.
Reception at 6:00 p.m; remarks at 7:00 p.m. from the Arts Commission, publisher, and author.
About the book:
In 1934, San Francisco's Coit Tower was finally complete and open to the public. Seeing that iconic spire, you'd never guess the years of debate and artistic passion that went into its creation: how many people petitioned against its construction, how controversial the WPA murals were, how deeply loved it became. Coit Tower was one of the San Francisco Arts Commission's first projects, and it set the tone for the next eighty years of public art in a city full of world-class sculptures, music venues, and community arts programs. From the Ethnic Dance Festival to slam poetry performances at the Mission Cultural Center for Latino Arts, Arts for the City tells the story of an urban landscape where diversity, creative energy, and political activism are reflected in civic art that is bold and innovative and where citizens take pride in vigorous, often contentious, creativity. Illustrated with images by distinguished contemporary photographers and artwork from the city's Civic Art Collection of over four thousand pieces, it is a celebration of a uniquely fascinating American city and a journey through the events that have shaped San Francisco's rebellious and vibrant cultural reputation.
Featured photographers include: Richard Barnes, Ruth Bernhard, John Chiara, Imogen Cunningham, Jim Goldberg, Doug Hall, Todd Hido, Reagan Louie, Mike Mandel, Richard Misrach, Dan Nicoletta, Ira Nowinski, Susan Schwartzenberg, Larry Sultan, Catherine Wagner, and Henry Wessel.