San Francisco Armory Historical Tour

Thursday, December 14, 2017 from 6:00 PM to 7:30 PM (PST)
Event Details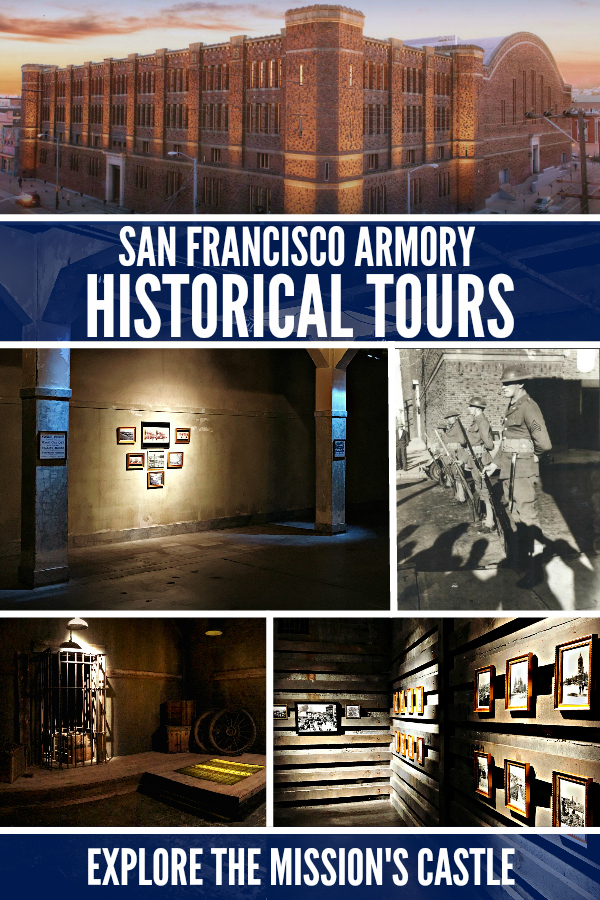 With over 100 years of history, the San Francisco Armory is arguably the most memorable landmark in San Francisco's Mission District. A true architectural heirloom filled with historical treasures, The San Francisco Armory holds a rightful place on the National Park Service National Register of Historic Places. 
There is something for everyone on this tour. Come learn all of the amazing stories connected to the castle on the corner! Discover all of the history that San Francisco, the National Guard and The Armory share - from the Gold Rush, to The 1906 Earthquake, to Star Wars!
On this 90-minute tour, we invite you to step back-in-time and experience the Armory first-hand through our specially curated historical tours sharing the architecture, history, and beauty of the Armory. In addition to exploring this 200,000 square foot Historic Landmark, each tour destination shares photo exhibits showcasing the incredible roots of our beloved building. We developed a tour program that explores the untapped parts of the Armory's story and made it engaging for all kinds of people; millenials, architecture enthusiasts, veterans, military historians, sports fans, Star Wars fans, San Francisco natives, and first-time San Francisco visitors. There are so many SF residents have walked or driven by this building everyday for years and have always wanted to come inside. This tour makes that possible, and brings out parts of history that have been forgotten, or misrepresented. We love to educate people, and the excitement of showing people the Armory for the first time, with so many questions and years of curiosity is absolutely magical. If you've ever wondered what The Armory is like on the inside, what history lies within it, and why it's still here after all of these years, this tour is not to be missed.
 Come explore centuries of cultural innovation, the evolution of San Francisco's landscape, and the extraordinary stories of the San Francisco Armory as you ascend our marble staircases and walk the halls of history!
Tours are normally available Thursday at 3:00pm, Friday at 6:00pm, Saturday at 1:00pm and 3:00pm, and Sunday at 3:00pm. Please be aware that these times and days may occasionally vary or change. The time of the tour will be reflected with the date you select, and will be updated if necessary.
---
San Francisco Armory Tours are for visitors of all ages. Visitors under 16 must have an adult present. 
Please arrive 10 minutes prior to the start time of your tour. If you pre-book online, there is nothing you need to print. Your name will be on a list at the door. Public transportation is recommended as street parking is limited. Closest BART station is 16th St/Mission.
We can not accommodate rescheduling or refunding any orders.
We welcome people with disabilities. Being that we are a historical landmark, we do not have an elevator. For questions about accessibility or to request an accommodation, please contact Support at Tours@SFArmory.com.  In order for us to manage your request, and appropriately prepare, requests should be made at least 4 business days prior to the event.



window.dataLayer = window.dataLayer || [];
function gtag(){dataLayer.push(arguments);}
gtag('js', new Date());
gtag('config', 'AW-835377941');




gtag('event', 'conversion', {'send_to': 'AW-835377941/PFXfCLn0inYQlbarjgM'});

When & Where

San Francisco Armory
1800 Mission Street
San Francisco, CA 94103


Thursday, December 14, 2017 from 6:00 PM to 7:30 PM (PST)
Add to my calendar