Refund policy
Refunds up to 7 days before event
Event Overview: The 2021 SF ACFE Fall Conference will be an all-day online event focusing on Enhancing your Fraud Detection Skills!
About this event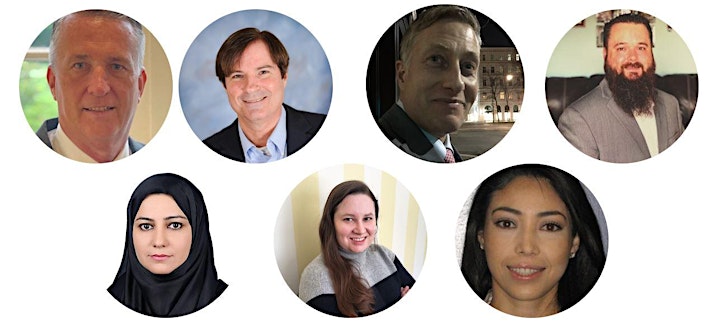 Event Overview: 
Welcome to the 2021 Anti-Fraud Fall Conference. This day long training will be packed with presentations and keynote speeches from various members of the Anti-Fraud community.
Earn up to 8 CPE's towards your CFE credential! (Including 2 Ethics CPE). The Primary theme of this conference is: Enhancing your Fraud Detection Skills.
This virtual all-day event will feature some exciting Keynote Speakers and Special Guests including– Christopher Turner a retired Operations Officer for the CIA, FBI Special Agent Mark Hastbacka, who is known for his TV role on the Swindling Seductress episode on FBI Declassified, and fashion historian Caroline Elenowitz-Hess presenting on the "Comtesse de Monteil" the original "Cat-woman".
Click Here for Speaker Biographies and Topics or visit us at www.sfacfe.com !
Agenda:
8:00-8:10: Welcome and Conference Overview
Session 1
8:10-9:00:
Uncovering the Links Between Fraud and Intelligence Operations
What are the similarities between fraud and espionage? More than one would expect. Mr. Turner will walk us through the key similarities using his CIA operations experience to discuss: Target Identification, Study, Approach, Cultivation, Access, and Evaluation. In addition, Mr. Turner will utilize examples from well-known cases such as Wirecard and cases from MI6, as well as from his own experience, to make this a presentation one will not want to miss.
Speaker: Christopher Turner (Author and Retired Operations Officer, CIA)
Session 2
9:00-9:50:
Financial Crime and The Compliance World
The current era of rapid developments of regulatory requirements by regulators has increased importance of enhanced AML/FCC/Regulatory Compliance activities for better results on an enterprise level. At the same time, it is becoming critical for an organization to position the role of the cost departments either Compliance, Fraud or Audit for enhancing Compliant Business profits among its competitors.
Speaker: Syeda Mehar Zehra
(MLRO and Head of AML and Sanctions Compliance, HBL Currency Exchange – Pakistan)
9:50-10:00 : Morning Break
Session 3
10:00-10:50:
The Swindling Seductress
This was the case of Dana Lawrence, the mother of six children by six different men, who was a professional grifter. Lawrence grew up relatively poor in northern Florida, was a high school dropout, who started her criminal career at the age of 17. Over the years Lawrence targeted successful men, who had neglected their personal lives for the most part, to start a family Lawrence also created a false background story of being a Harvard educated attorney, who had a trust fund she was trying to access, to get personal loans from associates. She traveled the country for 13 years as a fugitive, changing names from city to city, until captured in May of 2017 in Nashua, NH, where she had taken a position as a grant writer for the Mayor.
Speaker: Mark Hastbacka (Special Agent, FBI)
Session 4
10:50-11:40:
How to Conduct a Successful Crypto Fraud Investigation
Introduction to Blockchain investigations, provide a high-level overview of what crypto is, the role crypto exchanges play in the ecosystem, the types of crimes involving blockchain and how to conduct blockchain criminal investigations.
Speaker: Isa Alvarez (Senior Investigator, Global Intelligence Team, Coinbase)
11:40-12:30: Virtual Lunch Break & Networking Opportunity
Session 5
12:30-13:20:
Naked and Exposed: Stop Investigating Online without Managed Attribution
Keeping online investigations secure and anonymous is essential. The best way to do this is through managed attribution. It lets you proactively control your online identity and shapes how others perceive your actions and intent. That means you can move freely around the internet without letting the bad guys see you and without putting your organization at risk. Join Authentic8's introductory webinar on managed attribution: Naked and Exposed: Stop Investigating Online without Managed Attribution.
Adam Huenke (Open-Source Intelligence Training Specialist, Authentic8)
Session 6
13:20-14:10:
Social Media Trends in Fraud Investigations
Speaker: Desiree Thompson
(Lieutenant, Insurance Fraud Division, Bureau of Investigations, Santa Clara County District Attorney)
14:10-14:30: Afternoon Break
Session 7
14:30-15:20:
Responsible AI
Artificial Intelligence has changed the way businesses stay competitive. However, with this new science comes new requirements in ethics, compliance, and governance. In this session, we will review ethical issues related to AI, interpretability and explainability of machine learning, audit frameworks that specifically address AI governance and other topics that are relevant to audit processes that fraud examiners must be aware of.
Speaker: Paul Starrett (CEO, Starrett Consulting)
Session 8
15:20-16:10:
The Secret Life of the "Comtesse de Monteil" the original Cat Woman
In the predawn hours of March 7, 1908, the corridors of Nice's Hôtel Impérial were quiet. Down one plush hallway, a woman in black moved noiselessly in felt-soled shoes, melting into the shadows. She wore a black veil that shrouded her features and carried a set of silver lockpicks. But she was not alone. After years of pursuit, French police were about to catch the so-called Comtesse de Monteil in the act. Her real name was Amélie Condemine and she was a jewel thief, cat burglar, and con artist. For nearly two decades, this stylish swindler stole her way across the Mediterranean's most opulent tourist destination, leading a band of thieves who took on similarly grand identities, posing as an Italian diplomat or the son of a wealthy shipowner. The capture of the Comtesse de Monteil was an immediate media sensation, making international headlines from Paris to New Zealand. Discover the history of France's most notorious female jewel thief—and real life "Catwoman"—and learn about the stories that she has inspired.
Speaker: Caroline Elenowitz-Hess (Fashion Historian)
16:10-16:15: Closing