San Francisco 100th Anniversary of the Titanic

Saturday, April 14, 2012 at 11:00 AM

-

Sunday, April 15, 2012 at 7:00 PM (PDT)
Event Details
San Francisco 100th Anniversary of the RMS Titanic
Presented by:
Take a voyage back in time to commemorate the RMS Titanic...


Saturday, April 14th, 1912 (2012) 
11-12:30 PRIVATE Tour of the Palace Hotel $13 per person.  Tickets available on-site day-of. Bring Cash.
(2 New Montgomery Street  San Francisco, CA 94105)
1:00-2:30 Lunch in the Garden Court Yard Palace Hotel 

$35.00

(inclusive of  gratuity), (after No more tickets will be sold after 4/10 @ 5pm)

First Course: Choice of Scaloppine of turkey potato puree, lemon Caper sauce, winter vegetables, Chicken or salad Croissant, Mixed greens, green goddess dressing or sonoma green salad toasted almonds, trufflee tremor goat Cheese, raspberries, brioche croutons, sky hawk oil and vinegar.

Second Course: Chocolate Cheese Cake Coffee sauce
All entrees served with palace hotel signature biscuits.  They have adjusted their usual menu to include Tea and lemonade for us (rather than Soda).


Afternoon Libation Promenade
2:30-4:00 Pied Piper Lounge - inside the Palace Hotel
4:00-4:30 House of Shields - SINCE 1908 (across from the Palace Hotel)
5:00-6:30  Hotel Whitcomb - Meet at the Piano Bar for some more libations.
(1231 Market Street  San Francisco, CA 94103)


6:30 Hotel Whitcomb - 5 Course Dinner ( includes champagne & wine pairing) $95.00 (inclusive of gratuity) - Limited Seating, plan in advance!  SOLD OUT.  You are invited to dine in the main hotel restauraunt and order off their regular menu if you would like to wrap up the Libations tour indenepently from the group reservation.
(1231 Market Street  San Francisco, CA 94103)
A selection of the 1st Class Dining Room Menu of the Last Meal on the RMS Titanic.
We will dine in the Ghirardelli Room; the Hotel Whitcomb was the SF City Hall in 1912. 

First Course: Oysters in the half Shell w/ lemon sauce. Served with Champagne
Second Course: Cream of Barley
Third Course: Your choice of Poached Salmon with Mousse line Sauce, Cucumbers, Served with Chardonnay or Filet Mignons Lili , Roasted Onion & Asparagus. Served with Cabernet
Fourth Course: Punch Romaine (a special libation of the era)
Fifth Course: Chocolate & Vanilla Éclairs , French Ice Cream , Coffee /Hot tea
After Dinner: Evening, Libation Promenade to walk it off...in reverse order...

Consider staying over at the Hotel Whitcomb (check out the suites)...

---
TO AVOID FEES (and organizers payment preference):   Please email thevintagedays@gmail.com to get mailing address to send payment in advance. If you are sending a check do not Register Online. You will be registered when payment is received.
... if you enjoy yourselves you can tip the organizer...
DRESS CODE:
We encourage any outfitting from first class to steerage! Events throughout the day are more than appropriate for the variety. For Tips visit the Greater Bay Area Costume Guild. 

---
Sunday, April 15th, 1912 (2012)

SELF-SELECT YOUR TIME FOR THE Titanic Movie in 3D (movie, is cost of the ticket to theather, plan in advance with Fandango)
THIS ORGANZED EVENT CANCELLED, due to possible April showers: Visit to the Sutro Baths  as we toast and honor the lost souls of the Titanic. Commemoration Ceremony. Recount of one of the San Francisco Survivor Stories.
Spend Your Week Visiting Misc. Edwardian Era Venues/Places in San Francisco:
House of Shields
The Conservatory of Flowers
Hotel Whitcomb
The Old Mint
The Fairmont
Buy some flowers for your lady http://www.rossirovetti.com Since 1900's
OTHER EVENTS:
April 7 -  Peers Event - http://www.peers.org/titanic.html   
April 14th - Last Dinner on the Titanic (SOLD OUT): http://www.gbacg.org/current/titanic-dinner.html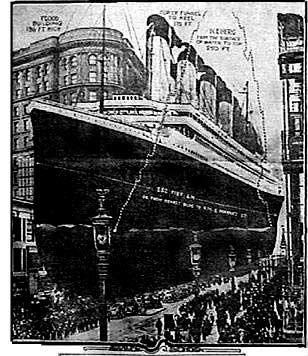 When & Where

Hotel Whitcomb

San Francisco, CA


Saturday, April 14, 2012 at 11:00 AM

-

Sunday, April 15, 2012 at 7:00 PM (PDT)
Add to my calendar
Organizer
For more information call: (415) 937-0410