Description

We are excited to present the Venture Capital Fast Pitch at the San Diego City Summit on December 6th and 7th
There will be 6 presentation opportunities on the afternoon of the 6th and 6 presentation opportunities on the afternoon of the 7th in front of investors representing billions of dollars.
The winning pitch wins a VIP sponsorship at the the City Gala during Oscar week. A $10,000 value with priceless networking opportunities. YOU WANT THIS!
PLUS you get to participate at the City Summit with world class speakers and networking!
City Summit is a world class, socially conscious business acceleration experience. Our Summit's mission and outcome is to elevate each of our attendee's business acumen by giving them tools, techniques, knowledge, insights, motivation, and top-level networking relationships. We want our City Summit attendees to learn and grow.
The City Summit invites proven business leaders, strategists, and business owners to teach our community how to increase revenue, generate leads, diversify revenue, establish authority, raise the value of business, elevate brand awareness and concentrate on hyper-growth. The topics of the City Summit range from leadership, innovation, marketing, business fundamentals, operations, and inspiration.
The ultimate goal of the Summit is to fund the City Gala, and assist non-profit organizations that are solving global challenges such as advancing health and wellness programs, feeding hungry, sheltering homeless, liberating slaves from human sex trafficking, educational opportunities for under-served, and mentorship programs
This year we will support the beneficiaries of the 2019 City Gala. The 2019 beneficiaries are: Giving Hart, Tucker Teens & Tots, Rock Against Trafficking, Journey's Dream, Selah Freedom, United Intentions, From Orphan To CEO. Do not miss your opportunity to grow, share, contribute, and learn!
City Summit: San Diego!
December 6th is from 2pm - 6pm (half day)

December 7th is 9am - 6pm (full day)
Investor Panel
Scott Kelly, Black Dog Venture Partners
Scott Kelly Founder and CEO of Black Dog Venture Partners, is a 25 year fundraising, marketing, sales, training and publicity veteran. Scott has raised millions of dollars in capital for disruptive companies, garnered national media coverage for hundreds of regional and national brands and generated millions of dollars in revenues for the companies he has represented. He has also trained over 1,000 sales people and has taught marketing at the university level in the United States and Europe.
Gino Russo, Partner - Adi Dassler International Family Office
Gino Russo has over 20 years of experience in the financial services industry, where he held executive positions at several financial institutions including as a Managing Director for Oppenheimer. He and Mike have been a team for almost 15 years and bring expertise in fixed income and structured transactions to ADIFO.

Vishal Arora, Technology Executive, Startup Investor, Incubator, and Advisor
Vishal is a technologist at heart. He enjoys building disruptive, innovative technology products and services that have worldwide impact, as well as investing in, incubating, and advising startups that do the same. He has bachelor's and Master's in Computer Science and an Executive MBA from Kellogg School of Management at Northwestern University.
Vishal has served multiple product and professional services organizations like Microsoft, Symantec, Accenture, and Avanade in different leadership capacity, where his roles included enterprise product and services strategy, design and delivery, product and portfolio management, global technology and P&L management. He is a founder of both Netvega Solutions, an IT services firm focused on providing services and solutions for small to mid-market companies, and VDOSH, an investment and advisory firm focused on growing technology startups in the early stages of their development.
Vishal is passionate about startup mentorship and incubation and supports startups throughout the United States and India. He also leads Kellogg Entrepreneurs Organization, Los Angeles Chapter.
Cameron Colvin, Chairman & CEO- Rise Above Enterprises
Cameron Colvin having played for the De La Salle Spartans, Oregon Ducks, and San Francisco 49ers. His story was recently portrayed by Ser'Darius William Blain in the 2014 Sony film When the Game Stands Tall, about his life through high school with the De La Salle Spartans.
Chairman of CamCo Commercial Inc & Creative Solutions company "Rise Above Enterprises Development " that has taken on projects for American Idol creator Simon Fuller as well as Marvel Comics creator Stan Lee.
Now author of Never Stop " 12 Principles of Success book series. Cameron has been featured in numerous global media outlets from Forbes, ESPN, Sports Illustrated, USA Today, New York Post and more.
Cameron is currently an active investor on hit show Entrepreneur Elevator Pitch by Sprint which did 25,025,724 total views. His commitment to his sports career, business endeavors, and philanthropy with his 15 year non profit Linking Sports and Communities which supports underprivileged youth has set Cameron on a path to influence many around the world. Cam is your influential specialist that collaborates with brands to drive traffic and make splashes in your perspective market!
Denise Longley - Founder and CEO at Longley Capital, LLC
Denise is the Founder and CEO of Longley Capital, LLC. Longley Capital, LLC is an early stage investment and advisory firm.

Denise brings an exceptional track record of executing and delivering strategy, finance, and analytics to some of the world's most sophisticated institutions. Her expertise and foresight provide clients the ability to optimize their performance and accelerate growth by solving complex business issues that require both quantitative and qualitative rigor.

Prior to Longley Capital, Denise was the Transaction Advisory Business Modeling Leader in Southern California at EY. She also held corporate strategy and analysis roles at HSBC and Encore Capital Group.
JD Morris Red Hook Capital
JD Morris focuses is serving on the board of advisors and board of directors of private and publicly traded companies. He co-invests with friends & family in EBITDA and moonshot deals. He Co-Found the spin-off Red Hook Capital with several family offices to invest in moonshot to EBITDA deals.
He has been a speaker at various industry forums, has been quoted in numerous leading publications, such as the Wall Street Journal, He has made several appearances on Bloomberg, CNET, CNBC, ESPN, WSJ, and other media sources (with more than 500 hours on Bloomberg).
JD worked through college with family offices starting in the development office of Hampden-Sydney College in Virginia. He is an Omega Rho student from The George Washington University in Washington, D.C
Lars Christensen, Angel Investor
Lars Christensen is an entrepreneur, business advisor and investor. He founded his first company, TouchPoint, when he was 26 and had a successful exit to a public company, Blackhawk Network, in 2017. Lars started a new firm in 2017 that focuses on angel and alternative investing. Interested in deals in Business Products, Marketing and Financial Services. Looking to invest between $50,000 to $1,000,000 primarily with companies with revenue in excess of $100,000. Based in Mesa, AZ. Looking for deals in: North America.
Lucas J. Pols - Venture Partner at Quake Capital Partners, and the founder of Spark xyz
At Quake Lucas is focused on expanding Quake's venture capital and angel relationships. He is also providing operational guidance to the portfolio companies on a range of topics including leadership, recruiting, and sales.
Lucas received his Master's in Entrepreneurship from the University of Southern California.While at USC, Lucas was the case protagonist of professor Noam Wasserman's case study, which focused on his venture, Spark xyz, and hybrid entrepreneurship.
Lucas also currently writes for Forbes and does speaking engagements around Los Angeles.
Drew Leahy is the Director of Equity Partnerships and Cofounder of Hawke Ventures
Managing deal flow for Hawke Ventures and a SWAT team of 5 marketers for portfolio clients. Three-time entrepreneur and inventor, Drew was previously the Chief Marketing Officer and Co-founder of SnapSuits.com, a tech-forward men's fashion e-retailer. He leveraged his seasoned product team, based in Colombia, South America, to achieve an 8x ROI with powerful technology and marketing. Drew was also previously Entrepreneur in Residence at memBrain in Los Angeles, working with tech and entertainment angel investors Ken Hertz and Liz Heller, whom he met while pitching his first technology in 2006. He graduated from the University of Michigan and is the recipient of the 2010 Ross School of Business Entrepreneur of the Year.
Matt Belcher - CEO and Co-Founder San Diego EB-5 Regional Center & Woodmont Regional Center
Matt Belcher is a seasoned executive and business developer engaged in many aspects of Foreign Direct Investment (FDI),large-scale real estate developments, foreign trade and commerce both into and out of the US. He resides in Southern California (from England) and is a resource for any international individual, organization, family office looking to do business in the United States, specifically West Coast.

He is the founder and CEO of San Diego EB-5 Regional Center, Managing Partner of Woodmont EB-5 Regional Center and CO-Founder and Managing Partner of CalTier Realty, LLC. Within these roles, he provides high-value advice, project direction, and deal-making services to project owners and stakeholders looking to leverage the EB-5 funding program and Foreign Direct Investment (FDI) as a whole.

Matt has over 20 years senior executive management experience across several continents covering deal structuring, M&A and sales/marketing performance while working with some of the largest companies in the world including BP, Shell, The International Olympic Committee, FT.com, Barclays Capital, Deutsche Bank, Virgin and many more globally.

Hem Suri: Executive Advisor and Board Member | Former Founder & Managing Partner, ClearVision Equity Partners
Hem is an accomplished executive and investment professional with deep experiences across several industries, geographies and functions through venture capital & private equity, investment banking, plant operations, corporate and research roles. He has executed 25+ venture, growth and M&A investments with over $2B in total capital over 10 years at ClearVision Equity Partners as Founder & Managing Partner, on Wall Street as well as within a KKR private equity portfolio company. His industry experience spans software, technology services, food manufacturing, industrials, transportation, financial services, property & casualty insurance, restaurants and digital marketing. Hem has an exceptional track-record of shareholder value-creation, people leadership and collaboration enabling small and large organizations in achieving their best.
His passion lies in early- and growth-phase companies and he loves "rolling-up his sleeves" with operators to help them think holistically about their businesses to maximize commercial outcomes. Hem is very active in the San Diego venture ecosystem as a panelist, venture pitch competition judge, mentor to several university venture clubs and incubators as well as budding entrepreneurs.
Hem has an MBA from Harvard Business School, an MS in Industrial Engineering from University of Illinois and a BTech in Mechanical Engineering from Indian Institute of Technology, New Delhi. He currently serves on the Advisory Boards of two education non-profits: Sisu Academy and TutorChat and has also served on the Boards of 41 Orange, ClearPath ADM, Doctible, SlantRange, Tourmaline Labs and Zesty.io in the recent past as a venture capitalist / lead investor.
MANY MORE INVESTORS SCHEDULED TO ATTEND
Testimonials from past conferences: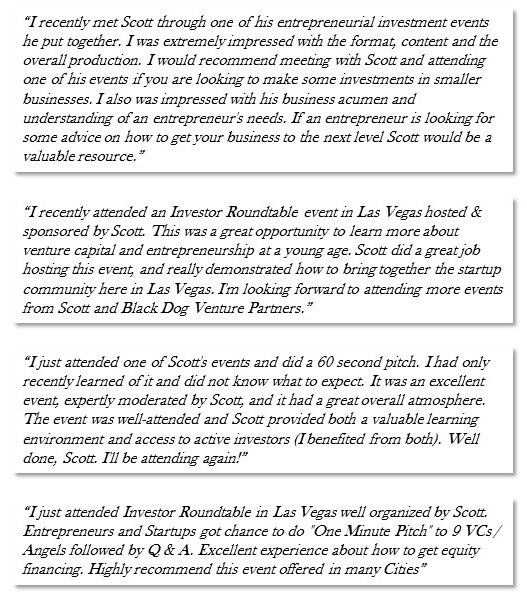 This event will sell out so register today!
Looking forwwrd to meeting you all.
Sincerely,
Scott Kelly, CEO
Black Dog Venture Partners