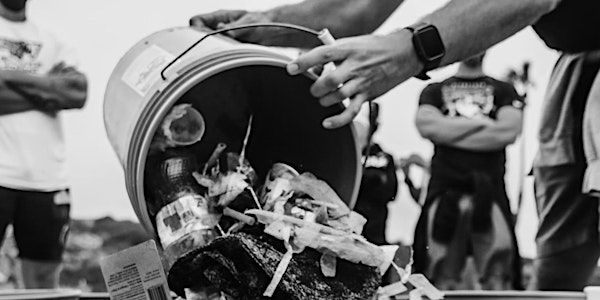 San Diego River Cleanup
Recycle For Veterans invites everyone to join them in a river clean up with local veterans!
When and where
Location
Mission Valley YMCA 5505 Friars Road San Diego, CA 92110
About this event
Come Join Your Local Veterans for a cleanup!
Recycle For Veterans x The San Diego River Foundation collaborative event
Meeting location will be at the Mission Valley YMCA Parking lot:
5505 Friars Rd, San Diego, CA 92110. Meet in the southwest corner of parking lot
We will supply bags, gloves, buckets, grabbers, and hand sanitizer. 
Please feel free to bring your own bucket, bag, or trash grabber!
Please take a look at our Gear List below to ensure you are properly prepared and equipped.
We strongly discourage the use of any single-use plastic at our cleanups.
Schedule & What To Expect:
9:00am - 8:30am | Check-In & Morning Brief
We will all gather by the designated meet-up point to go over all the information and route details before we kick-off. We will be handing out the buckets and bags as well.
8:30am - 9:45am | Service The Area
We will kick off the cleanup by following the designated route and servicing the area for trash, recyclables, and debris. (Around 1-3 miles of rough terrain)
9:45am - 11am | Collect Trash & Sort
After we service the area we then head back and weigh the collected trash. From there we dump it out onto a tarp and sort through the materials looking for the items, such as glass, plastics, bottle caps, or cigarette butts so they are to be disposed of properly.
11:30am | Education Brief & Closing Remarks
During the separation process, our Team Leader and supporting Eco Warriors will close out the event by educating the volunteers on conservation, sustainability, and environmentalism. 
Important Notes
For all of our Active Duty who need an L.O.A. or our volunteers who need community service hours, during your registration be sure to answer "Yes" when asked.
*Please arrive on time so you are able to kick off with our group and enjoy the full experience
 *Once you arrive- check-in at the EZ-Up in order to receive your pair of gloves and equipment
*YOU MUST BE 18+ YEARS OLD TO VOLUNTEER
*Be on the look-out for an EZ-up with our Logo on it
*We do not recruit for the military or their affairs.
*L.O.A's & Community Service hours will be sent within 7 business days of the event
Support
Have a question?
Contact us at hello@recycleforveterans.com or directly through Eventbrite!
Want to learn more?: www.recycleforvets.com
Our Partner: https://sandiegoriver.org/
COVID-19 NOTICE: Please stay home if you are feeling unwell.
There are inherent risks involved when participating in in-person and public events, including risks associated with COVID-19. Participation in a cleanup is voluntary and solely at a participant's own risk, including the risk of exposure, infection, and illness from COVID-19. Individuals should only participate to the extent that they are healthy and can comply with physical distancing and applicable federal, state, and local rules and restrictions.