About this Event

Today's the Day! Come on down and join us! You can still buy tickets online until Noon!
The Headliner - Third World, celebrates 45 years as one of reggae's most iconic legendary bands!
Co-starring - Jordan T and Iakopo, and featuring Empress Akua, Prime Livity, Jah Mikey, Lamour & the Mystik Band, Sensi Trails, and Drifting Roots. The Most Amazingly Awesome Music, Food, Health, & Environmental Celebration Ever - featuring Mind-Blowing Speakers, Health Professionals, Authors, Activists, Athletes, Chefs, and Poets - with a Unique Beer, Wine, & Kombucha Garden
*Please note Yami Bolo has been rescheduled to the LA line-up on September 15. His backup band Quinto Sol has been invited to perform September 15th also.
Kids 12 and under are FREE, no ticket needed.
Every ticket you buy for any of our events feeds vegan meals to hungry kids around the world!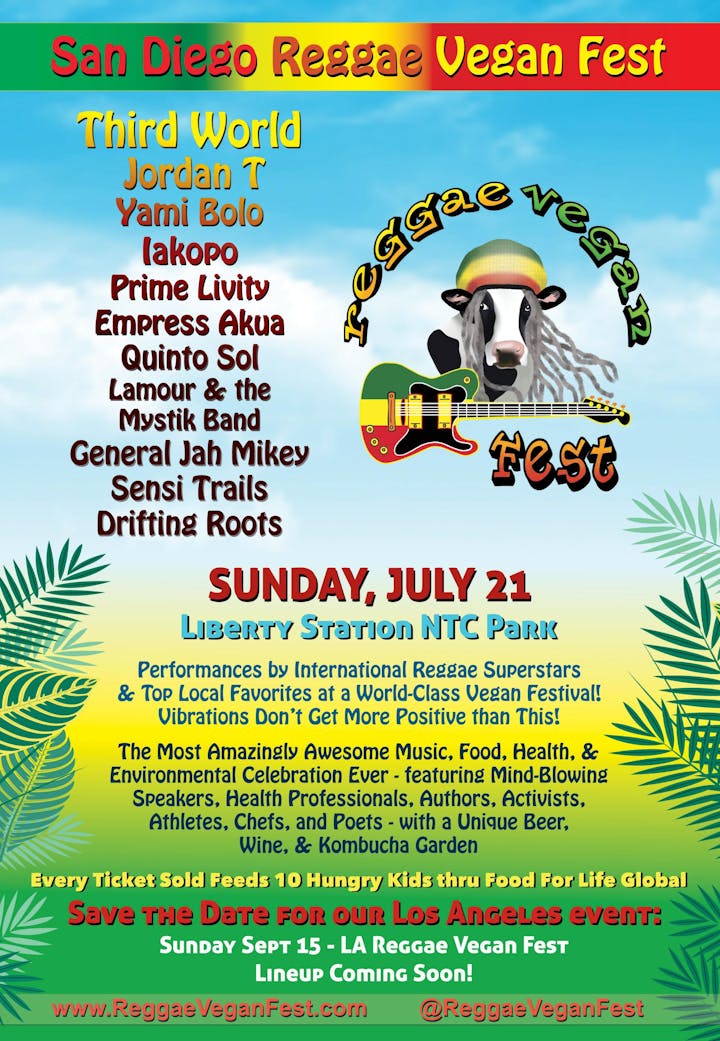 Our Reggae Vegan Fests are a commitment to "One Love, All Species", for the animals, for human health, for environmental sustainability…
Reggae Vegan Fest IS TRUE TO THE ROOTS OF REGGAE AS ONLY ITAL CAN BE! ITAL = VEGAN! The word ITAL was created in Jamaica in the 1930's, the decade before the word VEGAN! The thinking in Jamaica at that time was that life force – "livity" – cannot be nourished by animal bodies and excretions… higher thinking, true wisdom!
FAQ/QUESTIONS: https://www.reggaeveganfest.com/san-diego-faq/
info@ReggaeVeganFest.com
Please check us out, Follow and Share us!
https://www.facebook.com/events/316645512388554/
https://facebook.com/ReggaeVeganFest