Description
Announcing the Inaugural San Diego Marine Corps Veterans Birthday Ball Celebration!
The University Club will host the Inaugural San Diego Marine Corps Veterans Birthday Ball Celebration on Saturday, November 18, 2017. This event invites all veterans to celebrate their service and the Marine Corps birthday and will include numerous guest speakers.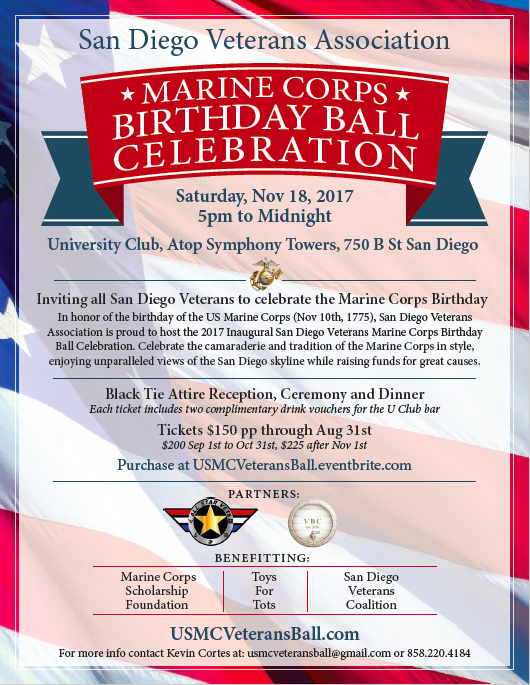 San Diego, CA - This November, the University Club atop Symphony Towers will host a Marine Corps Veterans Birthday Ball Celebration in honor of those who served. The special inaugural event is designed to help promote tradition and camaraderie as well as maintain a venue for Marine Corps veterans (all veterans are welcome) to celebrate the Marine Corps birthday (original date is November 10,1775). Proceeds from the event will benefit Toys For Tots, the San Diego Veterans Coalition, and the Marine Corps Scholarship Foundation. VIP reception begins at 4pm on November 18.
Guest of Honor speaker requests include Secretary of Defense General James Mattis USMC (ret), Lieutenant General Thomas Conant USMC (ret), Lieutenant General Terry Robling USMC (ret), and Lieutenant General George Trautman USMC (ret), Chairman of MCSF Board. Numerous VIP requests have also been made, including Senator Joel Anderson, Congressman Duncan Hunter, Congresswoman Susan Davis, and Mayor Kevin Faulconer, among many others.
Early bird tickets for this exciting event are $150. Tickets cost $200 after September 1st and $225 after October 1. Dress is black-tie. Sponsorship packages are available and include perks such as website and program recognition, and VIP tickets.
The VIP reception is from 4pm to 5pm, after which the event will include a cocktail hour from 5pm to 6pm. The ceremony and program take place from 6pm to 7pm, before dinner and dancing which will continue until 12am.
Save the date for this special event, and purchase your tickets early to enjoy extra savings!
About The Organizers
The organizers for this inaugural event are the San Diego Veterans Association who also founded a local San Diego network group called the Veterans Beer Club. The Veterans Beer Club is a San Diego-based organization committed to bringing veterans together, spreading awareness of issues affecting veterans, and promoting friendship and peace within the community.
Become A Sponsor

Date and Time
Location
Refund Policy