San Diego Global Poverty Forum 2016
Description
WHAT YOU'LL LEARN
The top 10 most cost-effective poverty alleviation methods according to economists

Why Google.org is backing direct-money transfers to people in poverty

How the organization that inspired the creation of Kiva.com is changing the game

What the data shows about micro-entrepreneurship and its impact on poverty

What's working in poverty alleviation (and how we know)
EVENT DESCRIPTION
The San Diego Global Poverty Forum is an engaging half-day event hosted by the Center for International Development at Point Loma Nazarene University. Each year, we invite leading speakers from around the world to discuss and debate cutting edge ideas, research, and discoveries in the field of global poverty alleviation. We've designed this forum to feel like a TED-style event with short, high-impact presentations, dynamic panel discussions, and lively interactive Q&A with audience members. Our goal is to share ideas that inspire and challenge attendees to think differently about global poverty, especially the role that business and entrepreneurship can play in creating more sustainable solutions. This is a free event but we have limited seating, so please register today and plan on arriving early.
2016 THEME – WHAT'S WORKING AND HOW DO WE KNOW
This year's event will focus on comparing the efficacy of various approaches to poverty alleviation, and how to think about the interplay between human compassion and a more data-driven approach to measuring success. Key topics will include financial empowerment, micro-enterprise development, direct giving, empowering women, and the role of technology.
WHO SHOULD ATTEND
This event is ideal for students, alumni, business and non-profit leaders, and other community members interested in sustainable ways to reduce the impact of global poverty through business, entrepreneurship and technology. The event will be held on the campus of Point Loma Nazarene University in beautiful San Diego, California.
2016 SPEAKER LINEUP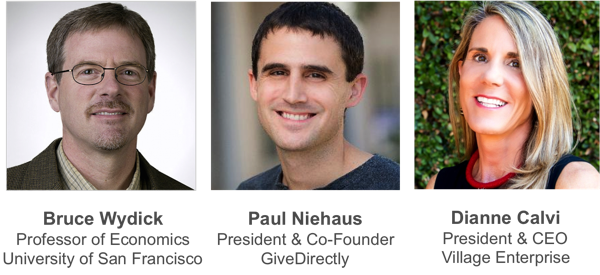 BRUCE WYDICK, professor of economics at the University of San Francisco, will share the top 10 most effective strategies for poverty alleviation as rated by leading economists. Bruce is the author of Games in Economic Development, which examines the roots of poverty through the lens of game theory, and The Taste of Many Mountains, an enlightening novel about fair trade coffee.
PAUL NIEHAUS is president and co-founder of GiveDirectly, an innovative organization backed by Google.org that is reshaping international giving by making direct transfers to the poor the benchmark against which other, more expensive approaches are evaluated. Paul is a Harvard PhD and professor of economics at University of California, San Diego.
DIANNE CALVI is president and CEO of Village Enterprise, an amazing organization that provides seed capital, business training and mentorship to help poor people in rural East Africa lift themselves out of poverty. Village Enterprise, which was the inspiration for the founders of Kiva.com, has trained more than 130,000 micro-enterprise owners and helped start more than 30,000 small businesses in Kenya and Uganda.
AGENDA
2:00 - 2:15pm Welcome and Kickoff
2:15 - 3:30pm Keynote speakers (20 minutes each)
3:30 - 4:15pm Panel discussion and Audience Q&A
4:15 - 4:30pm Closing and opportunity to meet speakers
PRIVATE SUNSET DINNER RECEPTION
Immediately following the forum, we will also be hosting a private reception at the oceanfront home of Wes and Heidi Wasson, just five minutes from the university on Sunset Cliffs. This invitation-only event will provide an opportunity to meet our speakers in an informal setting and learn more about the Center for International Development. Dinner will be served, and an opportunity to donate to the CID will be provided for those interested in contributing to our work. If you are interested in an invitation to the evening event, please contact us at 619-849-2792 or centerid@pointloma.edu.
ABOUT THE CENTER FOR INTERNATIONAL DEVELOPMENT
The Center for International Development (CID) is a key initiative of the Fermanian School of Business at Point Loma Nazarene University in San Diego, California. We believe breaking the cycle of global poverty in a sustainable way requires more than just handouts and foreign aid, and that business and entrepreneurship can play a key role in this process. Our focus is to connect people concerned about global poverty with key organizations, resources and thought leaders in this field who share our passion. Learn more at pointloma.edu/cid.
REGISTER TODAY (AND ARRIVE EARLY)
The San Diego Global Poverty Forum is a free event, but we have limited seating, so we strongly recommend you register today and plan on arriving early.