San Diego Employer Advisory Council WORKPLACE 2019
Description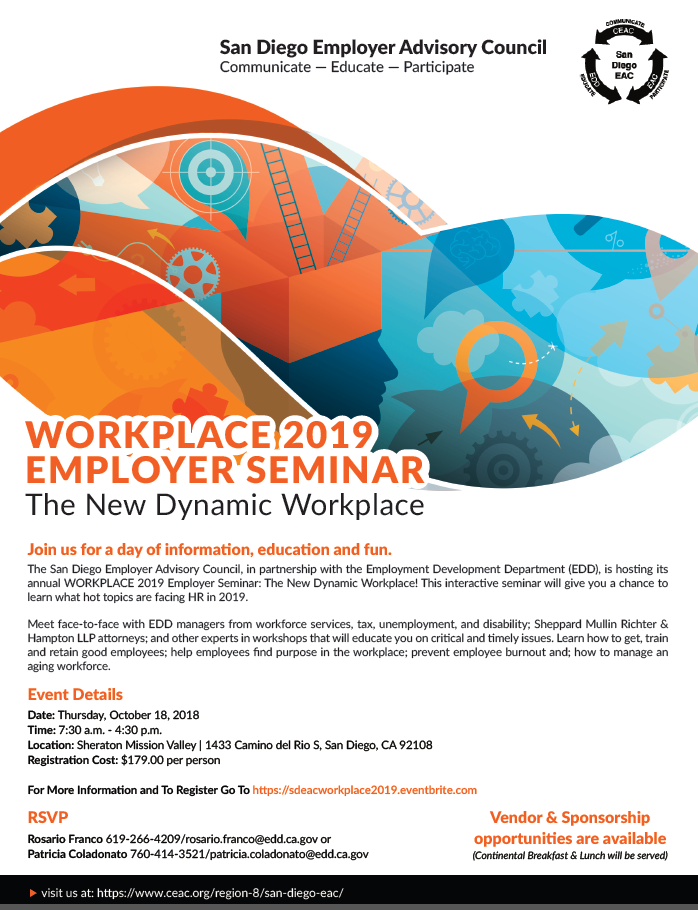 The San Diego Employer Advisory Council, in partnership with the Employment Development Department (EDD), is hosting its 45th annual WORKPLACE 2019 employer seminar: The NEW DYNAMIC WORKPLACE!
This interactive seminar will give you a chance to learn what hot topics are facing HR in 2019.
NEW THIS YEAR: HRIC credits for legal track panels!
SPECIAL GUEST SPEAKERS:
Patrick Henning, Jr., Director, State of California Employment Development Department

Brenda Sillas, Kaiser Permanente Workforce Health Consultant
Meet face-to-face with EDD managers from tax, unemployment, and disability; Sheppard Mullin Richter & Hampton LLP attorneys; and other experts in workshops that will educate you on critical and timely issues.
Get the latest updates about: labor law, healthcare changes, federal and state tax hiring and firing practices background checks, wage, race, gender pay gap.
Learn how to get, train and retain good employees; help employees find purpose in the workplace; how to manage an aging workforce; and how to prevent employee burnout.
Join us for a day of information, education and fun.
Meet and network with other business professionals.
Contact: Rosario Franco (619) 266-4209 rosario.franco@edd.ca.gov
Contact: Patricia Coladonato (760) 414-3521 patricia.coladonato@edd.ca.gov