San Diego County Orchid Society International Spring Show and Sale 2017
Description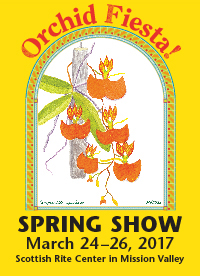 San Diego County Orchid Society's 71st Annual International Spring Show and Sale.
Starts Friday afternoon March 24th and ends Sunday afternoon March 26th.
Each ticket is good any single day during the Show. Weekend Passes are available at the door.
Friday March 24th, 3PM to 7PM; Saturday March 25th 9AM to 6PM; Sunday March 26th 10AM to 4PM.
Features competitive orchid judging and American Orchid Society & Cymbidium Society of America Judging.
Displays are created by Orchid Societies, Vendors and Orchid Hobbyists.
A sales area features 24 local and international Orchid Vendors and Orchid Supplies Vendors.
A Conservation Sales booth sells orchids donated by local growers. All proceeds go to support Orchid Conservation efforts worldwide.