Description
The National Federation of Filipino American Associations (NaFFAA) is organizing a forum focused on civic leadership and empowerment Asian American and Pacific Islander (AAPI) community. Sponsored by Civic Leadership USA, the forum will feature prominent leaders and elected officials who will discuss efforts to increase the community's representation in government. Whether you're looking to network, get more involved in the community, or even run for office, please join us on Saturday, March 30th!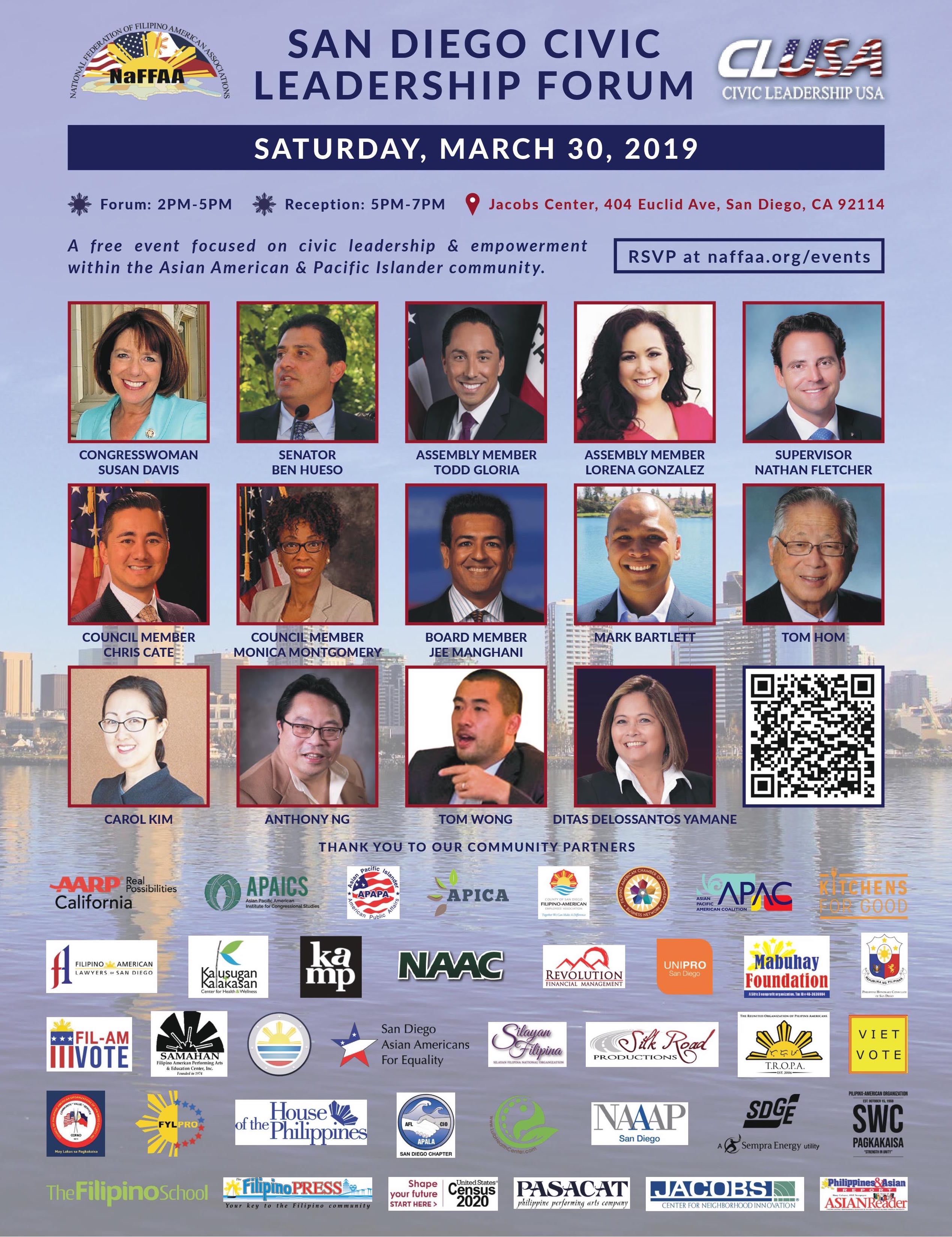 Agenda Overview
FORUM (2:00-5:00PM)
Opening Remarks and National Anthem
U.S. Anthem: Melanie Jimenez
Emcee Remarks: CK Gabler
Bennett Peji, Vice President, Impact & Partnerships, Jacobs Center for Neighborhood Innovation
Anthony Ng, Executive Director, Civic Leadership USA
Chris Cate, Councilmember, City of San Diego
Keynote Remarks: Todd Gloria, Assemblymember, 78th Assembly District

Asian American Data Presentation
Tom Wong, Associate Professor of Political Science, University of California, San Diego; Board of Advisors, New American Leaders

Civic Leadership Panel
Moderator: Andrew Amorao, Region Vice Chair, NaFFAA
Mark Bartlett, Commissioner, Chula Vista Veterans Advisory Commission
Tom Hom, Former City Councilmember, City of San Diego
Carol Kim, Director of Community Engagement, San Diego Building & Construction Trades Council
Jee Manghani, Elected Rancho Santa Fe School District Board of Trustees
Ditas Delossantos Yamane, Former Mayoral Candidate, National City

Closing Remarks
Jason Tengco, Executive Director, NaFFAA
COMMUNITY RECEPTION (5:00-7:00PM)
Susan Davis, Member of Congress, 53rd House District
Ben Hueso, State Senator, 40th Senate District
Lorena Gonzalez, Assemblymember, 80th Assembly District
Nathan Fletcher, County Supervisor, 4th County District
Monica Montgomery, City Councilmember, City of San Diego
---
Asian American Organizations: Interested in becoming a community partner for the forum? Please email NaFFAA Program Coordinator Aldrin Carreon at aldrin.carreon@naffaa.org.