San Diego Candidates Green Policy Forum 2012

Thursday, October 4, 2012 from 5:00 PM to 9:00 PM (PDT)
Event Details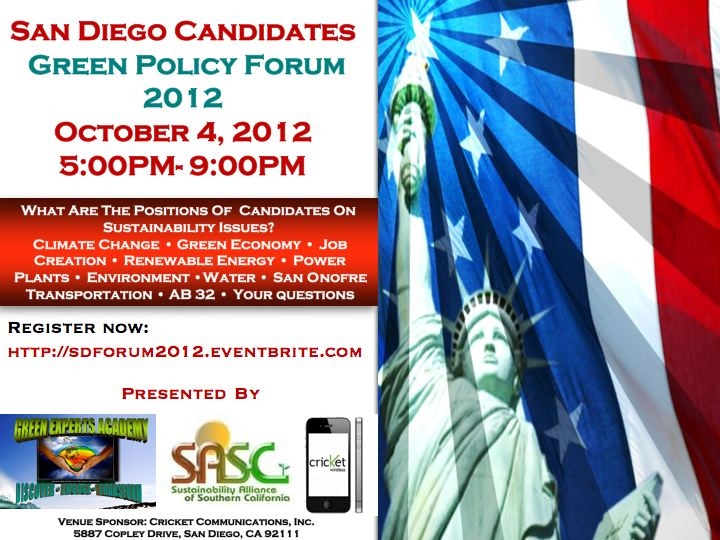 San Diego Candidates Green Policy Forum 2012 gathers candidates for local, state, and national office on October 4th, 2012, to hear their positions on strategic issues in Green policy, such as green job creation and more. Join Mayoral Candidate Bob Filner, Congressional candidates Scott Peters, Rep. Susan Davis and David Secor. County Supervisor candidate Dave Roberts, State Assembly candidates Dr. Shirley Weber, RJ Hernandez and Pat Hurley.  Reserve your seat now for October 4th, and be a part of a dynamic night of civic discussion on the sustainable and economic  future of San Diego. $20 ticket includes meal, beverages, free parking and proceedings. Cricket Communications, Inc., is our Venue Sponsor. Register now, and please Share or Like. http://sdforum2012.eventbrite.com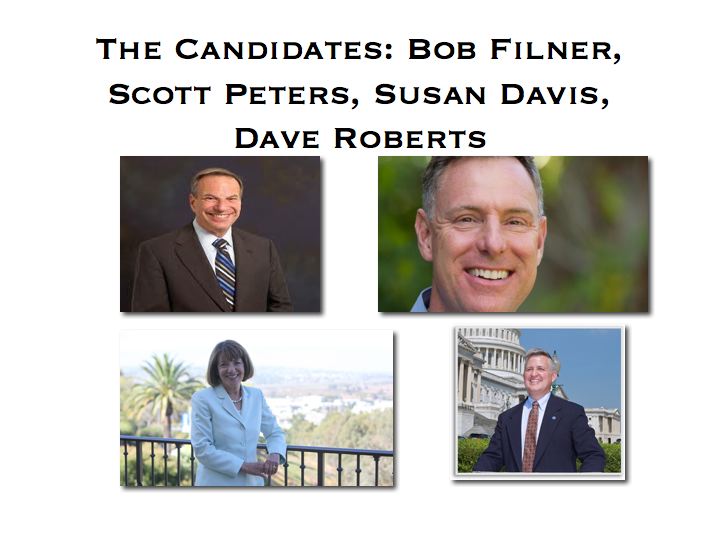 San Diego Candidates Green Policy Forum
                               October 4th, 2012
                                           Agenda
5PM
 Registration, Buffet, Networking
CA 52nd Congressional Forum 
5:30PM-6:00PM
 Commissioner Scott Peters (confirmed)
  Rep. Brian Bilbray (declined)
__________________
State Assembly District 77 Forum
6:00PM-6:20PM
Dr. Shirley Weber (confirmed)
__________________
City of  San Diego Mayoral Race Forum & Debate
6:20PM-7:05PM
Rep. Bob Filner (confirmed)
Councilmember Carl DeMaio (declined)
__________________
7:05PM-7:15PM BREAK
__________________
CA 53rd Congressional District Forum
Rep. Susan Davis (confirmed)
7:15PM 7:45PM
__________________
 State Assembly District 77 Forum
7:45PM-8:00PM
RJ Hernandez (confirmed)
__________________
County Supervisor District 3 Forum
8:00PM-8:30PM
Deputy Mayor Dave Roberts (confirmed)
____________
8:30PM-9:00PM
State Assembly District 71 Forum 
 Pat Hurley (confirmed)
 Assemblymember Brian Jones (declined)
 &
50th Congressional District Forum 
David Secor
9:00PM Adjourn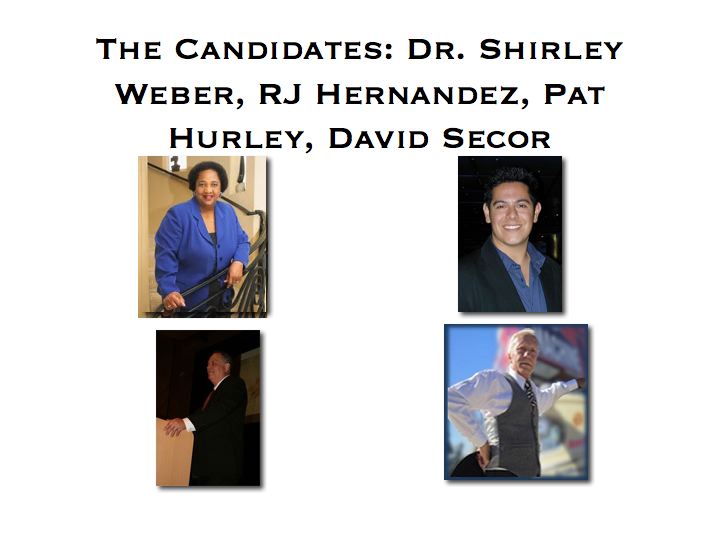 ____________________
 Agenda subject to change, conditional upon confirmations and availability of candidates.
 Additional information for attendees: $20 + Eventbrite fee admission includes a complimentary meal, beverages, and candidate ppt presentations, if any.  Presented by Green Experts Academy and The Sustainability Alliance of Southern California (SASC).  Register now to reserve your seat, and bring questions for the candidates:  http://sdforum2012.eventbrite.com.  
We thank our Venue Sponsor, The Green Team of Cricket Communications, Inc. 
The forum will be led by Professor Kathleen Connell, social entrepreneur and Founder of Green Experts Academy. Connell is Adjunct Faculty at National University's School of Engineering, Technology and Media, teaching in the Master of Science in Sustainability Management Program.  She also has a distinguished NASA background, and is a co-founder of the science of Astrobiology.  For her service to the nation and to NASA, she was presented with the NASA Exceptional Public Service Medal. A public policy and strategic communications expert, Connell is a former Congressional Advisor to NASA Headquarters.  Prof. Connell also served as the founding Policy Director of the Aerospace States Association, composed the nation's Lt. Governors.
Joining Professor Connell is Mr. Alan Ball, a former senior executive of Qualcomm, who pioneered sustainable solutions for the company.  Mr. Ball is the CEO of Sustainable Intelligence, Inc.  He is also the Chairman and CEO of The Sustainability Alliance of Southern California (SASC), as well as Chairman of the Board of the California Center for Sustainable Energy (CCSE).  SASC was the first organizer of the San Diego movement to defeat Proposition 23.
More Information About The San Diego Candidates Green Policy Forum 2012 
This forum is one in a series of pioneering and popular Green jobs, economy, and policy events, including "San Diego Election 2010: Candidates Forum on Sustainability" and "America's Finest Green City."  See The Green Experts Academy Host area on this site for further information on other events presented by Green Experts Academy in 2011 and 2012.  These and related forums, workshops and continuing education events have featured over 100 top Green leaders, elected officials and thought leaders from the public, private, academic and non-profit sectors.  Attendees are professionals, leaders, re-careering individuals, entrepreneurs, and citizens from San Diego, California and the West Coast. 
This forum will welcome selected candidates to present their sustainability positions and accomplishments.  Questions regarding the Green economy, job creation, sustainability and small business opportunities, climate policy, proposed power plants, San Onofre/nuclear energy, urban agriculture and forests, environmental health, the clean tech cluster in San Diego, solar energy, wind, public lands, community choice aggregation, The SANDAG plan, public transportation, financing solutions, water, climate change and extreme weather, AB 32 implementation, PACE, retrofitting public and private buildings, energy efficiency, biofuels and next generation cars, research on renewable energy, oil/natural gas subsidies, preserving our beaches/oceans may be asked of candidates, as appropriate. Bring your question!
Tickets will sell fast for this popular event.  Please Like us on Facebook and help share the Green message. Thank You! $25 at the door, so save and get an advance ticket now. Tickets may be transferred, but not refundable at this low price.
Media: Comped, please advise organizer you will be attending. 
Trackers: Allowed, be professional, must register, tape candidates only, sit in special area, and present ID at registration. 
Disruption: Not allowed!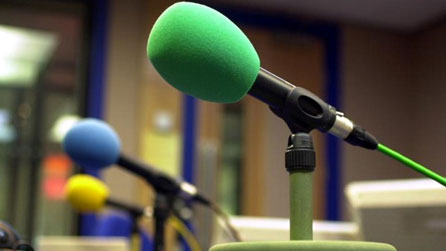 _________________ 
When & Where

Cricket Communications, Inc.
5887 Copley Dr
San Diego, CA 92111


Thursday, October 4, 2012 from 5:00 PM to 9:00 PM (PDT)
Add to my calendar
Organizer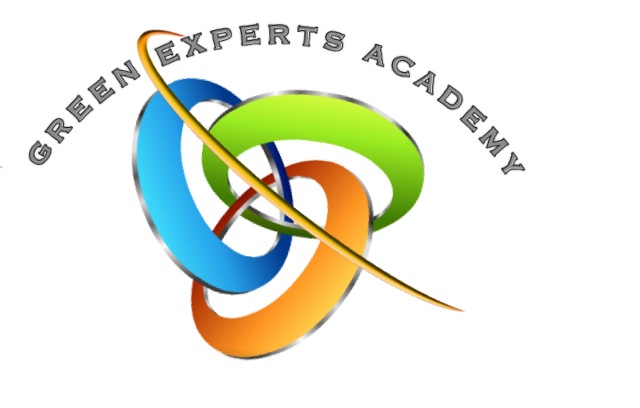 Building Green Jobs, Green Careers, A Green Economy and Green Public Policy. Discover, Engage and Transform with us.
Green Experts Academy provides empowering, cutting-edge seminars, forums workshops and products for the new Green citizen, expert, career seeker, entrepreneur, public official and anyone interested in the Green economy and Green public policy. Science demonstrates we must rapidly mitigate climate change. We are dedicated to building  sustainable prosperity shared by all. Led by Prof. Kathleen Connell, entrepreneur, sustainability expert, educator and advocate, with an extensive NASA background in science, technology and public policy. Kathleen is a Principal of The Connell Whittaker Group LLC.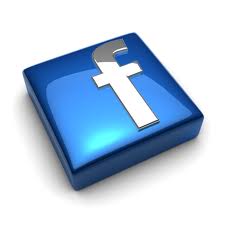 Please like us on Facebook, and get our updates. Thank you. 
http://facebook.com/GreenExpertsAcademy