Sales Have Ended
Ticket sales have ended
We have reached attendance capacity check back soon for more updates!
Sales Have Ended
Ticket sales have ended
We have reached attendance capacity check back soon for more updates!
About this Event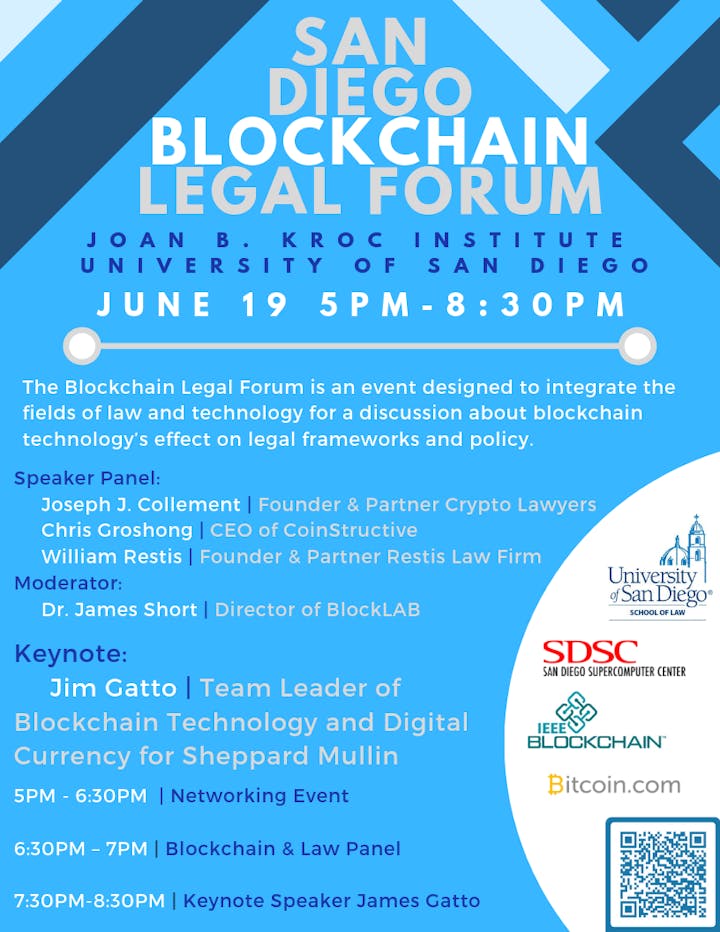 About:
The San Diego IEEE Blockchain Group is hosting San Diego's first Blockchain Legal Forum. The Blockchain Legal Forum is an event designed to integrate the fields of law and technology for a discussion about blockchain technology and its effect on legal frameworks and policy.
The event will first feature a networking portion with various technology companies and law firms representing themselves as part of this growing community. Then there will be a panel featuring recognized thought leaders for a discussion on the types of challenges that existing legal frameworks are facing with introduction of blockchain and the types of issues on the horizon.
The Blockchain Legal Forum concludes with a keynote presentation from Sheppard Mullin's Jim Gatto, a legal expert in blockchain, who will provide a macro perspective on crytptocurrency, blockchain, and the possible legal solutions they may enable.
Date:
June 19th, 2019
Location:
Joan B. Kroc Institute at University of San Diego
Attire:
Business Casual
Agenda:
5:00PM - 6:30PM | Networking Event with Technology and Legal Booths
6:30PM – 7:30PM | Panel Discussion on Blockchain and Legal Policy
7:30PM-8:30PM | Keynote Speaker James Gatto
Panel Information:
Joseph J. Collement | Founder/Partner of the Crypto Lawyers
Joseph is the co-founder of The Crypto Lawyers, LLP and is currently in-house counsel at Bitcoin.com, a fin-tech company that provides non-custodial solutions for digital assets. Joseph is working closely with developers, investors, and decentralized organizations to bring economic freedom to the world.
Chris Groshong | CEO of CoinStructive
As President of San Diego based CoinStructive, a Bitcoin & Blockchain consulting firm, established in 2015, Chris' focus on education has helped empower founders, entrepreneurs, executive teams and policy makers to make well informed and confident decisions. He is a proponent of and helped shape the Uniform Law Commission's Virtual-Currency Businesses Act. He sponsored the formation of the Consumers' Research guiding principles for "Protecting Consumers in the Digital Age".
Most recently Chris became a Certified Fraud Investigator, provided expert witness testimony and launched a certified continuing education platform targeting the intersection of Cryptocurrency and Blockchain Technology for professionals like Lawyers, Law Enforcement and Banking Compliance and Fraud.
William Restis | Founder/Partner of Restis Law Firm
William is currently Lead Counsel in Faasse et al v. Coinbase, Inc., a cutting-edge class action that will help define basic property rights in cryptocurrencies. He is also on the Lead Counsel team in ICO securities class action In re Tezos Securities Litigation.
William Restis is a business owner, a startup angel investor, and has served as general counsel for two technology start-ups.
Moderator:
Dr. Jim Short | Lead Scientist at the Super Computer Center and Director of BlockLAB
Dr. Short is Lead Scientist and co-founder of the Center for Large Scale Data Systems (CLDS) at the San Diego Supercomputer Center. He has taught business strategy, management information systems, and communications theory at the London Business School, Theseus Institute, and the MIT Sloan School of Management.
He was also a Belfer Fellow at the JFK School of Government at Harvard University. His current work focuses on topics in data risk and valuation, data growth and business analytics. He holds S.B., S.M. and PhD degrees from MIT. Dr. Short has technical expertise in blockchain and is the leader of a research initiative through BlockLAB to seek more understanding around blockchain's promise to the legal industry.
Keynote Speaker:
Jim Gatto | Partner Sheppard Mullin
The Big Picture: A Macro Perspective on Cryptocurrency and Blockchain by Jim Gatto.
Cryptocurrency and blockchain are either ground breaking technologies or worthless, overhyped scams, depending on who you ask. In this talk, James Gatto will provide a macro perspective on cryptocurrencies and blockchain technology, sorting fact from fiction, and explaining why they have the potential to be truly transformative. He will discuss the requirements for a successful currency, what it will take for cryptocurrencies to succeed and why many have failed. He will explain how blockchain technology mirrors certain societal trends and is one of a set of technologies that collectively has the power to transform virtually every industry, assuming it overcomes various obstacles. He will also address how cryptocurrency and blockchain fit within the existing legal and regulatory framework and where new approaches may be necessary.
Jim Gatto is the Leader of Sheppard Mullin's Blockchain Technology and Digital Currency team and its Open Source Team. Jim has 35 years of experience advising innovative companies on IP, technology law and regulatory issues with new business models and disruptive technology. He focuses heavily on blockchain, smart contracts and crypto currency legal issues and has been active in the space since 2014. He is a recognized thought leader on cryptocurrency and blockchain legal issues. In 2018 he received the National Law Review's Go-To Thought Leadership Award for his work on blockchain and cryptocurrencies and was named a Cryptocurrency, Blockchain and Fintech Trailblazer by The National Law Journal. He writes extensively and speaks worldwide on these topics. His blog, Law of the Ledger, provides breaking news, insights, legal analysis and resources in legal issues related to the blockchain technology and digital currency sphere.
Current Vendors:
Current Sponsors:
Bitcoin.com - Bitcoin Cash is a peer-to-peer electronic cash system. It's a permissionless, decentralized cryptocurrency that requires no trusted third parties and no central bank.
BlockLAB – A research group dedicated to defining, evaluating and reporting on the key technical, business and managerial questions posed by blockchain and distributed transaction ledger technologies, their commercial applications, and their potential for causing significant disruptions in industry and government.​
IEEE San Diego Blockchain Group – A division of IEEE focused on blockchain education and community building.
The University of San Diego School of Law - The University of San Diego School of Law is the premier San Diego Law School. It is a leader in the areas of business and corporate law, constitutional law, intellectual property, international and comparative law, public interest law and innovation.
Are you interested in becoming a Sponsor? Reach out to an event organizer for more information!