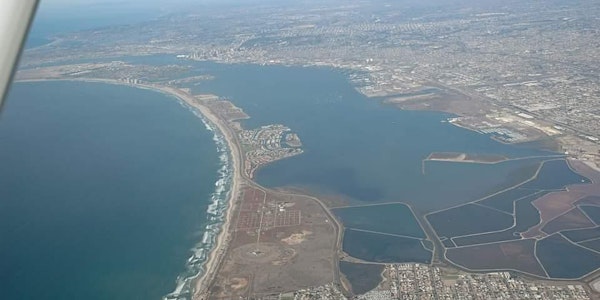 San Diego Bay Bikeabout Tour
San Diego Bay Bikeabout Tour
When and where
Location
Coronado Ferry Landing Park 1201 1st Street Coronado, CA 92118
About this event
{[ If your Status as Going to this Event Changes, Please Change your Status.]}
FREE Registration for this event is Required via Eventbrite.
***Additional cost of Ferry, Food, Drink and other are guest responsibility. Ferry Info/Schedule https://www.flagshipsd.com/cruises/coronado-ferry ***
### A minimum of 6 CONFIRMED total is needed via multiple site postings of event for event to not be canceled by host/guide 12hrs. prior to event start time. ***Weather may cancel event.
Join us for this Informative Fun Fitness 20-25mile Bikeabout around San Diego Bay. This is a Leisure Biking Event averaging 10-12mph with numerous stops including even a short walkabout of the Hotel Del, Beach and Coronado Village. This event goes for 6hrs to allow time for ferry transit at the start of this event where we can enjoy the view and meet&greet each other. Approx. Route https://goo.gl/maps/nXqcdMFcfvUpeUvr8 . Numerous Bike Rental Businesses in Coronado including near our start location. https://www.hollandsbicycles.com/.../coronado-ferry...
***Look for the Host/Guide Steven Caliridion wearing a Goodwill Ambassadors Travel/Caliridion T-Shirt. *** Host/Guide is/are not liable for injuries and/or loss from attending this event. We Recommend Social Distancing and/or Masking where needed.
***Instant 2way Radio Communication for this Event is via the https://www.Zello.com/goodwillambassadorstravel channel on the FREE https://zello.com/personal/download/ starting 1.5 hrs. before event start time. Once event starts this is the most instant communication with host/guide available. Host/Guide Phone Number given after confirmation of GOING received.
Member Owned Meetup Groups:
https://www.meetup.com/GoodwillAmbassadorsTravel/
https://www.meetup.com/CaliforniaOutdoorAdventures/
https://www.meetup.com/CaliforniaExperiences/
https://www.meetup.com/CaliridionTravel/
https://www.meetup.com/FloridaExperiences/
https://www.meetup.com/FloridaOutdoorAdventures/
https://www.meetup.com/UtahExperiencesAndAdventures .
ALL Updates on this event will be posted via the FB event page https://fb.me/e/3l7kPeUO4 .
***Any wanting to create events for FREE on any of our sites contact us.