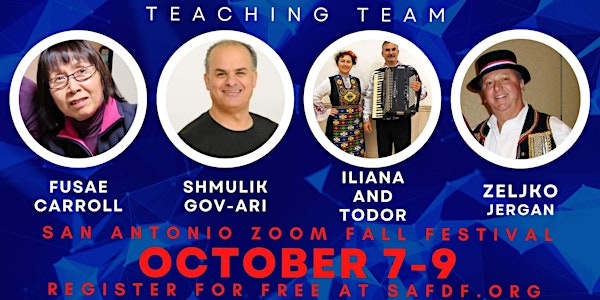 San Antonio Fall Festival on ZOOM- Free to register
A "Free" online only Zoom Fall Festival brought to you by SA Folklife & Dance Festival organizers, sponsored by Heritage Festivals of SA.
About this event
Register for free and join hundreds for the San Antonio Fall Festival full of activities such as folkdance workshops, culture corners, social dance sets, music and dance performance presentations. It takes place beginning October 7th. Find a schedule and all you need to know to prepare for this free weekend event at SAFDF.org
Heritage Festivals is a 501(c)(3) nonprofit corporation that promotes arts and cultural events in San Antonio. We also want to thank the San Antonio Area Foundation for their support of this event.
Main image PC 10Best.com