Actions and Detail Panel
San Antonio Digital Inclusion Summit
Wed, March 1, 2017, 8:00 AM – 4:00 PM CST
Description
Attend this one-day event to address the digital divide and highlight the efforts of local organizations on the frontline of digital inclusion. Register today!
March 1, 2017 | 8am to 4pm
Hosted by the San Antonio Public Library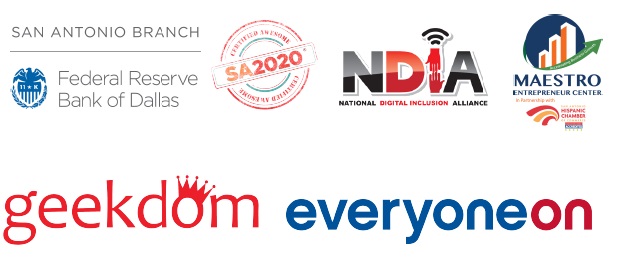 Our day will kick-off at 8:30am with opening remarks by Mayor Ivy Taylor. Breakfast and lunch will be provided. RSVP today to save your spot! This event is free and open to the public.

Schedule
8:00am | Sign-in and breakfast

8:30am

|

Morning kickoff with Mayor Ivy Taylor

9:00am

| Digital Equity & Economic Mobility
10:30am

|

Quality High Speed Home Broadband for All

12pm

|

Lunch and Lightning Round

1:00pm

|

Tackling the Digital Skills Gap: Notes from the Field

2:15pm

|

Collaborative Approaches to Solving the Digital Inclusion Challenge

3:30

|

Office Hours and Lobby Showcase
Interested in taking a hands on role to help connect your neighbors to the benefits of technology? Join us after the summit for our Technology Volunteer Training hosted by the San Antonio Public Library. This is a great opportunity for teens and young adults to get training for numerous volunteer opportunities that can really boost college applications and resumes. Participants will learn to interact with new computer users in a public setting and receive a free t-shirt.
Here are some of the organizations that will be at the San Antonio Digital Inclusion Summit:
The San Antonio Public Library

The San Antonio Housing Authority

The Nonprofit Technology Network

Google Fiber

Goodwill Industries of San Antonio

Federal Reserve Bank of Dallas

National Digital Inclusion Alliance
The Digital Inclusion Summit will highlight digital inclusion and demonstrate the vast array of resources available locally and nationally to enhance the lives of San Antonio residents. Exhibit booths will serve as a place to learn and connect about local and national organizations working in the digital inclusion space. This event will be an awareness event to engage the community to participate and support digital inclusion in San Antonio.

---
Location
Central Library is situated in downtown San Antonio, south of Romana Plaza. The site is bounded by Soledad St. to the west, Navarro St. to the north, Augusta St. to the east, and Giraud St. to the south.
Via Bus Routes
Parking
The Central Library has available parking in an attached parking garage with an entrance on Soledad Street. Parking Rates: First 3 hours are free, full day flat rate of $5.00. Cash or Credit Card Only.
Please note that the parking garage is managed by the City of San Antonio's Parking Division, any questions or comments should be directed to 210-207-8266.
---
Panel Details
9:00am | Digital Equity & Economic Mobility
Jordana Barton | Senior Advisor, Federal Reserve
Deb Socia | Next Century Cities
Bill Callahan | Connect your Community 2.0
Moderated by Irene Chavez, Maestro Entrepreneur Center
10:30am | Quality High Speed Home Broadband for All
Joann Hovis | President of CTC Technology & Energy
Angela Siefer | Director of NDIA
Jo Ana Alvarado | Director of Innovative Technology, SAHA
Olivia B. Wein, Attorney | National Consumer Law Center
Clarissa Ramon | Community Impact Manager, Google Fiber
Moderated by Richard Milk,

Director of Policy and Planning, SAHA
1:00pm | Tackling the Digital Skills Gap: Notes from the Field
Jen Vanek | Educational Consultant, Northstar Digital Literacy Assessment

Catarina Velasquez | Educational Consultant, SAHA
Michelle Rickman | Training Officer, SAPL
Ernesto Resto | Digital Inclusion Fellow, Skillpoint Alliance
Moderated by Drew Pizzolato, Nonprofit Technology Network
2:15pm | Collaborative Approaches to Solving the Digital Inclusion Challenge
Angelique de Oliveira | Director of Business Development, Goodwill Industries of San Antonio
Leilah Powell | Chief of Policy, City of San Antonio
Catherine Crego | Strategic Initiatives Manager Housing Authority of the City of Austin, Austin Pathways
Rick Usher | Assistant City Manager for Entrepreneurship & Small Business, City of Kansas City
Molly Cox | President and CEO, SA2020
Moderated by Amber Petty | Senior Manager, National Programs, EveryoneOn