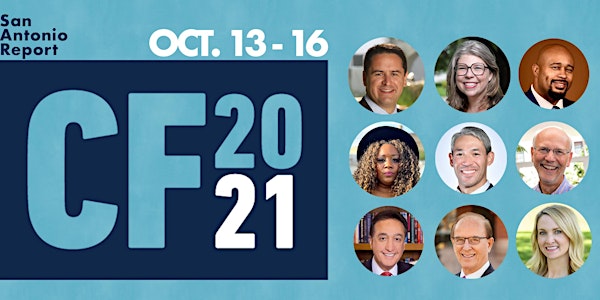 San Antonio CityFest 2021
Welcome to the fourth annual San Antonio CityFest! Join us October 13-16 for this year's hybrid festival on What's Next for San Antonio.
Refund Policy
Contact the organizer to request a refund.
Eventbrite's fee is nonrefundable.
About this event
From October 13 - 16, 2021, the San Antonio Report will host its fourth annual San Antonio CityFest, an urban ideas festival aimed to address challenges and solutions in our commnunity. This year's festival theme is "What's Next" for San Antonio following the pandemic as we look toward strengthening our community using an equity lens.
#SACityFest will feature a rich variety of programs with local and regional speakers. This year's festival includes both ticketed in-person programming and free virtual programming. View the 2021 festival schedule below:
Wednesday, October 13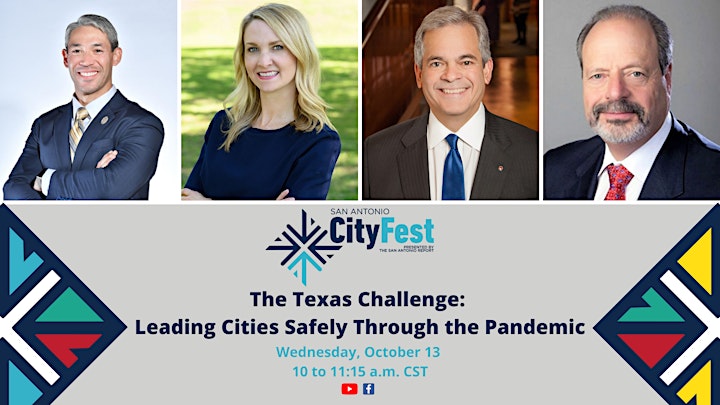 💻 The Texas Challenge: Leading Cities Safely Through the Pandemic - 10 to 11:15 a.m.
*Free Virtual Program*
Our kickoff CityFest event invites Texas mayors to discuss the challenge of leading cities through the ever-changing landscape of the pandemic, the reliability of our electric grid as we head into another potentially record-breaking winter, and the continuing challenges to home rule from state elected leaders and the Texas Legislature. The panel, moderated by Reporter Jackie Wang, invites audience questions and will be streamed on YouTube and Facebook. Panelists include:
Mayor Ron Nirenberg, City of San Antonio
Mayor Steve Adler, City of Austin
Mayor Oscar Leeser, City of El Paso
Mayor Mattie Parker, City of Fort Worth
A special thank you to our Media Parnter, Fort Worth Report.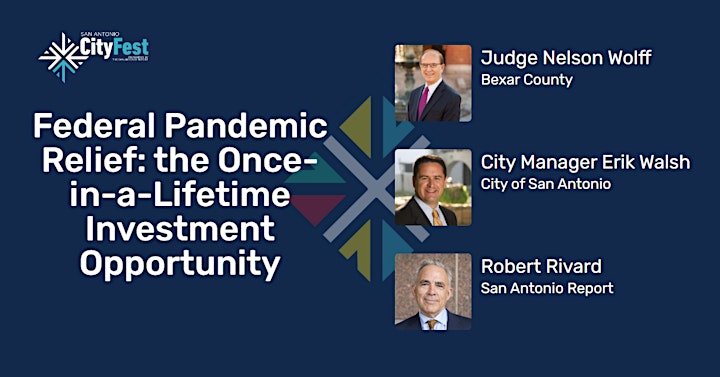 💻 Federal Pandemic Relief: the Once-in-a-Lifetime Investment Opportunity - Noon to 1:15 p.m.
*Free Virtual Program*
Hundreds of millions of federal stimulus dollars are flowing into San Antonio and Bexar County to be allocated and spent over the next five years. How will city and county leaders deploy those resources? Will citizens have any say in those decisions? How will local leaders invest more than $1.5 billion in city and county bonds to make a lasting difference as the community emerges from the pandemic? This and more will be the subject of discussion in a 75-minute virtual program moderated by Editor Robert Rivard featuring panelists:
City Manager Erik Walsh, City of San Antonio
Judge Nelson Wolff, Bexar County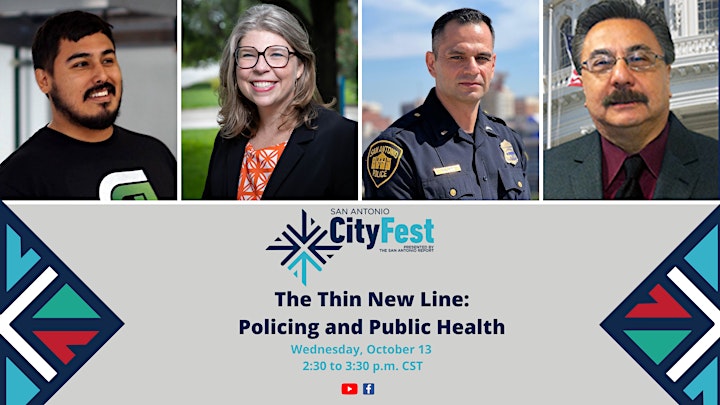 💻 The Thin New Line: Policing and Public Health - 2:30 to 3:30 p.m.
*Free Virtual Program*
In the wake of civil unrest following the murder of George Floyd, cities across the country are re-evaluating how law enforcement interacts — or doesn't interact with residents. In San Antonio, police and sheriff departments are collaborating on initiatives with health departments and health care workers. This program will explore those initiatives that take new approaches to domestic violence, mental health calls, and more. We'll also find out what other areas of health and policing could benefit from more collaboration during this 60 minute virtual program moderated by Senior Reporter Iris Dimmick featuring panelists:
Eric Estrada, President & Executive Director of SA Clubhouse
Jenny Hixon, Public Health Administrator at Violence Prevention Metro Health
Mike Lozito, Director of the Bexar County Office of Criminal Justice
Jesse Salame, Lieutenant and Deputy Chief of Staff at San Antonio Police Department
Thursday, October 14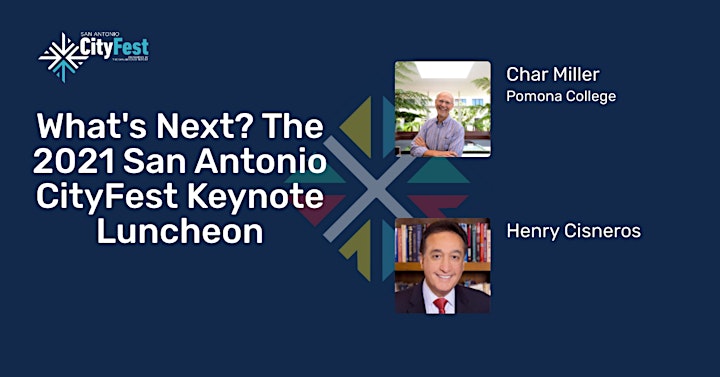 ⭐️ San Antonio CityFest: What's Next Keynote Luncheon - 11:30 a.m. to 1:30 p.m.
$99 General Admission, $85 San Antonio Report Members
We're bringing back our hallmark CityFest keynote luncheon safely at the Tobin Center for the Performing Arts. This year's program will feature former Trinity University professor Char Miller, author of the provocative new book West Side Rising: How San Antonio's 1921 Flood Devastated a City and Sparked a Latino Environmental Justice Movement. He will be joined onstage by former San Antonio Mayor Henry Cisneros for a conversation about the book and the persistence of social injustice in San Antonio. Editor Robert Rivard will serve as emcee for the luncheon program.
This event will be livestreamed on the San Antonio Report's YouTube channel after the event.
Friday, October 15
💻 CityFest x SA Startup Week Collab: the Future of Innovation, Technology and Journalism - 10 to 11 a.m.
*Free Virtual Program*
The San Antonio Report and SA Startup Week present a partnership program looking ahead towards what's next in innovation, technology, and journalism. The 60-minute livestreamed event will be moderated by Dax Moreno featuring panelists:
Angie Mock, San Antonio Report Publisher & CEO
Charles Woodin, Geekdom CEO
Christopher Scotti, Texas A&M University
💻 Future of Work in San Antonio - Noon to 1 p.m.
*Free Virtual Program*
As communities across the nation struggle to get past the pandemic and back to full employment, we invite three local experts to talk about the Future of Work in San Antonio. We want to learn what opportunities exist for safer, better-paying and more equitable work environments. How can our physical work environments bolster mental health? The livestreamed panel discussion welcomes questions from our audience and will be moderated by Story Editor Tracy Idell Hamilton. Panelists include:
Dr. Afamia Elnakat, Infrastructure & Environmental Health Director at Noctuam LLC
Michael Ramsey, Executive Director of Workforce Development at the City of San Antonio
Dr. Teresa Harrison, Associate Professor of Management at the University of the Incarnate Word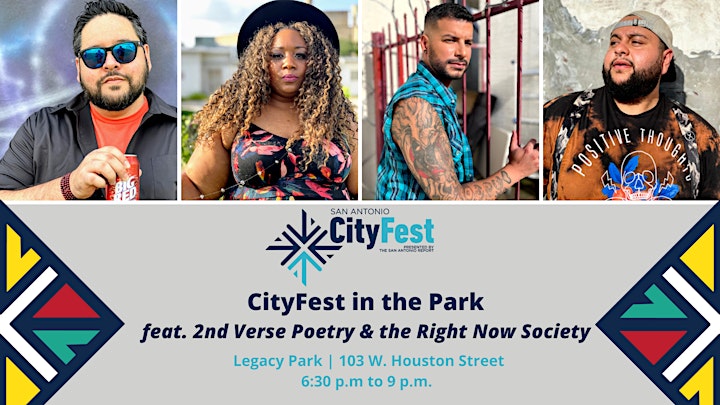 🎼 CityFest in the Park - 6:30 to 9 p.m.
*Free and open to all - RSVP's encouraged.*
The pandemic brought many San Antonians face-to-face with glaring inequities that have long afflicted our city. From access to health care and affordable housing to unemployment and food insecurity, the challenges of living through a pandemic also inspired reflection for many local artists. The poets of 2nd Verse, accompanied by a full band, will take the CityFest stage at Legacy Park to share some of their reflections and spark conversation with attendees. Entertainment will begin at 7 p.m.. Guests are invited to bring a blanket or lawn chair and enjoy food, drinks, music and poetry in harmony at Legacy Park. Featured poets and musicians:
Andrea "Vocab" Sanderson
Rooster Martinez
Chibbi Orduña
Johnny Major Rivers III
The RNS Band
Saturday, October 16
🚴‍♂️ VIP Event: The Trailist Tour - 8 to 10 a.m
Purchase your VIP ticket here.
Join us Saturday morning for a exclusive VIP bike tour led by Senior Reporter Brendan Gibbons and Editor Robert Rivard on the Westside trails of San Antonio. The round-trip bike ride will begin and conclude at Confluence Park, stopping at various locations along the way. All riders will receive a San Antonio Report branded drawstring bag complete with ride map, water and snacks.
----------------------------------------------------------------------------
Conversations and community events like San Antonio CityFest are made possible through the support of our sponsors. Thanks to this year's supporters, CityFest is being offered as a hybrid festival including in-person and virtual programs. A special thank you to our 2021 Presenting Sponsor, the City of San Antonio. Thank you to this year's 2021 San Antonio CityFest Sponsors:
Presenting: City of San Antonio
Engagement: Shiner Beers, Brooks, CPS Energy
Innovation: Bexar County, Convention Services Audio & Visual (CSAV), VIA Metropolitan Transit and Methodist Healthcare Ministries
City Builder: Twang, Port San Antonio, Southwest Reasearch Institute, San Antonio River Authority, Texas 2036 and Katy & Ted Flato
Advocate: Community First Health Plans and Alamo Colleges
In-Kind: CE Group, Legacy Park, Clear Channel Outdoors and DOCUmation
Media: Fort Worth Report